There's a right way and a wrong way to manage your debt and credit.
If you want to buy a house while hoping to get the best financing rates, then you should focus on improving your credit score. Don't follow Casey Serin's example. In case you're not familiar with Casey, he's the guy who's been sadly branded as the "most hated blogger" and the person behind the IAmFacingForeclosure.com blog. His Wikipedia profile tags him as a real estate speculator who also does a lot of blogging. He owns both real life and online properties. But he's best known for representing the real estate boom and subsequent crash as he overextended himself and eventually lost all the houses he invested in (all eight of them) to foreclosure. He also decided to publicize his story and immediately earned quite a notorious reputation.

Seems like some bloggers, including myself, have received the same mass email message that Casey Serin has sent out to his contact list. This message reveals his latest plans.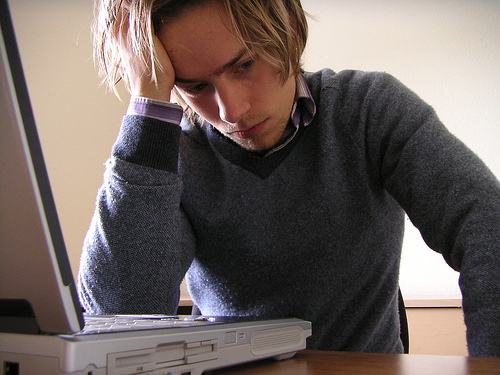 About that mass emailing: I was a letter recipient since I somehow made it to his presumably far-from-short contact list after corresponding with him a little in the past as I prepped for my "bad money moves inspired theme week" — a week that I spent on posts discussing mortgage fraud, real estate debt lessons, bankruptcy topics and the like.
I actually feel badly for Casey. I think behind all the mess he's generated for himself, he sounds like a well-meaning person. He just seems to be quite misguided and lost and is more than a bit over his head with all the stuff that's transpired in his life lately. It's obvious he's a media whore but one who's very impulsive, naive and flaky altogether. Could we be mistaking his lack of financial sophistication and ignorance for criminal behavior and intent? Are we reading his stubborn incompetence as something much more sinister and despicable, like maybe his moronic behavior is really just a facade for something darker underneath?
Sheesh, why do I spend so much time writing about this guy anyway? Because, yeah, I feel kind of sorry for him. How can I not feel a shred of sympathy for someone who's passed me what seems to be a heartfelt message. Since he's such a public figure, I figured he wouldn't mind if I shared his thoughts here:
I've been labeled "The World Most Hated Blogger" on CNet because of the large following of "haterz" that developed overnight. These critics want to stop me from "profiting from my crime", give up on my entrepreneurial dreams, give up trying to pay back "every dirty penny", get a job and lay low. (However, I think a lot of them deep down want the best for me, but are simply frustrated by my choices. And I appreciate that.)

Well, instead of stopping, I enjoyed negative publicity because it added to the controversy and traffic. I always felt there is gotta be a way to leverage all this and do something positive.

Any publicity is good publicity. Right?

Wrong.

My marriage and my family has been affected in a big way by my actions and this toxic exposure. The internet could be a cruel place and I am the one who put myself and my family out there. If I knew things were going to get this bad I would have done investing and blogging in a much different way.

Now I may lose my wife over this.

The blog and publicity is just the tip of the iceberg. Underlying is my desire for financial success and "passive income" and also being known for something and having recognition. The love of money and pride. I fell into the trap. It's all my fault. I blame no one else.

I have always believed fame and money is NOT worth broken relationships. But my actions in the last 10 months of blogging and the last 3 years of marriage have been sending the opposite message.

So now I am pulling the plug on EVERYTHING…
I commend him for realizing his mistakes and trying to resolve his relationship issues. However, there's something wrong with this picture, in which he further laments his plight:
There is nothing wrong with any of these things but not in the WAY I was pursuing them – making financial success my idol. It's NOT worth losing my wife over it and hurting my friends and family. I must put my financial goals aside and focus on what is truly important in this life. I will only get back into business in the future if I can do it in harmony with my relationships. If not, then I'll be content without.
Though he acknowledges that "that there's nothing wrong with desiring money and fame", it still seems like he's blaming his pursuit of success and the financial goals he's set for himself as the reason for his marriage and other family problems (could marriage counseling help?). He's also blaming his blog for all the trouble. I say bull. You don't get into this situation because of your desire to improve your financial well-being. It's the way you approach those goals and how you manage your life altogether that make or break you. Casey's problem has been execution all along, in my book. Again, I see a lot of good intentions behind his convoluted story of failed business and real estate gambles. In the end, if you want to get rich, there's a way of doing it right without having to sacrifice or destroy your relationships, your family and all else important in your life. It's actually a GOOD thing to have ambition, desire and drive to make something of yourself and to want to succeed financially. You CAN have a blog, and financial success and a happy family life as well. It's about balance and priorities.
Unfortunately, the route Casey has taken has brought him down a dark, unpopular and lonely path that is now causing him great heartache. Blogging could have been a good thing for him if he didn't make himself so detestable. It's just another tool and platform to get yourself heard and if you want to generate negative publicity you can't blame the blog for the mess that it makes. You can only blame yourself.
Still I say, for what it's worth: Casey — keep your financial goals alive. Just go about it a different way. Yeah, get the job first, invest prudently and honor your commitments. Before long you should be able to clear your name. I personally hope you do. I'd hate to see an entertaining blogger and a seemingly driven person like you bite the dust.

Image Credit: Casey Serin's Flickr Photostream
Copyright © 2007 The Digerati Life. All Rights Reserved.