Imagine that you're in a financial bind: would you be able to resist those ubiquitous ads around the web that entice you to "get a fast cash loan"? You may be one of those wondering how to get a personal loan in these tough economic times. These days, many people with little to no money are turning to high interest payday loans to assist them when financial emergencies arise or even to pay monthly bills. However, many do not realize the danger of cash advance payday loans until they are deep in debt with no way out.
What exactly is a payday loan?
To put it simply, a payday loan is a short-term loan. An individual goes to a payday lender, writes a check for the amount they want to borrow plus a fee. The payday lender then holds the check for a short period, typically two weeks, and cashes it at the end of that period. The borrower may also have the option of extending the loan at the end of a two-week period if they don't have the sufficient funds to pay. Now this is where people get into a lot of trouble because when loans are extended, these loans accumulate more fees. This is precisely why payday loans are dangerous — they're extremely expensive because they charge an enormous amount of interest and fees, typically with an over 100% annual percentage rate. They are in no way, shape or form, a good way to manage money or borrow money.
Whom do payday lenders target?
It's always the most financially vulnerable who fall prey to these arrangements. These loans are targeted at lower income individuals who have no other means of borrowing money when an emergency arises. You will notice that you will never see a payday lender in an upper class neighborhood, but you'll often find these establishments well ensconced in geographically low-income areas. Customers of these establishments are individuals who need quick cash and are looking for an easy way to get it. And indeed, it can be a tempting "way out" for many poorer clients, since by simply writing a check (whether or not you have funds at the moment), you can get a cash advance payday loan and worry about the consequences later. It's fast and easy, with no credit check required!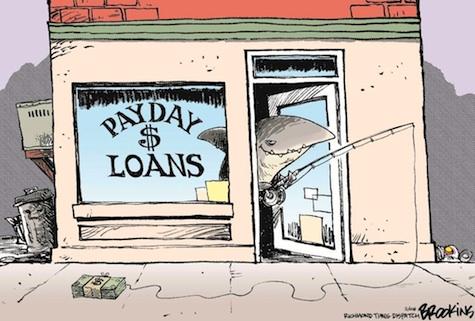 Image from StopPaydayPredators.org
What are the consequences?
Financial counselors and experts will tell you that clients who begin using payday loans typically have a very difficult time paying them off. What typically occurs is an endless cycle of borrowing and paying until the individual reaches a point when they can no longer afford the fees and interest charges that have compounded from extending payday loans every two weeks. At this point, the borrower will call a credit counseling agency for help with paying things off. Unfortunately, it's also at this point when their credit gets shot as they've become delinquent on their loans and see no way out, given the amount of income they are bringing in.
Have A Cash Advance Payday Loan? 3 Tips For Paying It Off
Unfortunately, most credit counseling agencies are unable to place payday loans on a debt management plan. Payday lenders rarely offer benefits or lower personal loan interest rates through credit counseling programs. Still, there could be constructive ways to help a payday loan borrower in a bind. If you find yourself in this position, then here are some options to consider:
1. Talk to the payday lender.
The first option is to try to negotiate. Call the payday lender and see if it is possible to speak with the manager of the establishment. You can then ask this person if they can place you on some type of hardship program where you can afford the payments and possibly have a lower interest rate. The same ideas apply here as you would if you wanted to lower your credit card interest rates. While payday lenders are in the business of making the most out of each loan they approve, they're also eager to salvage agreements with those borrowers who are sincere about working out their payment problems.
2. Wait for your payday loan to go into collections.
Another option is to wait until your loan goes into collections. If you have borrowed money and the accounts are past due, you can expect your payday lender to go to great lengths to coerce and threaten you to pay. If you continue to be uncooperative, then eventually, your loan will be turned over to a collection agency. Once this happens, you may be able to roll over your accounts in collection onto a debt management program. This will provide you with a more manageable payment and an estimated payoff time.
3. Settle your debt.
Finally, you can try to contact a debt settlement company and proceed with a settlement, or file for bankruptcy. With this approach, you'll need to deal with a bankruptcy attorney or debt professional.
Final Thoughts
You should avoid getting a payday loan as much as possible. Still, there are people who insist on securing such loans regardless of the consequences. If you are one such borrower, then make sure it's truly your last resort to go down this path. Weigh the risks and the benefits of a quick cash advance or short term loan. The risks here are great, so your benefits (per your particular situation) better be worth the money you end up forking out, if you do decide to opt for a loan like this.
Always do your best to find other alternatives to borrowing. Perhaps you can find out how to apply for a loan through other avenues and sources. As an alternative, do your very best to save up for an emergency fund in a high interest savings account, so that you do not have to depend on a credit card, bank, or payday lender to get yourself out of an emergency. This is the best way to avoid falling prey to payday lenders.
Copyright © 2010 The Digerati Life. All Rights Reserved.