While there are many options available for anyone who wants to wipe away their debts, all these options have their costs. If you do it yourself by living frugally and making sacrifices, you'll get the best rewards by learning better financial habits, but it may not be easy until you get into the habit of living with a new fiscal diet. If you involve others — by inviting advisors, third party agents or companies in the picture — the cost is this: the dependence on someone else to resolve your problem (in many cases, it's something you can work on yourself) and of course, there are fees you'd have to fork out for this help. Also, there's the risk that some of these debt relief companies are going to give you minimal help for the money you pay; note that many debtors end up not making much headway with their debt problems when they end up signing with the wrong "professionals".

If you are leaning towards settling your debt, then make sure you understand what this entails. I read in a few publications that debt settlement is not really right for most people — it's considered a "niche solution" for those heavily in debt and may be best for those who are already contemplating bankruptcy as a way out. To help you make a decision about how to deal with your debt, I compiled some pros and cons to shed light on this particular debt reduction solution:
Debt Settlement Pros
What attracts a lot of people to debt settlement companies and debt relief programs? Well, who doesn't want to get the "debt monkey off their back" as effectively as possible? Settling your debt is one way to make it all go away. If you're so sick of your debt, are ready to move on, and are willing to face the costs involved, then this could be a solution. After all, your creditors would prefer that you give them something rather than nothing, so they're likely to work out an arrangement with you. With debt settlement arrangements, much of your outstanding debt is forgiven through negotiations. Here are the pros and positive reasons for formally settling your debt:
You could be completely free of debt within 24 to 36 months so you can start rebuilding your credit.
You may be able to satisfy your debts for far less than you actually owe, representing a typical savings of 50% to 60% or more.
Some creditors may agree to re-age your accounts and bring them to a current status in order to boost your credit score right away (especially since your credit is probably not in good standing up to this point).
All unsecured debts and medical bills in excess of $1,000 can be included in debt settlement arrangements.
You can protect your credit report from incurring negative marks after you make settlement arrangements with your creditors. That is, you may be able to negotiate with and convince some creditors to go easy on the impact on your credit score going forward.
In most instances, your settled debts will no longer be subject to legal action or collection pursuits, so you don't have to worry about debt collectors hounding you.
You have more disposable cash to pay for utilities, housing, insurance and food. This may also help you free up more funds for high priority needs.
You can finally reset your financial life.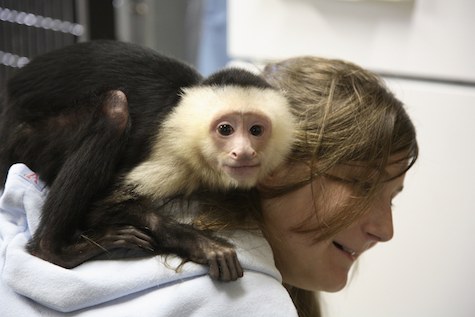 Should you get the debt monkey off your back by settling your debt?
Debt Settlement Cons
For the peace of mind that comes with releasing yourself from the weight of debt, there are of course the tradeoffs. There's no real easy way to release yourself from debt — there's always a cost to dealing with a third party or company in the debt industry. Now that we've explored the good points of debt settlement, let's review the cons and areas of concern:
Entering a debt settlement arrangement will require you to stop paying your creditors directly. You'll then be asked to route your payments to the debt settlement company, to get the ball rolling. Your credit will take a hit when you "pay by settlement", as this will appear on your credit report. But if you already have bad credit, then this will probably be less of an issue. But be aware that negative marks will continue to hit your credit until settlement payments are started, while the settlement company waits for money to build in your account.
Debt settlement companies often charge you an upfront fee plus monthly fee, and will wait to pay your creditors until enough money builds in your settlement account so you can proceed to settle.
You may end up paying less to your creditor (who'll agree to settle for less on your debt), but you'll also end up paying a portion of your debts to your settlement company. So some of the money intended for creditors will instead find their way as payments to your settlement company for services rendered. So how much of your money are you simply rerouting to a different entity? Here's where a cost/benefit analysis may prove valuable and may influence the decision you make.
Debt settlement applies to unsecured loans only so it can't be used to help you pay off a car loan, mortgage or other secure loan.
Your forgiven debt won't really be forgotten because you'll owe taxes on it. The debt you settle will trigger a tax: forgiven debt becomes taxable income and will need to be reported as such. As you can see, there's no escaping the "tax man". If you're so deep in the hole, the tax you end up owing may put you in even bigger trouble.
Some creditors won't work with debt settlement companies and may even treat you more harshly if you use such third party services.
Debts appear on your credit report as "settled" instead of "paid in full" unless the terms are clearly negotiated with creditors.
Collectors can sell the remaining debt to another collection agency if your creditor does not send you a written notice as proof that your debt has been forgiven. You'll need to keep a record of the outstanding debts you still owe.
Debt settlement companies are only allowed to operate in certain states.
The debt settlement industry suffers a stigma due to the questionable practices of some companies in this field. There are, however, legitimate companies that work hard to uphold their reputation. Before you work with a debt settlement company, make sure you do your due diligence.
So Is Debt Settlement For You?
I think that each type of debt solution serves a certain market. What's important is that you find the right solution for your particular situation. If your debt situation has become too unwieldy that you can no longer handle things on your own, then go ahead and explore debt counseling or other channels that are available to you. But make sure you are careful about the debt services and companies you deal with as this industry is vulnerable to abuse.
Debt settlement seems to be more of a last resort for those steeped in debt. It could be the solution to take if you want to avoid bankruptcy and are committed to developing a clear plan to start over with a clean slate.
Created September 8, 2009. Updated December 22, 2011. Copyright © 2011 The Digerati Life. All Rights Reserved.