As a nation, we're experiencing a return to frugality. So how are you economizing?
As the economy slides downwards, behavioral trends are also shifting as people are making the necessary adjustments to the new financial realities they face. As certain economic realities begin to dawn upon most of us and we start feeling the pinch of higher prices, lower investment returns and a slowdown in the job market, we're finally taking stock of our financial situations and actually making some concrete changes. At least, that's what some newspapers have been reporting lately.
Will Economic Changes Herald a New Frugal Era?
At some point, most of us probably realized it was time to "pay the piper" and time to sober up, say goodbye to immediate gratification and return to fiscal discipline. It usually takes quite a lot before people change their ways, so the economic pressure must be across the board for the tide to turn. SFGate lets us know what's eating us lately:
The shop-till-you-drop era may be coming to an end. It couldn't last because it was built on a mountain of money borrowed from overseas.

The housing crash, a severe credit crunch and a dizzying fall of the dollar are depriving the nation of the means to keep on borrowing and spending. Foreigners have become wary of underwriting the U.S. standard of living. The flow of outside investment is slowing.

The United States has maxed out on its national credit card. Like it or not, that's one of the most important things now forcing a new standard of frugality on free-spending Americans.
The go-go spending years came to an end when the property market went bust. Because of the housing decline, foreign investors have pulled out of American investments thus weakening the dollar further: this has caused prices of imported goods to increase — no thanks to the weak dollar — and has resulted in tighter credit (due to less demand for mortgage-based investments).
And now it looks like the economic pendulum is swinging: our nation, engulfed in consumer debt with bragging rights to a 0% savings rate, is apparently now moving in the right direction. The International Monetary Fund predicts that household consumption will fall further in the next couple of years and that a "prolonged period of belt-tightening" has just begun. Some economists are even calling recent trends as an indication that "we're facing the birth pangs of a new economic structure."
Neal Soss, chief economist for the securities firm Credit Suisse First Boston states that "the next year or two or three will be about the transition to a new equilibrium. Consumption by households will grow more slowly than their incomes, which is the exact opposite of the last 25 years when consumption grew faster than incomes."
How To Go On A Recession Diet
With resources running dry, investments down, home equity dwindling or all tapped out, and limited credit available, we're seeing how real people are finally "retrenching" and changing their behaviors along with the times. Some new standards for frugality are now being set across the nation.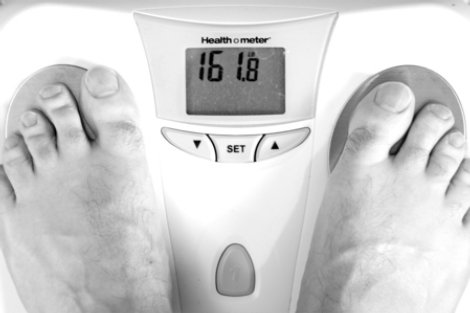 Families everywhere are now adapting recession diets that look something like this:
Prioritize where your money goes. This study mentioned in the NYTimes implies that people are already prioritizing 😉 .


In a survey conducted this month by the NPD Group, a research firm, consumers suggested that they would sooner cut spending on clothing, furniture and eating out than on video games.

Patronize cheaper stores. Seems like everyone is picking up on this idea already:


Chains that emphasize low prices, like TJ Maxx and Wal-Mart, are thriving. And cut-rate supermarkets, like Save-A-Lot, are swamped.

Buy and use cheaper alternatives. For example:


At Home Depot, sinks and faucets are selling briskly. Managers at the chain suspect that consumers, loath to spend money on a splashy kitchen renovation or new roof, are settling for a cheaper bathroom "refresh."

Make food substitutions.


Mary Gregory, 55, a telephone company operator in Cleveland, used to eat red meat at least once a week. Now it is hardly ever on her menu. "I usually buy turkey instead," she said. "Any recipe that calls for meat, like chili or spaghetti, I try to substitute turkey."

Do things yourself (if you can), especially if you've got the skills.


Carl Hall, a retired construction worker in Detroit, wants to buy a fence for his backyard. But he decided not to buy a finished product at Lowe's, the home improvement chain where he was shopping recently. With money tight, "I am looking to put it together myself," he said, adding that he hoped to save $200.

Invest in things that can save you money in the long run.


Another top seller at home improvement stores: programmable thermostats and insulation, which can cut fuel bills.

Book flights and make travel plans in a way that will be most economical for you.


George Goulet, 52, the business traveler switching from the Hilton to the Hampton Inn, now books flights that depart in the afternoon rather than the early morning.

Stop buying new cars. Keep them around longer.
Eat out less. Cut the frequency of dining out in half.
Travel less. Take fewer vacations.
Halt or delay spending on big ticket items. Postpone those big purchases as long as you can!
Increase your household income: have a non-working spouse get a job. Or you can start a side business.
Start budgeting if you haven't already.
Avoid the movie theater and watch your movies at home.
Wear out your clothes longer.
Cut out unneeded calories (junk food and drinks — that extra latte?).
Quit your expensive subscriptions, hobbies, addictions. Or control your spending on them.
Stay in an apartment for now and reroute the money you save into prudent investments.
Stay home more often; you'll cut down on gas bills.
~ooOoo~
From SFGate, I found this handy table that can give us a quick view of the shift in our financial mood:
What's In and What's Out In Today's More Frugal World
| | |
| --- | --- |
| IN | OUT |
| Saving | Borrowing |
| Cooking at home | Eating out |
| Fixing the old car | New car |
| Staying at home | Foreign vacations |
| 20 percent down | No down payment |
| Debit cards | Credit cards |
| Working past 65 | Early retirement |
| Library | Bookstore |
| Tap water | Bottled water |
| BART | Bay Bridge |
| Patching | Remodeling |
| Public park | Theme park |
| Eyeglasses | Lasik surgery |
| Poker night | Weekend in Vegas |
| Brewing coffee at home | Starbucks |
| Flying coach | Flying first class |
Source: Chronicle research, BudgetSavvyMag.com
After seeing some of this empirical information, I'm curious to see how truly widespread this new movement towards frugality actually is. But of course, I'm betting that it only lasts as long as the economic slump does. Once the markets recover their footing, people will be able to retire their money fears, and will again be able to breathe easier about their financial prospects. And soon enough, most will be back to old habits. That's just human nature.
In the meantime, I'd like to ask this: how much is this current economic climate affecting your personal financial outlook? And particularly, are you on a recession diet, and if so, what does it look like?
Copyright © 2008 The Digerati Life. All Rights Reserved.