I recently caught wind of some great things coming down the pike with Mint. They've completely overhauled their blog and have turned it into an "online magazine" called MintLife. Just check out the new design!
I love it! It looks great and the content is quite unique, interesting and refreshing, as Mint uses a lot of multimedia forms on their new online magazine. Personal finance has just become more compelling (and attractive) with a lot of visuals — so kudos to the Mint team for coming up with the redesign!
Here is a taste of what you'll see there. Just check out all the stuff created by WallStats.com and Ross Crooks featured on MintLife:
World Currencies In The Recession
The following picture (Mint Map) shows us how 16 major foreign currencies have fared during this recession, in relation to the U.S. dollar. The percent changes in the value of various currencies (relative to the USD) were calculated from June 30, 2007 to June 30, 2009 and presented in this awesome visual comparison.
Click the image to fetch the big picture: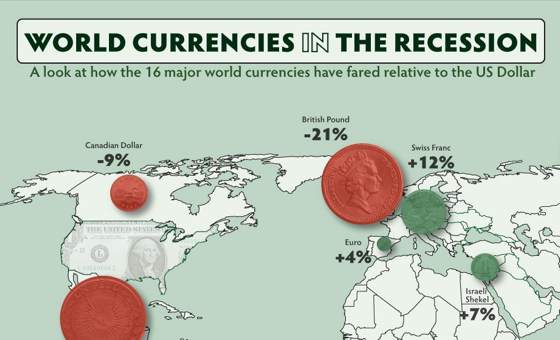 One Trillion Dollars Visualized
"A trillion dollars is only one tenth of the current economic bailout." To get some perspective on what this kind of money amounts to, we have the following video, which shows us the economic impact of a trillion dollars. It takes a hard look at how much our government is spending.
 
Even though they paint a withered economic picture through these videos and images, these presentations from Mint are definitely more than just visually appealing, they're also quite informative! So take a peek at the new blog — I mean ezine — and if you haven't yet, you may want to try out Mint.com, one of the free budgeting tools that's available on the web.
Copyright © 2009 The Digerati Life. All Rights Reserved.