Still looking for your stimulus check? I dissect Obama's stimulus package and weigh in on the government's money plan which covers tax cuts and government spending.
The 2009 economic stimulus package is the big news out of Washington over the last few weeks (or days). You can't escape the buzz about it. And while the people in power sit, stew and argue about all this, all we can do is wait to see what kind of huge price tag emerges from all their negotiations.
But I'm fascinated. I want to see what it is that the American public will be paying for, for decades to come. So I'm planning to keep tabs on the plan details right here.
Cost of Obama's Stimulus Package
How much are taxpayers going to be out for? As it goes, I'm finding it hard to grasp the enormity and meaning of spending in the trillions. My brain can't wrap itself around numbers like this:
$790 billion for the Obama administration's stimulus bill.
$700 billion for the Bush administration's bailout plan.
Already, that's almost $1,500,000,000,000. All those zeroes get me dizzy. Add the trillions to an already massive deficit and the future looks stunning. I'm not surprised that there's some heavy opposition here by the Republicans, particularly John McCain, who would have stonewalled on this (if not vetoed any plan) if he were voted President.
If you think about it, this just means that we're out this money over the long term as we hope and scramble to find ways to pay this back. Banks who borrowed from TARP funds should pay those loans back with interest. Future generations are going to be paying this back through tax hikes when times are (probably) better. But for the short term, we can only focus on that "stimulus check" in the form of tax cuts that will alleviate the current financial pain most of us are facing.
House vs Senate Economic Stimulus Package Proposals: The Spending Plan
Here's how the package breaks down: 35% of the bill will be allocated to tax cuts while 65% will be for spending.
Because I like pretty pictures very much, I'd like to present CNN's pretty pie charts on how the taxpayers' money will be spent. Things will morph over time and if they do, I'll make updates as I find them. So here's where the 65% of the $790 billion is supposed to go, as per dueling plans in Congress. The missing one third of the stimulus plan (not illustrated in the charts) is supposed to cover tax cut provisions (more on this later).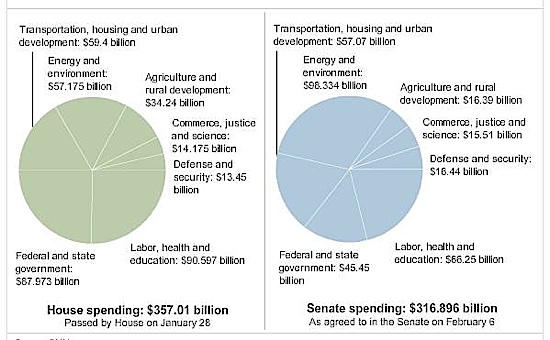 Obama's Plan: No Stimulus Check, But Tax Cuts
So what's in it for us? The 35% of $790 billion is reserved for us working folk. Lots of people are looking for an economic stimulus check, but we're not getting a physical check this time around. We're getting a bunch of tax breaks, the main item being this one: a tax credit for workers.
The original plan was to give out a $500 tax credit for individuals and a $1,000 credit for earning couples, but these amounts have been reduced by 20% as Congress wrangles on. The revised tax credits are now for a whopping $400 for individuals and $800 for couples. And you'll only get full credit if you earn $70,000 or less per person.
Here are the final details of the package.
Criticizing The Plan
Here's what the critics are saying:
"More than one-third of this bill is dedicated to providing tax relief for middle-class families, cutting taxes for 95 percent of American workers," says the Senate Majority Leader.
Supporters say that this will turn our economy around. The critics (e.g. Republicans) b**** that there's not enough here for us working families, while the funds are being shoveled into wasteful government spending programs. Well, from what I'm seeing there could be some truth to that.
My Biggest Concerns: if you look at the charts above, it shows how the big money is going to general spending, with a large chunk reserved for "federal and state government". And if you look into the details more carefully, you'll see funding going to things that don't necessarily promote economic revival.
Is this fat stimulus package supposed to include spending for pandemic flu research and the purchase of green, fuel-efficient government vehicles, with between $300 million to $600 million earmarked for this? I'm all for supporting those goals, but do these belong in a STIMULUS plan? Fine and dandy, while we await our $800 tax break right?
Can We Revive This Ailing Economy?
This stimulus package is something they all say we need right now….desperately. The US economy is like a comatose patient who needs to be revived. The economy needs the stimulus bill like a dying patient needs critical health-restoring treatment and nasty-tasting medication. We're told that we need this spending to create and save millions of jobs and to avoid an "economic catastrophe" (Obama's words, not mine).
And when our comatose patient finally reawakens and gets back on track, he'll be haplessly saddled with massive bills for a long time to come: the price he pays for making the biggest financial mistakes he's ever done in his life.
What do you think of the economic stimulus package?
Copyright © 2009 The Digerati Life. All Rights Reserved.