What are your thoughts or opinions on a second stimulus check? Is this second economic stimulus package a good idea?
SVB: We're all set to go to the voting booths today, so I thought it would be apropos to invite our contributing writer, Jacques Sprenger (who enjoys politics and who brought us our spirited Obama vs McCain discussion), to reflect on a few more matters in our financial horizon.
"Such tradeoffs inevitably involve value judgments that can properly be made only by our elected officials." ~Bernanke
Tradeoffs, also known as "I gain, you lose," will be evaluated by our elected representatives, said Bernanke to our magnificent senators and representatives when talking about a possible second economic stimulus. He's referring to the very same people who got us in this mess to begin with. Would you trust their judgment? I hope not. A second stimulus will only deepen the tremendous deficit of our national treasury, as if we could afford another handout.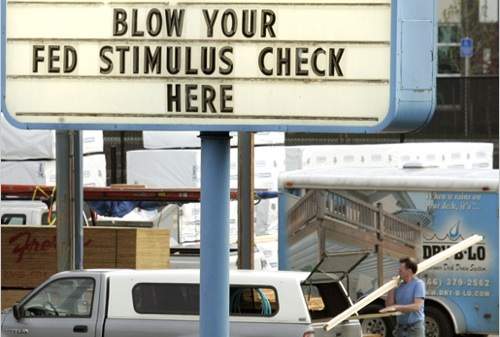 Photo from the NY Times.
La Divina Commedia (Dante)
"Should the Congress choose to undertake fiscal action, certain design principles may be helpful. To best achieve its goals, any fiscal package should be structured so that its peak effects on aggregate spending and economic activity are felt when they are most needed, namely, during the period in which economic activity would otherwise be expected to be weak." ~Bernanke speaking to Congress
This masterpiece of gobbledigook, the secret language of turkeys heard just before Thanksgiving, can be translated into a much simpler message: "Give the money (economic stimulus) when and where it's needed." No kidding! Mr. Federal Reserve himself is showing his remarkable talents at speaking a lot without saying anything we don't already know. A graduate of Harvard and MIT, Mr. Bernanke is proving to all of us that these universities produce a lot of smooth talkers who know absolutely nothing about the real world.
Your Economic Stimulus Check's Disappearing Act
We don't need a new stimulus check (my first package disappeared the next day and was never seen again). What we need are jobs — good jobs — and lines of credit for small businesses which employ more than 80% of the labor force in the U.S. We need to get rid of incompetent politicians, incompetent bureaucrats (starting with Bernanke), and entrenched CEO's who willfully invested other people's money in risky ventures.
A Stimulus Check, For Ten Thousand Dollars?
Dear sirs, what about a consumer "bailout" package? Even though our once mighty dollar has recovered some of its losses to the euro, the reckless printing of more money to finance all these "rescue" packages can only hurt us in the long run. But let's play devil's advocate for a minute and see the other side of the argument: just a thought — but if the government is intending to give money away to people, they should instead have considered it BEFORE approving the bailout of $700 billion to failing corporations. We could have given every family in the US ten thousand dollars, and with that larger amount, we could have seen how fast the economy recovered its strength (though you may disagree, as clearly, there are many households that may have trouble dealing with this kind of money responsibly). In an ideal world, that money would have ended up in banks (solving the credit crunch), in the mall (solving the spending crisis), and in paying credit cards (solving the tremendous personal debt).
Main Street vs. Cul-de-Sac
Do you suppose that this way, Main Street could recover much more quickly, while Wall Street awaits the 'trickle up' effect so dear to John McCain? The $50 billion proposed by some democrats in Congress just before the election sounds a little too much like a bribe for the electorate. Giving each family a modest $1,200 won't solve our middle class problems. It will be limited to the stimulation of spending, which is what we did with abandon for the last 18 years without thinking of the consequences.
I'd vote against the idea simply because it comes from Washington. Hopefully our incumbent politicos will be replaced by citizens with a little more integrity and intelligence.
Copyright © 2008 The Digerati Life. All Rights Reserved.