The start of a new year is upon us once again and it's time to take stock of how things have gone in the past year. It's a time when some financial types are dusting off their investment crystal balls or are checking out oddball indicators to see if trends continue for the next year.
When the year closed in 2010, we noted that bonds and cash were relatively weaker than other asset classes, while domestic stocks showed a mild recovery and emerging stocks and precious metals appeared to have done very well. Small cap stock index funds soared in 2010. Fast forward a year and we see some devastation in certain indexes. Basically, things have been downright terrible in many investment sectors this year so if your portfolio is hurting, you're not alone.

Now that we are ushering in 2012, I am crossing my fingers that things will pick up. I did a tour of financial publications to see what they had to say about the approaching new year, and as it was customary for them to do, they came out with some prognostications.
Performance of Investment Benchmark Indexes For 2010 – 2011
To start with, here's how each major market has fared over the past few years:
| Asset Index | 2011 | 2010 |
| --- | --- | --- |
| Cash | nearly ZERO | nearly ZERO |
| BC Bond Index | 7.72% | 6.06% |
| Dow Jones Industrial Index | 2.5% | 11.02% |
| S&P 500 Index | 3% | 13.4% |
| Nasdaq Index | -3.7% | 16.91% |
| Russell 2000 Index | -7.62% | 25.6% |
| EAFE Index | -16.95% | 6.93% |
| Emerging Market Stocks | -20.24% | 12.5% |
| Long-commodity Index | 5.6% | 16.4% |
The differences between 2010 and 2011 are significant in many cases. Compare Nasdaq's 2010 to 2011 performance. There's a dramatic shift here and we see this same volatility in most of the market indexes. How can we explain this?
The Investment Markets In Recent Years
Well, the debt crisis in Europe is an ongoing problem. I live in Europe and so I can tell you first hand that the situation is long from being resolved. Take, for instance, the exchange rate between the US dollar and euro. The rate was 1.33 in January 2011 (that's 1.33 dollars to every euro). In April, the rate was as high as 1.44. For December, the average has been 1.32 and seems to be on a downward spiral. For those of us who convert American dollars to euros, this is great –- we get more from the conversion process –- but from an economic standpoint, the volatility is threatening the markets and investor confidence.
There's also the issue of the emerging Asian and Latin American markets. I've done some comparisons between the two sectors and found that Latin American investors are much more likely to invest in equities rather than debt instruments. Asian investors, like their American counterparts, are more likely to invest in debt. The MSCI Index covers the major Latin American markets and reports that while investors there prefer equity, the markets are much less developed. Only Brazil and Mexico show any meaningful weight. On the other hand, Asian markets (especially in China, India, and Korea) account for more than 51% of the emerging market investments.
The bottom line here is that all markets, whether emerging or developed, have faced significant losses in 2011. The unemployment crisis, continued international conflicts, recessionary cycles, and the European debt situation have all had major impacts on the investment environment. Taken together, they've made 2011 a tough year.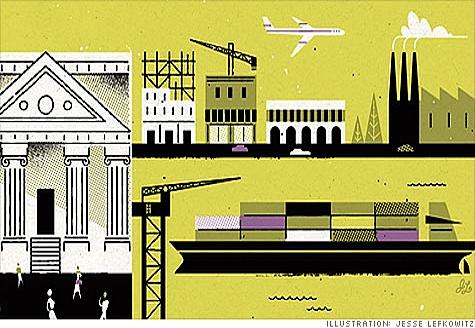 Image from CNN Money
Investment Predictions For 2012
Fortune Magazine has called volatility in the markets "the new normal." But how do investors keep their confidence up and continue to invest knowing how dismal the returns in 2011 were? I've worked through the numerous predictions for 2012 and synthesized the following main points:
The European crisis will likely be resolved in 2012. Though it may take some time and manipulation on the part of France and Germany, there are strong efforts to prevent the euro from failing. Investors should seize on this opportunity to add Forex to their portfolios.
Cash and cash-based instruments are still secure. Investors who are scared about volatility may want to stay with high-yield savings and money market accounts.
Investing in individual companies and stocks in emerging markets is a smart move. Think about popular brands like clothing Retailer Zara, based in Spain, and Sunglass Hut, which is based in Italy.
Most experts agree that the U.S. market is still the "best" choice, though you may also consider looking at emerging markets, and especially at the U.K. markets.
China's economy may not be as great as we all think. Many experts believe there's a bubble there that will soon pop. But then again, this type of volatility in the Chinese investment markets is not new.
Certain real estate markets are showing stability. Recovery in the housing market in the U.S. may be spotty, but property investors are jumping in. There are opportunities for real estate investing in certain regions, particularly in those areas that have suffered large corrections.
Diversification is more key now than ever before. Spreading your investments over many different kinds of instruments and in many different markets will give you more leverage to grow in 2012.
Now is not the time to pull out your investments. 2012 may well be the year that things turn around, so don't be frightened out of the markets and fold in the towel just because 2011 was a bad year. After all, having to deal with investment and economic cycles is part and parcel of the world of investing. If you're going to invest, do your research and keep up with the markets.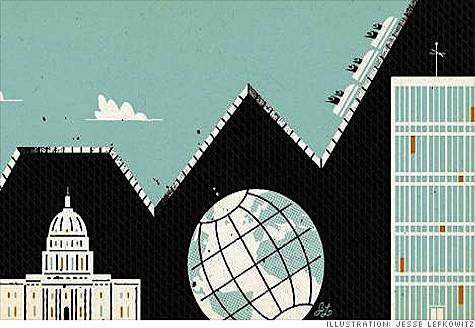 Image from CNN Money
The Bottom Line For The Coming Year
Keep your eye on the emerging markets in 2012. Also, pay attention to what's happening in Europe. I, for one, have been a Forex trader for a while, and will keep trading Forex just because I can get excellent deals on euros right now. Even though the economy is suffering, our pocket books don't have to. Once the market turns around, I can sell those euros back and hopefully make some money. Also, keep diversifying and looking for opportunities for your core investment portfolio. 2012 has the potential to shape up into a much better financial year than 2011. While things can get worse, we'd rather believe that there's no other way to go but up.
So do you agree with these financial forecasts? Are you feeling optimistic (or not) about 2012? We'd love to hear your take on what's in store for the coming year.
Created December 26, 2010. Updated December 30, 2011. Copyright © 2011 The Digerati Life. All Rights Reserved.