How Much Should You Allocate To International Investments?
If you're after growth and want to be well diversified, the conventional wisdom is that you pack your investment portfolio with some foreign punch. Some articles advocate a 50%/50% distribution between foreign and domestic investments, though I think that's a bit much — for us anyway! Up to this point, we've already upped our foreign exposure from 10% to 15% within our asset allocation, so far staying within the confines of equity investing, which we're most familiar with.
In general, here are some guidelines on how to determine how much of a foreign position you should carry in your asset allocation.
Calculating Your International Allocation
It appears that we've been quite a bit too conservative all these years with regards to our international position. It actually looks like we can afford to go as high as a 20% – 25% position here, since we don't expect to touch our investments for an indefinite period of time. This should work because we've already carefully earmarked some cash to tide us over our short term financial requirements, thereby allowing us to fund more long term investments. Here's a look at our allocation:
Allocation %
Style
Description
25%
Aggressive
How long should you stay in the market (Investment Length)? more than 10 years.
Amount of volatility: Significant
20%
Moderately Aggressive
Investment Length: more than 10 years.
Amount of volatility: A good amount
15%
Moderate
Investment Length: more than 5 years.
Amount of volatility: A modest amount. Expect moderate growth.
10%
Moderately Conservative
Investment Length: 5 years.
Amount of volatility: Limited, as you seek stability. Expect modest growth.
5%
Conservative
Investment Length: 3 years.
Amount of volatility: Not much, with stability being a higher priority than growth.
0%
Very Conservative
Investment Length: 1 year.
Amount of volatility: None — your holdings are for the very near term and stability is of utmost importance to you.
Given that we'd like to reallocate further into the international realm, I'm refreshing my mind on the subject. How about a brief reminder of some of the issues?
What Are The Risks And Costs Involved?
Keep in mind that foreign vehicles are just inherently more expensive due to various additional tariffs, markups, costs, fees and taxes, and that they are also risky for the following reasons:
#1 Currency risk
Currency exchange rates fluctuate along with the international markets, which can cause your gains or losses to be more pronounced. When you receive dividends or redeem your international funds, your returns are converted back into US dollars, so you'll find that your returns are affected by trends in the currency market as well. Typically, if you own foreign funds, you'll find that you'll have better overall fund returns when the US dollar is weak.
#2 Relatively stronger volatility
It's just a given that international market swings are wilder. I still recall when the Latin American markets dove in the late 1990's and around four years ago. The emerging markets will literally give you vertigo as evidenced by this historical Hong Kong Hang Seng Index chart. It'll offer you a wild and choppy ride, if your money is ready for it!
Historical Hong Kong Hang Seng Index Chart (1970 – 2007)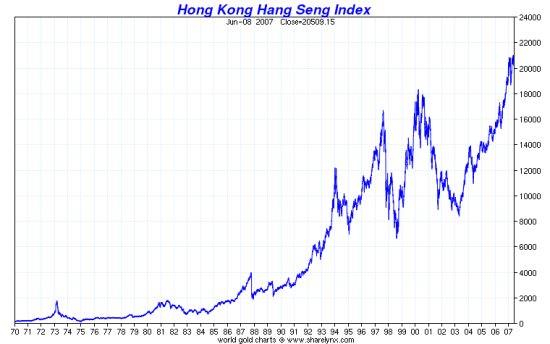 #3 Exogenous factors and social, political and economic events
If you read the papers, there just seems to be more action going on overseas. Coups, terrorism, political upheaval, market bubbles and busts, and sweeping global changes happen all the time. So it's not surprising that your money bobs around in line with these occurrences.
#4 Foreign markets operate differently
The rules are different elsewhere. We all need to live with how they run things outside of our borders. Investors are at the mercy of the rules, regulations, policies, laws and accounting standards and practices of external markets and different lands.
#5 Less liquidity and less data about your investments
There's just less to know about the markets and systems abroad and there may not be enough information available about the companies and investments you're interested in. With definitely much more data available about our companies in the home front, you wonder why we bother with foreign holdings. Again, this is a diversification tactic designed to lower your overall portfolio risk.
-ooOoo-
These caveats don't faze me. I'm thus reviewing the different ways to invest overseas and checking on a few of these as possible opportunities to pursue.
The Different Ways To Invest Globally
#1 Equity mutual funds
Like anything else, if you're new with this type of investing, I'd recommend that you try mutual funds. You can get into global funds which invest primarily in foreign companies but also buy into U.S. companies. Regional and country funds are more specific as they concentrate their investments in particular geographical areas (e.g. Latin America, Asia, Europe), in individual countries (e.g. China, Russia, etc) or in emerging versus developed regions. And lastly, you can try foreign index funds which simply track international indexes. This is something I stand by as I've done well with international funds since the mid-1990's. I just wish I had designated a larger allocation to them when I first started investing in my 20's!
#2 Exchange Traded Funds for foreign indexes
ETFs for foreign indexes work like mutual funds except they are traded like stocks. So you get the diversification of the index in the body and transactional behavior of a stock. I do own some ETFs in the MSCI EAFE arena which I've been happy with.
#3 American companies that invest overseas
This is a relatively conservative way of going international. Why not do enough research on big US companies and find out if they have offices and businesses abroad? This could be more your style. Take a look at this About article regarding this strategy.
If you own or buy Coca Cola stock (this is just an example), you are buying into a global corporation that derives a significant percentage of its revenues from countries other than the United States. Merck & Co., the pharmaceutical giant, does most of its business overseas and much of it in Europe. Some of the other big names that earn most of their revenues in foreign countries include:

Texas Instruments
Altria Group
Applied Materials
Exxon Mobil
Advanced Micro Devices
Colgate-Palmolive
#4 American Depositary Receipts (ADRs)
If you like investing in individual companies, you can try ADRs. These are stocks of foreign companies that trade on US stock exchanges. They transact as if they are US stocks by carrying dollar share prices and paying out dividends in dollars. Since I don't really own stocks in the first place, I've skipped on the ADRs, but these could be suitable for single stock investors.
#5 Foreign Stocks that trade in US or Foreign Markets
Though less common, you can also trade in foreign stocks that trade in the US or in their own native market. Canadian stocks are such an example. They are available to trade in US markets in their regular form. Additionally, you can trade directly in foreign stock markets but in my opinion, you'll need to know what you're doing before you try this. I'd personally skip this option because it's so much easier to achieve foreign representation in your portfolio via other means.
#6 Foreign Bonds
Nope, I haven't invested in such bonds yet. All I know is that they are issued outside of our borders and can have funny designations such as "Yankee bonds", "Bulldogs" (from the U.K.), "Matadors" (from Spain), "Samurais" (from Japan), and "Rembrandts" (from the Netherlands). There's also this thing called a Eurobond. Yes, these are all terms for foreign bonds! I'm not quite sure I'll get into this anytime soon.
#7 Global and International REITs or mutual funds
I was happy to hear about the opportunity to invest in REITs representing foreign real estate (typically commercial) property. The Schwab Center for Investment Research suggests designating 3% to 5% of your portfolio into global REITs or global real estate mutual funds. They've done fairly well with moderate volatility in recent years so I'm casually considering this avenue. It could be a while before I actually dip my toes in this water though! Some encouraging stats:
In the five years ending in 2006, a diversified portfolio of domestic REITs returned 23% annually, four times that of US stocks. Diversified global REITs yielded close to 27% per year in the same time period.
Returns do fluctuate, so it remains to be seen how 2007 is going to turn out for this form of investment.
#8 Foreign Currency CD or Money Market Fund
If you simply want to hedge a portion of your cash, you can open FDIC-insured CDs from Everbank made available in various world currencies for a $10,000 minimum deposit. They've also got "single-currency money market accounts" that are FDIC-insured for a $2,500 minimum. For more information, visit Everbank and check out their offerings. Check out our article on foreign currency hedging as well. Suffice it to say, pure currency plays get us excited.
Copyright © 2007 The Digerati Life. All Rights Reserved.