There have been a lot of developments with Mint.com lately, the biggest of which was their acquisition by Intuit (the makers of Quicken software). Mint is known primarily for their free online budgeting tool, which we've enthusiastically recommended here; and if you haven't had a chance to check them out yet, you may want to give them a try. They've vastly improved their software, web site, blog and overall content.
They've recently gone on the social media bandwagon and have leveraged the power of Twitter by developing what they call their "Money Tweets" feature, a section of their site that's devoted to up-to-date, real time personal finance information. This is just one more handy way to organize financial content around the web in one place.
In this new section, you'll find selected tweets covering various personal finance topics such as Saving, Investing, Budgeting, Loans and Retirement. There are additional tabs that share tweets that are "about Mint" and "from Mint" along with a Q & A tab, where you can tweet your answer to Mint's Question of the Day.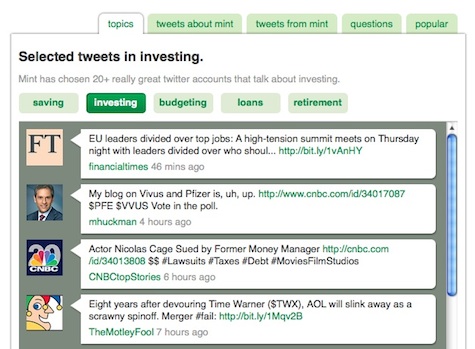 Mint's Money Tweets Section

And finally, there's the cool tab that measures how certain financial topics are trending for the day: it's a quick, visual way to see which money topics are picking up the daily buzz.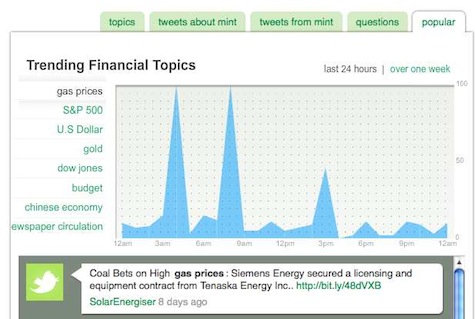 Mint's Trending Financial Topics
If you haven't checked out Mint yet, I'd encourage you to pay them a visit, not just for their popular and free online budgeting tool, but also for the rich multi-media content resource library they now offer for students of personal finance.
Now for additional financial resources, I'd also like to put in a word for this great Q & A resource called Cash Commons, which I just came across via Mighty Bargain Hunter. I've been spending some time perusing this site so I'd encourage you all to check it out as well.
Copyright © 2009 The Digerati Life. All Rights Reserved.