Mint.com has a feature I'd like to discuss, which is called "Financial Fitness": it's about making personal finance cool and at the same time, measurable. For those who are new to Mint, it's a free online personal finance tool you can use to make a budget and track expenses.
We all know how personal finance as a subject matter can be pretty dry and boring. Managing our money on a regular basis can be a tedious task, especially those particular tasks that are repetitive and mechanical. Let's face it, the fun parts of finance are the ones that result in having our bank balances grow and swell: at least, that's the stuff I get excited about seeing the most!
Use Mint.com To Measure Your Financial Fitness
So enter Mint.com's new feature, which addresses this very issue. Their Financial Fitness feature is designed to make personal finance fun and interesting; it aims to impart financial advice through a point system. I think it's a good direction, since I've noticed that anytime we incorporate goals and measuring sticks to activities that we do, it gets exciting and challenging. Why do you think that so many people find Weight Watchers' point-based diet menus so effective? Same thing with video games — they're so addicting because you just can't help but try to beat that high score.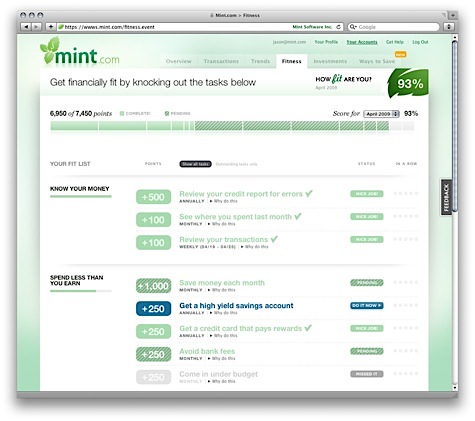 According to Mint, Financial Fitness is defined by five personal finance principles as such:
Know your Money
Spend Less than you Earn
Use Debt Wisely
Invest Your Savings
Prepare for the Unexpected
This feature uses these principles as a guide for informing you about whether you are on track to achieving and maintaining your financial health. Here's how it works: Mint identifies those tasks and actions that a user must perform in order to be recognized as financially fit. For instance, reviewing your credit report, building an emergency fund, opening a high interest savings account, avoiding bank fees and completing your budget are examples of these concrete tasks which are assigned points. Now if you achieve any of them, you receive the points towards your fitness score. Your goal? What else but 100% financial fitness!
What's more, for each particular task, you will be coached with suggested, actionable steps that you can take to fulfill the task and make progress towards your financial goals. You'll have tools, calculators, providers and products that will be available for this process. Here's where Mint performs an online advisory role by helping users find guidance about what they can do to improve their financial status.
Thrive: Financial Advice Through Online Tools
All this talk brings to mind another web site that has done something fairly similar. Thrive (found at JustThrive.com) is also another free personal finance tool that provides you with financial planning advice and tools at no cost to help you manage your money and work towards your financial goals. Besides the fact that they're both in the same space, the similarities they have with Mint are hard to ignore, but don't let it stop you from checking them both out!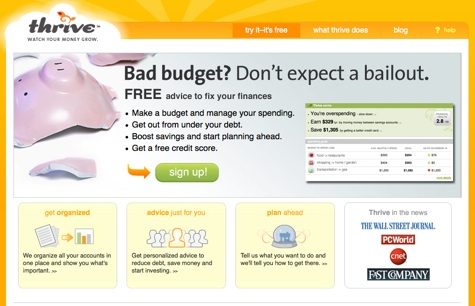 Thrive also has a scoring system in place to let you know how you're doing financially, and it's based on calculations made against certain aspects of your financial picture, such as your spending rate, account transactions and debt-to-income ratio, among other things. Your financial health score is reflective of your Spending, Debt and Savings activities that have been captured in the Thrive environment. Of course, with that score comes the opportunity to receive financial advice and guidance from Thrive, aimed to help you make changes to improve your status.
I've yet to fully test drive Thrive, so I'm certainly looking forward to checking out their distinguishing features soon.
Copyright © 2009 The Digerati Life. All Rights Reserved.