Discussing financial tools and personal financial views at a finance blogger conference In San Francisco.
I spent the day in San Francisco yesterday at a blogger conference sponsored by NetworthIQ.com and Expensr.com. At the 'Personal Finance Leaders Workshop by "The Bay"', we had the opportunity to share personal financial views, discuss financial tools, and to hear ideas about what software companies in this space are doing to make finances easier to manage for the lot of us. It's great to know that many companies out there are working to make personal finance more palatable to the public, their objective being to "create a new online personal finance management solution that will free the consumer from today's limiting alternatives."
I knew that there were a lot of companies breaking into this space, I just didn't realize how many there were!
It was a highly interactive session where the floor was opened to opinions, brainstorming and active discussion. I was quite honored to be invited to such an event, where I got to meet the founders and representatives of NetWorthIQ and Expensr and several of the most recognizable personal finance bloggers in the blogosphere who came all the way here from as far away as New Jersey. I'm just glad I live around here as it would be tough for me otherwise to attend these things…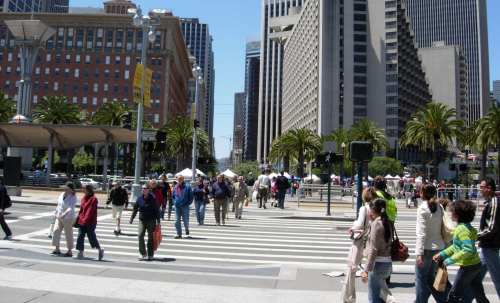 Some Personal Observations Garnered From The Conference
I was the only female blogger in the group (and probably the only one with kids), and quite possibly the oldest one in the bunch as well, so I'm not quite sure I'd be the exact target audience for the tools that were being discussed, which focused a lot on tracking expenses and managing budgets. I think I may have admitted before that I am not that big on creating budgets or managing spending for a few reasons:
Because we saved much more than we spent and were extremely frugal in the 1990's while coincidentally riding the "dot com wave", we developed the habit of not really using a budget or tracking expenses. All we know is that we had X amount more money left over at the end of the day, which got deployed into savings and investments.
I'm comfortable about having a "bird's eye view" of our budget and spending patterns. We have been fairly predictable spenders and creatures of habit, so we know where our money goes most of the time even if we don't track things in great detail. We tend to be fuzzy about exact numbers and don't sweat over the "noise" (as my spouse puts it).
We've always been a household that focused a lot on building wealth and spending the time worrying about that versus doing day-to-day financial management. We only have so much time in our hands after all. Every quarter, we check statements, accounts, portfolio numbers, run a net worth check and review credit card information.
Web 2.0 Financial Tools and Target Demographic
Currently, many Web 2.0 tools with a social component tend to focus on expense tracking and management. We can probably make things much more convenient for ourselves by having everything in one place (through a financial tool) and by having all our information aggregated in one repository. But will the potential risk of relinquishing financial information to yet another financial service provider be worth the value such a service provides? It was clear — and not too surprising — that the target demographic of most companies today that provide web-based financial tools happens to be young people who are just starting out in their lives. Following that, I heard this great insight made during the workshop that when the gap between spending and income is close, one is more inclined to use budget and tracking tools. The larger the gap between spending and income, the less relevant expense tracking becomes. I have to thank Jim from Blueprint For Financial Prosperity for this observation. I believe he was the one who offered this thought.
Some other thoughts on web-based financial tools: a big concern revolved around the issues of security and building trust with the service provider. In my mind, the older demographic will be harder to capture here, especially as net worth goes up. Once people enter new phases in their lives and presumably become relatively richer, their financial focus will gradually shift further towards capital growth and asset management. Plus, unless personal finance is their hobby, they just won't be as interested in tracking every single nuance of their finances. I do think that people will still consider security as a top most concern with web-based financial tools, and therefore, savings and investment management functionality will be a hard sell if they're provided by smaller start up companies.
The difficulty of hooking the older demographic stems from a few things:
Older people don't use the internet as much or may just be less trusting of technology or even online communities for that matter (especially if we're talking about bringing Web 2.0 "social" features into personal finance tools).
Older people usually have higher net worth and would be less trusting of web-based tools that require them to release their financial information; they've got "more to lose" in light of the threat of identity or financial information theft although the criminologist in the group, James from DINKs Financial blog makes the interesting point that id theft has gone down noticeably since the 1990's. That may be true, but that's not the public's perception, unfortunately?
The adage, can't teach an old dog new tricks applies here: older people have established money management procedures in place that are harder to change, and the functionality inherent in these tools don't yet warrant a "switch" from using existing procedures and software.
We're more comfortable working with internet tools already made available through the financial institutions we have accounts with.

More sophisticated web-based functionality that addresses the needs of older and possibly wealthier users will still be offering a tradeoff between convenience and ease vs the risk of loss of privacy and security, and this concern will be difficult to address. By centralizing information in one place, concerns over security risk are further emphasized.
I'm not convinced that older and wealthier people will be as interested in "comparing notes" with others in a social context, in reference to the Web 2.0 social component that many tools are looking to provide, though younger people may find this service incredibly useful.
So if the idea here is to snare the younger crowd, then making financial management fun, coupled with the purpose of building awareness and emphasizing financial education should be a focus.
Closing Thoughts
I was pleasantly surprised to hear that Excel still rules as the "killer app" everyone touts as their financial tool of choice. And I thought I was alone, if not behind the curve on the financial tool bandwagon.
To close, I want to express how awesome it was to actually meet these guys in person! Who knew that when I started to blog "for the heck of it" that I would meet and connect with such a sharp group of people.
Flexo from Consumerism Commentary
J.D. Roth from Get Rich Slowly
Jeffrey Strain from Personal Finance Advice
Jim from Blueprint For Financial Prosperity
Cap from Stop Buying Crap
James from the DINKs Financial Blog
Sam from Getting Finances Done
Lazy Man from Lazy Man and Money
John Montesdeoca from Queer Cents Blog
And of course, a big thanks again to those who invited us over and organized this event:
Atakan Cetinsoy from MyStrands, Inc.
Alla Oks, Reman Child and Shawn Gupta from Expensr
Ryan Williams from NetworthIQ
Copyright © 2008 The Digerati Life. All Rights Reserved.