When I first started this blog, I thought I would use it as a chance to talk about what it was like to live and work in a place like Silicon Valley. So to commemorate my first year blog anniversary (this week), I thought I'd do a post like this for the fun of it.
I'd like to start by saying that this is why I like being anonymous: so that I may be able to safely share some things about the places I've worked for in the past, as well as comment on whom I've worked for without having to fear undesirable "repercussions".
One of the perks of living and working in the Bay Area is to have the opportunity to be a part of the booming trades of Silicon Valley. It's true that our cost of living is one of the many challenges of living in this area. It is also true, from my observation that the middle class in this part of the nation is getting squeezed harder and harder. It's almost as if our middle class is eroding since it's beginning to look like this place is split between the haves and have nots and those in the middle are pulled in one direction or the other depending on how the cards have fallen for them in the last couple of decades.
At any rate, most of the professionals who work for the technical industry are the middle class, and they are the lifeblood of this place. Many can be found toiling for long hours at their decent, well-paying jobs that are required to keep themselves financially afloat in this grossly overvalued part of the world.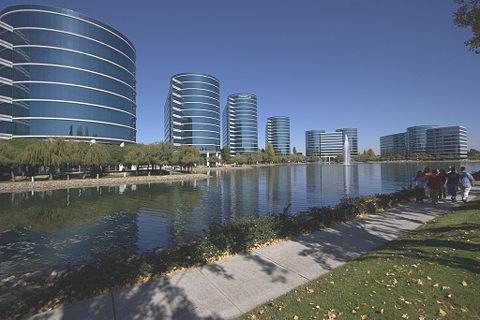 Some of the most memorable highs and lows I've experienced at work have been as an ordinary — and by all accounts — average employee in the following companies which shall remain nameless outside of the clues below. [It's easy enough to figure out actually.]
What's My Job History Like?
The Bosses.
Here are the some photos of previous people I've worked for. I'm happy to report that none of these people chewed up and spit out my soul…. I actually enjoyed working at these companies which these big bosses have helped create.
You can read more about these men and the companies they've built, in these books:
The Difference Between God and Larry Ellison: *God Doesn't Think He's Larry Ellison
You're Fifty–Now What? Investing for the Second Half of Your Life
Guide to Financial Independence: Simple Solutions for Busy People
John Chambers and the Cisco Way: Navigating Through Volatility
Bill & Dave: How Hewlett and Packard Built the World's Greatest Company
Well, okay, I've given away some of the names here, but let's just play along, shall we?
The Stock Price Meltdowns.
All these companies had their stock gravely affected by the dot com bust and subsequent bear market.
(a) Company A: Hit a high of over $45 per share in late 2000, currently the price is at a little over $21 per share.
(b) Company B: Hit a high of over $70 a share in late 1999, with current price at under $50 a share.
(c) Company C: Hit a high of $80 a share in late 1999, with current price at around $33 a share.
(d) Company D: Hit a high of over $50 per share in early 1999 and the current stock price is now at around $22 a share.
What's amazing is how some of these stocks have hit the same exact high price point at exactly the same point in time while none have fully recovered their once lofty stock price levels. If you bought any of these stocks 7 or 8 years ago and held on, you've unfortunately been carrying dead wood.
The Fun Experiences.
It wasn't always this way with the stock prices though. There was once a time when these companies had unbelievable high P.E. ratios and soaring stock price valuations. Today, with their stocks in the dust, you can at least count on these places for the great perks and benefits they still offer [free gym membership, telecommuting privileges, on site daycare!] along with a wealth of valuable learning experiences.
Some memorable experiences I've had in each company:
(a) Company A was the incubator that churned out a lot of former engineers who eventually became active participants in the internet age as founders for successful startups at a later time. Even several people I knew who stayed put in this company became very well rewarded and eventually climbed up the executive ladder to hold places of seniority (no, I did not share the same fate). Notable as well was that I started my job here before Netscape existed, which meant that this was a time when there were no internet GUIs, when all consoles were character based and we could only entertain ourselves with Usenet.
(b) Company B was a great place to work, with a lot of young managers foisting a very friendly workplace culture upon us workers. I recall one guy who didn't do squat and somehow B.S'd his way into making people do his work while simultaneously taking credit for it. He was also just a regular engineer, but after a dozen years, I was more than surprised to find that he now heads the San Francisco chapter of a prominent angel funding firm. Well, with his excellent persuasive and negotiating skills, maybe I shouldn't have been too surprised.
(c) Company C outsourced a lot of their work to foreign contractors, and turned out to be extremely successful. I remember the hard hours and many great friendships that I made. Despite the work load and pressure, hard-driving management, 24 hour support calls on top of the development time we put in during the day, I have a keen pride and fondness for this place. This place turned out to be a giant in its industry, as one responsible for the foundation of the internet as we know it today. It had clout as if it were the Google of its time, going on acquisition sprees and turning everything it touched into gold.
(d) Company D was a highly politically charged place that had a lot of "strange" people in it. I ended up in a team whose team lead became entangled in a complex sexual harrassment case with one of our team members. I didn't realize how disruptive such a situation can turn out for everyone else in a work group when this kind of thing happens. I was just glad I left the place right after that. Still, I have to credit this place for helping me learn Java in its earliest release.
The Commutes.
Two of my commutes ran between 20 to 30 minutes, one way, and they were relatively short. The others were a bear: over an hour for each one, door-to-door, and in the late 1990's it was even more horrendous when traffic packed the interstate highways courtesy of the technical job boom. Today, my dream is to find a job that takes me under 15 minutes to get to, but that's pretty much close to impossible just given where I'm located. Unless you live smack in a city that has these jobs, commuting will be a fixture in life.
The Salaries.
I received standard base salaries for engineers in the West Coast. There was this premium paid during the dot com era which is probably around 50% more of what we get today.
-ooOoo-
Now that I've spilled some beans, you may get a feel for the companies we have around here, which you'll realize isn't much different from many other large companies elsewhere :). I hope that these were remotely interesting anecdotes from our corner of the world. Many more titillating skeletons in the closet abound around here but I'll leave it to Valleywag and TechCrunch to do this job. 🙂
Blog Anniversary Giveaway!
Which brings me to one other reason why I wrote this post: this week, I am celebrating my first year blog anniversary and this post figures in that celebration! I am holding a contest (e.g. "a giveaway" in blogosphere parlance) to mark this occasion, and if you'd like a headstart in joining, please comment on this post and share with us your own funny, interesting, sad, wacky work, job or business related experience that you'd like. In fact, you can tell us anything about your occupation, past or present. I'll be covering the details of this giveaway tomorrow!
You can also read more about my salacious Silicon Valley job experiences right here.
Note: Contest is over. Thank you!

Image Credit: Wikipedia, Post Gazette, IT Jungle, PeopleSoft-Planet
Copyright © 2007 The Digerati Life. All Rights Reserved.