It's one of those things I fiddle with — those little financial tools from CNN Money or Bankrate.com that tell you how financially adequate you are. Aren't you curious about how you stack up against the general populace? These money tools are meant to dish out test results to help us keep track of our own fiscal health and progress, and may give us some insights on how others are doing as well.
So what do you expect your personal net worth to be? You can get the answer from a net worth calculator such as this one from CNN Money. I first ran this tool around 5 years ago, and ran it again today. I'll discuss some interesting results below.
Analyzing & Comparing Net Worth Numbers
With regards to net worth, it is assumed that your home or residence is included in the calculation. Given this, if you live in a high income area and if you've been lucky enough to purchase a house sometime before the 00s, then you may be in better shape than the average person. National records indicate that anyone who joined the house buying bandwagon or started investing by the late '90s or so may be worth at least $50,000, thanks to home equity built in (the real estate recession notwithstanding). But in California and other high priced areas, the numbers are a lot more skewed, thanks to a perpetually inflated property market. In many ways, the collective net worth of Californians seems to have been influenced mainly by how long we've lived in the golden state.
Median Net Worth By Age Group
If you reside in an area with a fairly robust and expensive housing market, then just by owning a house and sitting on equity while the market rose would have given you some kind of decent net worth that would be in line or further improved from what is portrayed in the net worth charts below. I found it interesting that 5 years ago, the household median net worth for people in the age range of 35 to 44 and with an income level of $100,000 was tagged at $44,875, as per CNN Money's calculator.
Net Worth Snapshot Taken In 2007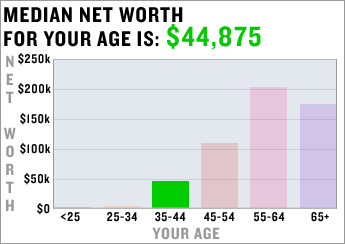 Today, however, the calculator looks to have been revamped to show different results.
Net Worth Snapshot Taken In 2012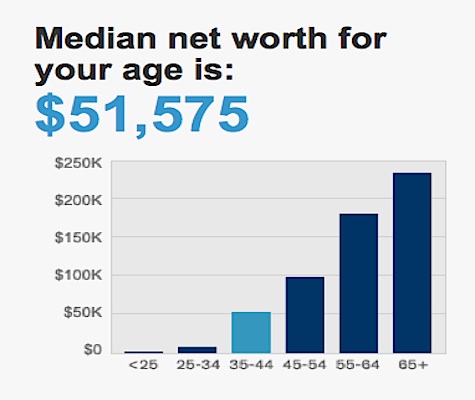 While these numbers don't necessarily look like tough goals to reach, what caught my eye were the discrepancies in the results from 2007 vs those in 2012. For the 35 to 44 age range, the numbers see a slight uptick in expectations (from $44,875 to $51,575) while net worth levels for other age ranges seem to have undergone larger adjustments. Could the data behind this calculator be telling us something? At any rate, those in the 65 year and over group look to have jumped in net worth in the span of several years: one way to interpret this difference is that the numbers may be reflecting changes in the general population's economic situation. Of course, another interpretation is that we're seeing results based on a different data source.
But, let's take a look at another set of statistics along these lines.
Median Net Worth By Income Group
So how does net worth relate to income? Let's suppose you make $100,000. Five years ago, given this household income, the median net worth was expected to be $363,125.
Net Worth Snapshot Taken In 2007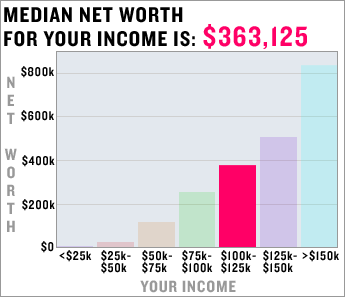 Fast forward to the present, and the new calculator shows us these numbers:
Net Worth Snapshot Taken In 2012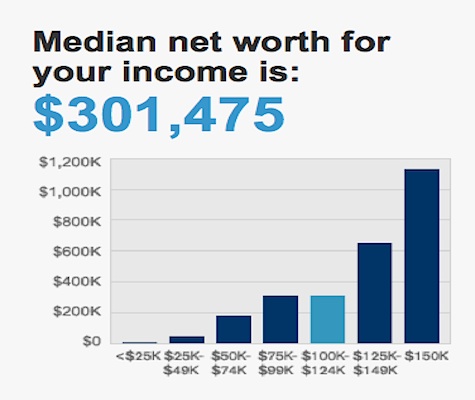 Again, you can see some changes in median net worth, through the years.
Net Worth Accumulation In Silicon Valley
From those national figures, let's move to a regional perspective on finance and wealth. Achieving any form of net worth given an income of $100,000 to $130,000 ALONE is quite difficult to swing where I live, in Silicon Valley. Incidentally, that's the typical salary earned by a local engineer. This may seem extravagant to some, but our cost of living is quite high here: think gas, rent, property taxes and everything else in between (no thanks to the California budget crisis), and try swinging that with 2 or 3 kids and it's not as outrageous as you may believe. For some perspective, you can check out this article on the minimum budget required to survive in California. It could be an eye-opener.
Given the cost of living in California, expecting a nest egg amount of over $300,000 supported by a $100,000 income may actually be a bit of a stretch for a family of four (e.g. that is, you'll really need to stretch your budget to make it happen). Hence, people here have concocted ways to build their net worth without solely relying on their income — we beg, negotiate and network to gain those stock options that may just give us an edge, and we risk our futures in equity locked into highly priced shacks we own.
This exercise has made me wonder how people have actually accumulated net worth in Silicon Valley. Many of my peers have done so via property ownership accompanied by risky leveraging techniques and strategies, through stock options or by starting their own businesses, by having dual income families or smaller families, or as radical as it may sound: having children late or never.
A regular 9-to-5 income of $100,000 for a family of 4 is going to be tough to cut it here, unless you're ready to make serious sacrifices by living an ultra frugal lifestyle or by settling in distantly located bedroom communities that surround the Bay Area. And in the free-wheeling, go-go spending atmosphere of Silicon Valley, making such lifestyle changes and choices can be the mother of all challenges.
And for many of us, we only hope this situation is not forever.
Created December 28, 2006. Updated January 20, 2012. Copyright © 2012 The Digerati Life. All Rights Reserved.