Do you ever feel yourself slipping away financially over time despite working your arse off? And what about the feeling that no matter how hard we work, our parents seem to have had it easier? Well if you always suspected wealth erosion was going on but couldn't put your finger on it, then maybe this exposition from Slate can give you some points to ponder. I thought it was pretty thought provoking. It's actually jampacked with information, but hopefully I can put down some of the salient points of the article here.
You can put stock in the statement that "the rich get richer, the poor get poorer" (also called "The Great Divergence") after taking a hard look at the discussion by Timothy Noah. Whatever suspicions you had about income inequality are echoed and supported by his findings. Let's see if I can summarize some of those points.
In 1915, the richest 1 percent in America generated 15 percent of the nation's income. Today, the richest 1 percent produce 18 to 24 percent.
Incomes had more convergence from 1940 through 1973, where distribution appeared to be more across the board. From 1979 onwards, the gap between the rich (or high income folks) and the rest of the nation widened.
The top 1 percent earn an annual income of $368,000. Over time, the share of national income for this group has grown from 8% in 1973 to 18% in 2008. The rate of income acceleration picked up in the mid-1990s. Education level (having a college degree) did not seem to have any impact on your income situation either.
Here are more findings by way of awesome charts from VisualizingEconomics.com.
Global trends and Income Inequality. Are global trends a factor in income inequality? The answer is not too clear, given the differences you see between the U.S. and other countries on this front.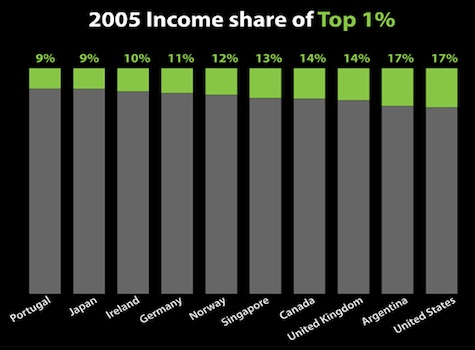 Race and Income Inequality. Here is the outlook on median income differences, by race.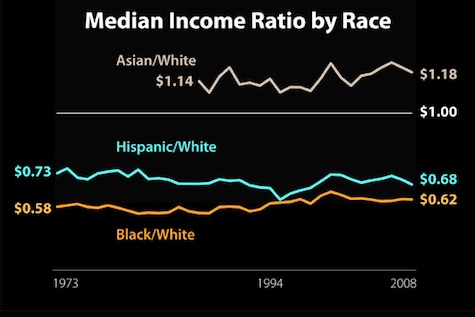 Gender and Income Inequality. Good to know that the income gap between men and women appears to be shrinking. More on this discussion in our post on traditional jobs for men and women.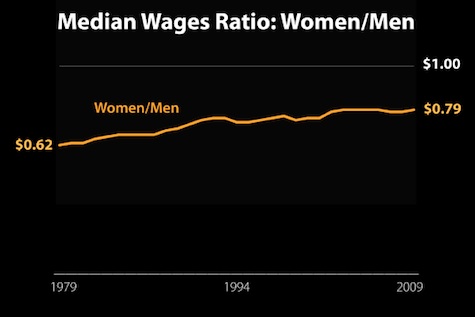 Taxes and Income Inequality. It also does not look like tax rates have had as much influence on the income gap (or "The Great Divergence") as we'd think.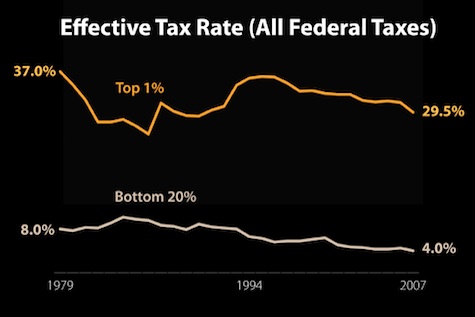 Education and Income Inequality. When education levels plateau, income levels become more unequal. It was interesting for me to encounter the point that shared prosperity depends on rising education levels. So a flat line here points to greater income and wealth inequality.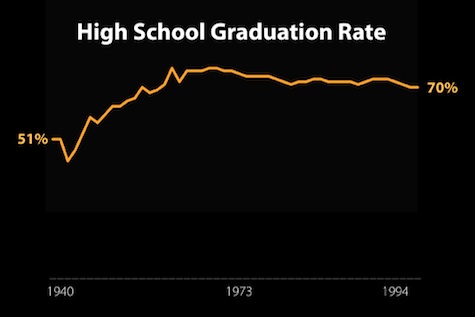 Politics and Income Inequality. Here's a little political economics for you: is it any surprise that income growth rates under Democratic presidents were stronger than under Republican presidents? Interestingly though, the conclusion formed here is that greater income equality can coexist with greater prosperity. The claim is that equality may even lead to improved prosperity.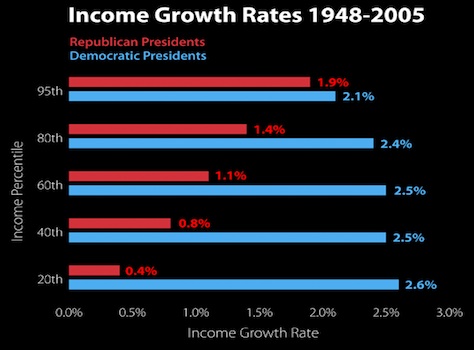 I've only touched on the major points. You can check out the article in much greater detail here.
How Rich Is Your Neighborhood?
Let's tie all this in with our cost of living situation. The Slate article featured a tool that allowed you to gauge your standing against the rest of America. I entered a Palo Alto, CA zip code (for kicks). I wanted to use one of the most expensive zip codes in the West Coast (if not in the U.S.) as an example since we're measuring against high income groups. I entered the average income you would typically make as a white collar professional in Silicon Valley and extrapolated that to a two income household. This would be around $200,000. Lo and behold, I was surprised to see that the average income in Palo Alto was much higher — $361,000? Who are these people? 😉 I have friends who live there and I hang out there on occasion, but I'm a bit surprised by the results of the tool.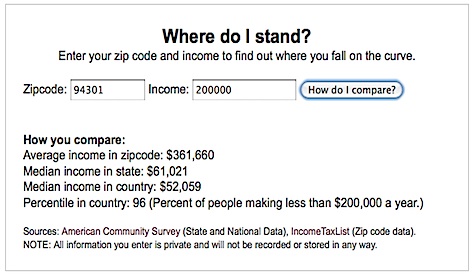 Anyway, would love to hear your thoughts on the subject.
Copyright © 2010 The Digerati Life. All Rights Reserved.