A rising tide lifts all boats.
There was a time when the Bay Area was subject to that proverbial rising tide, where easy money chased opportunities and opportunities minted even more money. During the tech boom of the previous decade, the rich got richer, the less rich got a bit richer, and most everyone was doing well. Little did we know how much this would be contributing to our ever escalating cost of living, whose effects we keenly feel today.
After the bubble burst in 2003, things have gone the other way somewhat. There's still a lot of money floating around, but it's cautious money, and distributed a bit differently. I just read an article in the San Jose Mercury News that brings up a concerning trend. Is there something really happening to our local middle class?
Reported data seems to show that our middle class is shrinking ever so gradually. The bigger question I have is this: how reflective is this of what is happening elsewhere around the nation? And is this something we should care about?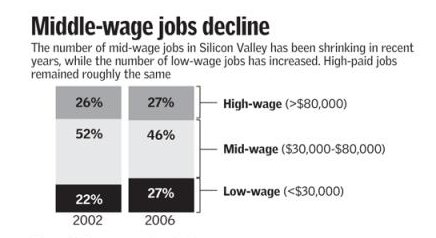 More interestingly, who is doing something about this?
Tuition Break For The Working Class
Well some out there care enough to do something about it. Some influential institutions out there are taking steps to address the typical costs that plague everyday working families. For instance, that Stanford University has announced free attendance for kids whose families earn less than $100,000 has given me some assurance. This is a way to ensure that upward mobility remains alive and well, even as the middle class is feeling the squeeze from high cost of living, crazy property values and seemingly diminishing mid-level jobs. Such a move will make a positive impact to some middle class wallets, given that a third of Stanford families earn below $100,000 annually.
Cost of Higher Education
| | STANFORD | UC-BERKELEY | SAN JOSE STATE UNIVERSITY |
| --- | --- | --- | --- |
| Annual costs | $49,363 | $25,308 | $18,195 |
| Expected contribution from a family with $150,000 income | Sliding scale (up to $49,363) | $25,308 | $18,195 |
| For a family with $100,000 income | $11,000 | $22,179 | $18,195 |
| For a family with $55,000 income | 0 | $3,871 | $3,871 |
"The elimination of loans is also a good thing, but one that merely catches us up to Princeton and Harvard," said Hyde, from Potomac, Maryland. "And the continued consideration of home equity is problematic. I know of students whose parents refinanced their houses to continue to afford tuition."

Throughout the nation, top schools have been seeking ways to end tuition anxiety. Until recently, top colleges offered little or no aid to average families.

Three years ago, Harvard waived all costs for families earning less than $40,000 per year. A year later, Stanford and Yale followed suit for all families making up to $45,000.

In December, Harvard declared a plan to cut costs for families earning under $180,000. Harvard families earning $120,000 to $180,000 pay no more than 10 percent of their income toward college. At Princeton, families who make $120,000 to 180,000 contribute 16 percent of their income, on average, toward school.

Swarthmore, the University of Pennsylvania and a growing number of other schools are also jumping on the no-loan bandwagon.
Wonderful as it is, I still consider this break that Stanford affords as some kind of a lottery. The catch is that your child needs to have an impressive academic record (and lots more feathers under your cap) to be part of the diverse lucky few who fit the profile for skipping out on tuition this way. It's tough enough to get into Stanford, but even tougher for those who'll grapple over the few spots that they're giving away for free. It may not be enough that you make less than $100,000 (lots of people here are in this boat), and have a kid who's brilliant. There are too many other factors that figure into their admissions calculation.
But, it's good to know that the Ivy Leagues are recognizing the middle class pinch and are addressing them in some capacity, and helping to level the playing field for those smart and ambitious folks who are aspiring to acquire a top education and highly coveted diploma.
Still, I continue to wonder how much this'll influence larger socio-economic trends. Or is it just the case that we're simply waiting for the next tide to come by to lift us up again?

Image Credit: ABC News; Data Source: San Jose Mercury News
Copyright © 2008 The Digerati Life. All Rights Reserved.