How's your eating? While surfing the net, I found some great resources that covered one of my favorite topics: tasty food! And it's not everyday you find the terms "cheap" and "gourmet" juxtaposed in the same statement either. So let's check out what I uncovered.
Eat For Under A Dollar?
Sometime ago, I heard about this crazy-sounding project that a couple decided to partake in, that involved limiting their food budget to a $1 a day. It's called the One Dollar Diet Project. This intriguing family experiment was concocted by a pair of teachers who decided to make a go of an ultra-cheap diet plan during September of last year — they thought they'd try to keep their meal budget down to a dollar a day and kept with the program for a month (ala Super Size Me).
Ultimately, they ended their "project" and now recommend that nobody try to replicate this experiment due to its potentially unhealthy and dangerous consequences. Although I do think that the $1 a day idea may be a bit extreme, eating for a few (or several) bucks a day doesn't seem that far-fetched, after checking out this list of healthiest foods for under $1. This inspired me to compile a short list of tips to help you save money on meals.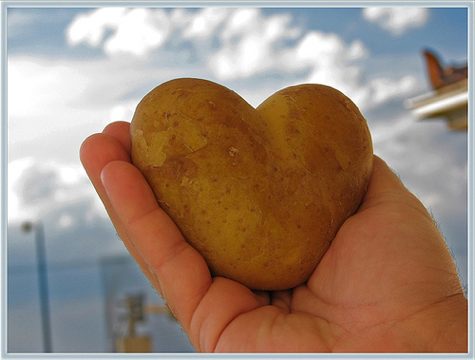 Potato heart image by
Neona
#1 Eat Out For Less With Restaurant.com Discounts and Coupons
You can certainly eat out for much less if you so choose. For example, you can take a look at these restaurant discounts and dining coupons that can immediately cut down the costs of your dining experience. Some of these coupons are a pretty good deal if you enjoy dining at the restaurants that provide these price breaks.
#2 Feed A Family of 4 For Under $10 With Cheap Meals and Easy Dinner Ideas!
Now if you're one of those people who've decided to cut food costs by limiting your excursions to restaurants that serve the fancy meals because of our iffy economy, it still doesn't necessarily mean that you should be resigned to boring your taste buds with endless pizza and ramen. Could there be home cooking alternatives that are both cheaper and healthier?
Have you heard of the terms "recession dining" and "depression cooking"? These are just new terms that have caught on to refer to those affordable meals we can make, eat and still enjoy. Following are a few ideas for cheap meals you can cook at home to save money that you may find useful.
With a little creativity, families can feel stuffed with the right amount of proteins, carbs, fats and fiber. For $10 or less, you can feed a family of 4 people with a meal of Red Beans and Andouille Sausage or a Cranberry Chicken Piccata or a Veggie Pasta, as is mentioned and demonstrated in this CNN tidbit: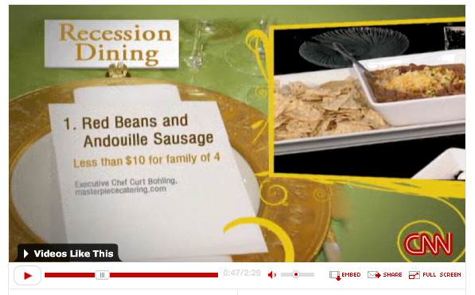 Click here
to watch the CNN video.
If these meals whetted your appetite, or just got you curious about how they're made, then check out the actual recipes for the three dishes shown right here.
So what are your favorite comfort foods that you can make for $10 or less?
#3 Recession Dining? What About Depression Cooking With Clara!
Here's a 91 year old great grandmother who's become a You Tube celebrity thanks to her cooking videos, where she highlights recipes from her childhood, during the height of the Great Depression. Some of her simple recipes include pasta with peas, potatoes and cheese, as well as egg drop soup. Then there's this interesting dish she christens the "poor man's meal". It has potatoes, onions, and hot dogs:

Clara cooks her Poor Man's Meal
For more about Clara and her home cooking, you can visit her site here (although she's having some connectivity issues at the moment). She reminds me a lot of my grandmother and she cooks a lot of the stuff my mother-in-law already loves to do, bum economy or not.
I also find Clara's depression era stories strangely comforting. Could this be one of the silver linings we face during harder times? Times like these, we tend to develop stronger bonds and relationships, gravitating towards our families more, in search of some extra comfort and support (whether financial or emotional).
So how is it like in your kitchen? Care to share any of your favorite cheap meals?
Copyright © 2009 The Digerati Life. All Rights Reserved.