The subject of this post comes from an article I found in my email box today, care of Consumer Reports. CR put together a discount calendar showing the best times to save money during the year (and for what items). They based the information here on industry surveys and publications, among other things. From their research, it seems that sales are less predictable than they have been in the past. But according to the Consumer Reports article (from which I'm shamelessly lifting a lot of this information along with their sales calendar image below), you may still get some money saving deals by looking for patterns in sales schedules and store circulars you receive. Some interesting advice on bargain hunting:
1. Don't buy a particular item during a time when that item is in high demand. Some merchandise may actually be subject to some level of seasonality. For example, avoid picking up jewelry right before Valentine's Day or Christmas time. I'd suspect you'd do much better price-wise, by picking up your next year's Valentine's Day gifts or holiday presents during the summer. You'll just have to store them somewhere inconspicuous for a while. And there's no better time to buy holiday decor than in January!
2. Monitor online deal sites like Ebates, which frequently offers double cash back rewards and coupon codes from their partner sites and merchants during the year. Their merchant network is one of the largest I've seen anywhere. Check out my Ebates review for more on this popular deal site.
For additional shopping resources, check out these articles:
3. Get the best prices for airline tickets from Tuesday afternoon to Thursday. Avoid buying tickets during the weekend as that's when airline fares are up! Here are more tips on how to book cheap flights.
4. DVDs and CDs are typically released on Tuesdays. Find them on sale for the first one through three weeks after their release.
Best Time To Buy Stuff: Discount Shopping On A Schedule
And here's the good stuff. Check out this Consumer Reports' discount calendar that I referenced earlier, which shows the time of the year when certain items go on sale.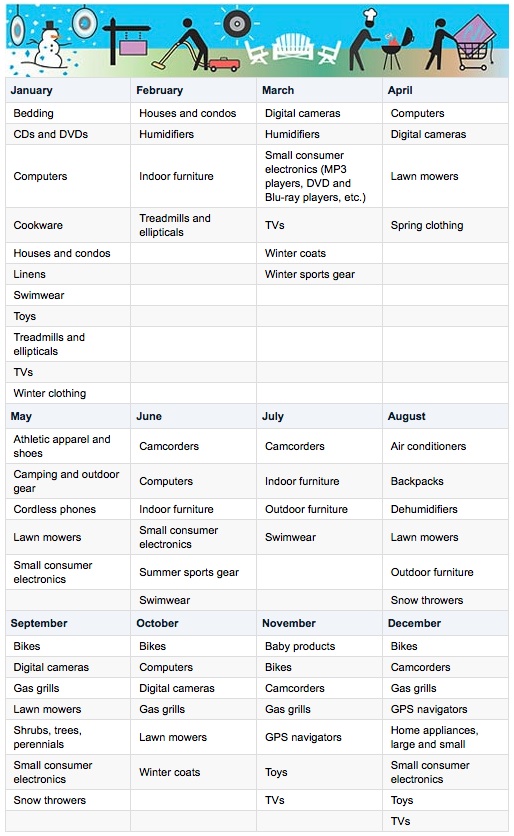 So any other good shopping tips? Knowing when to buy certain merchandise can help you plan your shopping around sales events, so that you don't need to wait for those Black Friday bargains and Cyber Monday deals for the best prices. Besides, who wants to cram all that shopping into a few days (or weeks)?
Copyright © 2010 The Digerati Life. All Rights Reserved.