Are you big on online coupons or promotional codes? Well you may have noticed a few new sites that have cropped up, which allow you to get big discounts on items that you can buy from local merchants. I may have been late in the game here, but I've been taking a closer look at these coupon schemes. Actually, the brother of a dear friend of mine works at one of these places, called SocialBuy.com. I heard about it from him some months ago and was intrigued by their premise.
For the record, here are a few other sites that do the same (or similar) thing: LivingSocial.com, BuyWithMe.com and Groupon.com. I got wind of an interesting infographic from SiteJabber.com that shows you how these new deal sites work. I've decided to present it in my own way below.
How Do Groupon Daily Deals and Other Social Coupon Websites Work?
You can click on the image below to get a closer look at the full graphic. Here are some basic questions you may have about Groupon and other Daily Deals sites, along with some answers which I culled from the infographic.
It all starts out with a posted deal on the Groupon site. Let's take for instance a deal that offers 24 hour coupons. Samples of deals are dinners at half price at a restaurant or beauty products and services for sale.
Most deals are typically given out by merchants rather than service providers, although service-based deals are also available.
Deals are normally posted by midnight and will only be around as supplies last.
Deals are usually made available for 24 hours. New deals appear when old ones expire. Thus, the life of a deal is typically 24 hours.
The deal is viable only if a minimum number of people are able to take it. So when you find a deal you're interested in, the site encourages you to spread the word around so that more people can participate.
If enough people commit to the deal, then you receive a "groupon" which you can take to your local merchant.
There are lots of sites out there that try to help you save money, from regular deal sites that simply recommend items on discount to cash back rewards sites like Ebates and BigCrumbs. But as you can see, these social coupon sites work differently.
So Why Does This Set Up Work?
These social coupon sites are a way to promote volume discounts. It works because as more people commit to buying a product or service, the more likely it is for a merchant to make money on those items, even with the discounted prices. Some great points:
Those people who take advantage of daily deals will typically save between $10 to $30 on what they buy.
The average expiration time of a deal is 24 hours, and there are new deals offered each day (with a countdown). If you decide to participate, you'll be kept abreast of the deals with email updates from the sites.
You can check out Daily Deal Sites and their forums so you can connect with like-minded shoppers.
These daily deals offer better discounts than you'll find in many other places.
Pros and Cons of Social Coupon Sites
So what makes these deals worth your time or not? Here are some of the most common positive and negative features of these sites.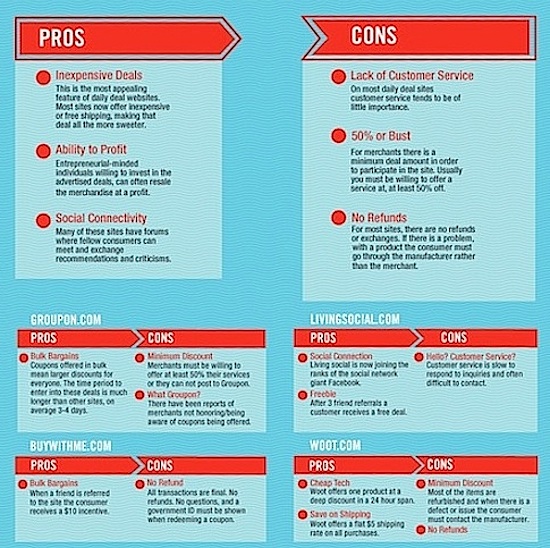 Image from sitejabber.com
Pros:
The most obvious thing — you'll save money with cheap deals!
You can even make money with these deals. How about buy and resell given the deep discounts you get here?
These sites offer social connectivity for shrewd shoppers.
Some sites give away free deals or monetary incentives for referrals you make.
Some sites give you flat shipping rates.
Cons:
Most daily deals sites don't have good customer service…yet!
The downside to merchants is that the minimum discount allowed is usually at least 50%. But this can be a positive thing for consumers.
There are no refunds nor exchanges allowed. You'll need to turn to the manufacturer if there is a problem with your purchase.
Where To Find One Day Deals: A List of Social Coupon Sites
If all this sounds like your kind of thing, you can check out this short list of daily deals coupon sites:
| | | |
| --- | --- | --- |
| Groupon.com | LivingSocial.com | Eversave.com |
| Woot.com | BuyWithMe.com | Tippr.com |
| SocialBuy.com | Zozi.com | CrowdSavings.com |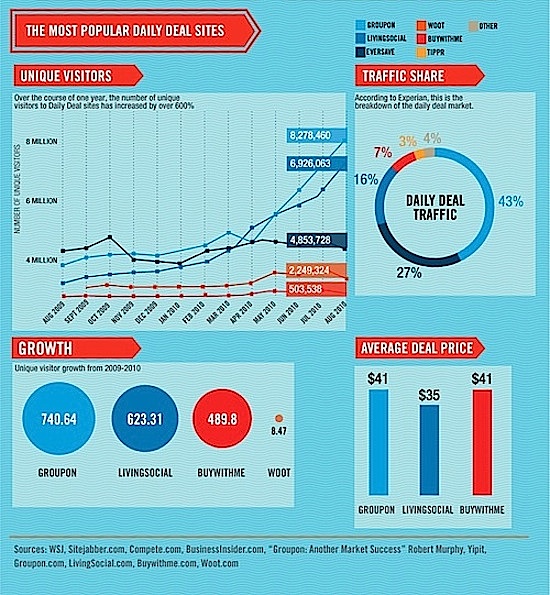 Image from sitejabber.com
Happy shopping!
Copyright © 2010 The Digerati Life. All Rights Reserved.