I was surprised to find out that there is actually a debate that surrounds the question about adding personal finance as a subject or a curriculum in high schools. I would have expected that this notion would meet with rousing support. But as it stands, one side of the finance in schools debate argues that teaching children about money should remain solely within the family. In the past, a child's first introduction to money concepts may have come in the form of a weekly allowance. Or maybe you know children who fed piggy banks when they received birthday or holiday money from relatives and friends. Other basics introduced by parents may include the idea of charitable giving and planning ahead for gift giving.

I would think that it would be hard to argue against finance in schools in light of the recent problems in the economy and the housing market. Many children are learning firsthand about home foreclosures and the impact of job losses (some of them need only to look around their neighborhood for these signs). By going beyond the basics of financial literacy, it may be possible to provide students with the economic skills they need to navigate the workforce and establish themselves as they grow older. It's assuring to hear about those U.S. states that believe in the importance of finance in schools and which have taken steps to implement a financial curriculum.
Financial Education In Our High Schools
Let's look at what is going on in various American school districts with regards to this matter. Where does your state stand on this matter?
Virginia. When the state of Virginia moved to require financial literacy for its high school students, it was met with some resistance. Some felt that the material could be adequately covered in math and civics courses, while local school boards didn't appreciate being told what to teach by the state. At this time though, Virginia does have a curriculum for middle and high school students that covers topics like opening an account at a financial institution, balancing a checkbook and filling out a loan application. Additional topics include consumer rights and responsibilities, debt management and understanding contracts.

Pennsylvania. One high school is adding a course, but doesn't have the funding to hire more staff.

Maryland. Several years ago, a Maryland school board president expressed concern that a single course wouldn't be enough to fully educate students about financial matters. He also pointed out that the course is relatively expensive at $600,000 — and he feared it wouldn't be effective.

Missouri. Students in Missouri can take a personal finance class in the tenth, eleventh or twelfth grades. They study budgeting, banking services, and saving and investing. Other themes include credit and consumer skills. Also, goals and decision making as well as career planning are covered.

Wisconsin. The Wisconsin Policy Research Institute is worried that the state's lack of a requirement for economics and personal finance classes and inadequate number of trained teachers for the subjects will be detrimental to the residents and to Wisconsin's overall economy.

Tennessee. Students here are expected to learn about money management, income, saving and investing, and credit and spending.

Utah. Utah teaches its students about basic budgeting, investments and even bankruptcy education.

Illinois. This state requires a consumer education course of 50 minutes a day for nine weeks for its high schools. The students are taught about credit scoring, income taxes and the role of consumers.

Georgia. They have an economics course that incorporates personal finance into one of its themes.
The good news is that personal finance topics are added to other subjects like economics, math or social studies in quite a number of states, from Arizona all the way to West Virginia. Personal finance may be taught as electives in other states. I am sure that there are independent school districts and private schools that handle this subject on their own.
The teaching of finance in schools is starting to emerge across the nation. According to Jump$tart.org, Virginia, Missouri, Tennessee and Utah actually require students to take at least a semester of personal finance.
I live in an Oklahoma school district that has implemented a semester of financial literacy in the eighth grade. This class goes over how to maintain bank accounts, among other topics. Over at the local high school, the ninth graders recently listened to a guest speaker about retirement funding. Since these students are likely to take on part-time jobs within the next year, giving them an introduction to finance in school may help them handle their paychecks with care.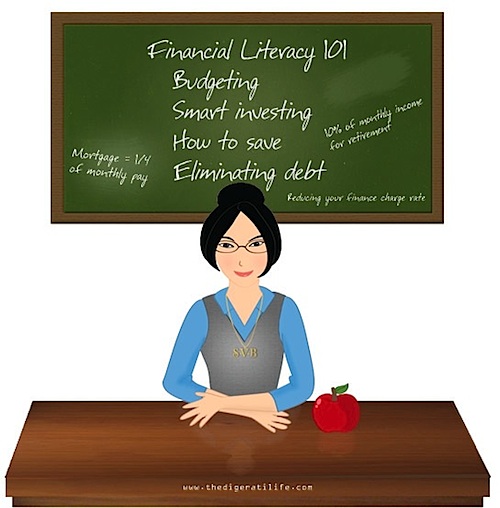 A Sample Personal Finance Curriculum
Financial courses give students the chance to learn about what to do with their first paychecks, how to develop spending plans and how to build marketable skills. Such a course doesn't need to eat up an entire semester, either. One college senior recounted how relevant her personal finance class became after just five weeks (source: USA Today College).
I thought to put together a sample financial curriculum for students culled from a variety of resources. As students move into higher grade levels, it becomes possible to introduce financial topics of increased complexity. Ideally, by the late high school years, students should be amply prepared to understand their college financing options, set savings goals and anticipate credit card management. Almost two-thirds of college students need to take out student loans, according to FinAid. College-age students should be prepared to handle their student loans and receive guidance about employer-sponsored savings plans like the 401(k).
| | |
| --- | --- |
| Grade Level | Sample Topics |
| First Grade | Counting Change & Currency |
| Second & Third Grades | Paying for Purchases & Gifts |
| Third & Fourth Grades | Introduction to Saving & Compound Interest; Setting Financial Goals; Allowances |
| Fifth & Sixth Grades | Introduction to Banking Services; The Lemonade Stand & Entrepreneurship |
| Seventh & Eighth Grades | Managing Checking Accounts; Minimizing Bank Fees & Overdrafts |
| Ninth & Tenth Grades | Careers & Income; Budgeting; Planning for College Expenses |
| Eleventh & Twelfth Grades | Credit Cards & Loans; Insurance; Investments; Implementing Personal Finance Tools Like Mint, Quicken or Spreadsheets |
| College | Managing Student Loan Debt; Good Practices for Credit Card Debt; Investments; Purchasing a Home; Filing an Income Tax Form; Employer-sponsored Savings Plans |
In high school, many teens start working and earning substantial paychecks for the first time. I'd argue that this would be an ideal time to introduce them to the expenses that are associated with living on their own, the impact of credit cards on their budgets and to saving for longer term goals. At this point, issues like the $5 debit card fee may be enlightening to them.
If my local school board hadn't already set up a financial literacy class, I suspect parents and community leaders might have suggested it eventually. That's because a financially confident individual can contribute to his or her community by staying in the workforce and by being productive. Imagine if we could all become responsible home owners who are able to make purchases that motivate area businesses to continue to operate — there's a lot we would be able to control better: high crime rates, blighted cities and towns, heavy dependence on government services and welfare. There is no debate that a lack of money management skills can derail ambitions.
The bottom line is: it doesn't seem difficult to share the basics of personal finance with our kids. The piggy bank is just a starting point. Beyond that, there's a lot more that can be learned. A lot of our financial problems as a nation are traceable to consumer debt and money management. Wouldn't it be great if future generations can stave off financial catastrophes (and do a better job than we've done)?
Created April 18, 2007. Updated October 28, 2011. Copyright © 2011 The Digerati Life. All Rights Reserved.