How do you feel about your personal financial situation? In our case, we are going with the flow. Our financial strategy has always been to try to adjust to the current environment whenever possible. My spouse and I were long term corporate hounds and it served us well to try to climb the career ladder while investing our savings in the stock market and even in real estate for a while. That was the strategy taken by a lot of folks before Y2K hit. And it was a pretty good one for a while.
How Are Your Finances Doing? Past and Present
Well I've been reflecting on the 00's decade and it's been a lot more erratic for us. Like many people, we were slammed by the stock market roller coaster, the layoffs, the financial crisis. So our strategy has shifted. We are no longer relying exclusively on our investments as the only way to help us retire in the future. (While we are supposed to be entitled to social security income in the future, it's something we discount altogether when we plan for our retirement. We're just not comfortable counting on the government for these things.)
Our new approach is to see if we can focus on business — business as a way to invest in the future, rather than rely entirely on our savings and investment portfolio. Unfortunately, being your own boss has its risks, but by trying it out, we are gaining experience and learning how to think like entrepreneurs.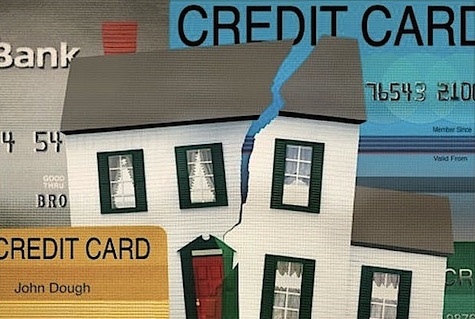 Image from Financial Post

So how is middle America doing? How are we stacking up compared to the average American family? Are we average? In my case, from talking with my own circle of friends and family, the picture has not been so bright, sad to say. Despite improvements in the job market and with national unemployment statistics, I can still sense growing financial pressures in the lives of many families I know. For instance, here's something I received in the mail the other day, from someone who continues to feel the pinch:
"Everyone is concerned with money. Everyone likes to earn money. But I am resigned to living the rest of my life in a simple house and not traveling around the world. I'd rather save my money to give my kids a good quality education. I never want to own a Porsche or a Mercedes. I'll be using a Toyota Corolla or a Honda Civic until the day I die. Or maybe I'll just use public transportation."
Average American Family's Finances: In Shambles? (Infographic)
In general, America's financial situation does not look good at all, if you're going to take some of the facts you'll see from VisualEconomics.com. Let's take a look at a few statistics: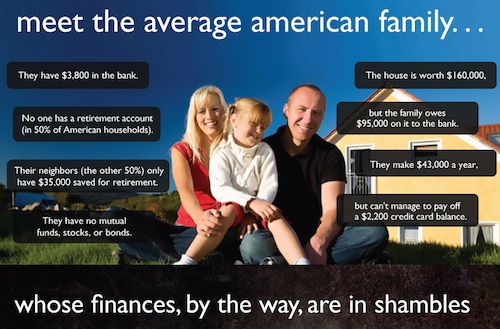 The rest of the infographic describes our "finances in shambles" (these figures are unconfirmed beyond what is shown in this image):
The average American family has $3,800 in the bank.
50% of American households don't have a retirement account.
The 50% of households with retirement accounts only have $35,000 saved up (per family).
The average family owns a house worth $160,000, $95,000 of which is their mortgage.
Average income is $43,000 per year.
Average credit card debt is $2,200.
40% of working Americans are not saving for retirement.
$117,951 is the average American household's debt.
25% of households have no savings whatsoever.
24% have postponed retirement.
Only 18% are very confident about their retirement situation.
$2 trillion is the combined amount of personal debt held by Americans.
7.7% don't own a bank account!
Given these statistics, you may be curious about how your financial situation compares with the rest of America. Here's a little tool to help you see how your income stacks up. Here's how to see how your net worth measures up against your neighbors.
Copyright © 2011 The Digerati Life. All Rights Reserved.