How are you saving for retirement? I share some thoughts on retirement annuities.
I admit that I have a penchant for ranting about the misuse and abuse of annuities. And, yes, you have heard and read others doing the same. But, we have all also conceded that annuities can have a place in our portfolios and may be appropriate for some investors. It seems that that controversy will continue and will probably be even more exasperated by Washington's newest "bright idea".
The current economic landscape and many of the well known problems with Wall Street firms have fueled further fear of people never reaching their retirement goals. Couple that with the fact that the average American has small to negative savings rates, this fear is probably more a reality than ever. For those folks who are retired or are close to retiring, there is the pressing concern that they may end up outliving their retirement money. And who wants to worry about stuff like this during their golden years? It doesn't help that savings account rates are scraping the floor these days either.
Retirement Annuity: Is This Required Funding For Our Retirement?
So, what's the newest solution? Some members of the Obama administration, as well as some elected legislators, are proposing using retirement annuities as a way to address the issue of longevity. One proposal that's been bandied around has to do with possibly establishing a portion of employee retirement plans devoted to producing lifetime income — pretty much an annuity. Guess the point is, if you cannot do it alone, they (the government) will force you.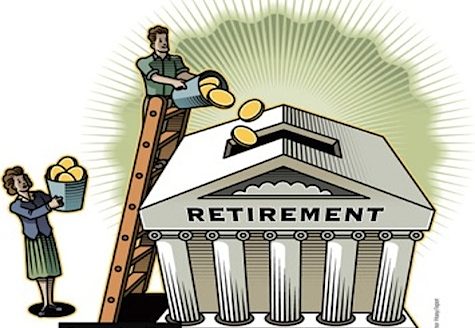 One of the reasons why this kind of thinking has taken hold (among the Powers That Be) is because of the shift to a more personal ownership society over the last decade or so. Pension plans and other "guaranteed" forms of retirement payments have been on the out, while your personal savings and investment success are in. Basically, it was, and is, up to you. But, in light of the overwhelming retirement preparedness statistics and the recent economic turmoil, frankly the government thinks that we cannot handle it ourselves. I don't argue that point: we need help.
Equity Investments Are Still A Top Choice
If you're investing for retirement, the common advice is to invest in equities for growth but what about the possible implementation of some kind of fixed income element to our retirement plans? This idea has taken hold because there was a lot of fear mongering that took place when the markets tanked in 2008 (followed by what was known as the "worst recession since the Great Depression"). I cannot help but think that Washington's motivation for this proposal is really a knee-jerk reaction to the recent instability in the financial markets. Frankly, the negative and scary statistics on American retirement preparedness have been there for a while, so what's changed? The point is that longevity is certainly a factor, but if you have not saved and invested enough to begin with, what's longevity have to do with it? Great! Your measly savings will last for the next 100 years, but you will still be living off of Spam because it's still simply not enough. Here's more on the topic of financial retirement planning for a life expectancy of 100 years.
One other issue behind supporting a retirement annuity as a solution to our financial needs as retirees involves figuring out who's going to offer these products. And whenever you encounter the word "annuity", who else pops in mind but those representatives of the life insurance industry, right? Not surprisingly, there's a lot of support from life insurers to get this initiative going — just means more money/revenue for them. But in my opinion, marrying insurance with investment isn't really a great idea. So this is once more one example where mixing the two can turn out to be a rather controversial matter.
But, more fundamental than that is what strategy or investment product would be the magical elixir for this ailment? As everyone knows there is a fine balance between income generation with preservation and growth. Can annuities, for instance, sufficiently achieve both goals after costs? And, when would these fixed payment instruments be required — immediately, upon retirement, before retirement, etc.? What about all the IRA money and funds from previous employers? Would they be required to contain annuities as well? It's too early to say if anything will come of it, but frankly it worries me when the government tries to get involved with changing or artificially constructing investor behavior — especially, when it's simply a reaction to a short-term event (recession). In concept, the ideas are good, but in substance, they typically have little impact.
Instead of going with an annuity, why not think about doing your own mutual fund investing?
Copyright © 2010 The Digerati Life. All Rights Reserved.