Make the best move for your retirement plan: why you should rollover to an IRA right away.
I felt a little guilty when I realized I still had to get moving on consolidating my various 401K accounts into a rollover IRA. You see, I was once a former independent technical consultant (one of those "traveling" or "freelance" engineers during the dot com years who had jumped from one employer to another), who had chased numerous short term projects with the help of various headhunting agencies when the job market was hot. I had not only left a trail of legacy code in my wake, but also amassed a collection of minuscule 401K accounts tied to a variety of plans and invested in a variety of funds, discount brokers and institutions. Each account is far from significant, but taken together — well, they represent the bulk of my retirement funds!
I had been meaning to roll over these funds at some point (I've only been partially successful). But life has taken over, causing this task to slip in priority. Well I just caught this video which has now lit a fire under me: I'm going to have to get serious about this! Watch this and you'll see what I mean:
Click this link or the image below to watch the video.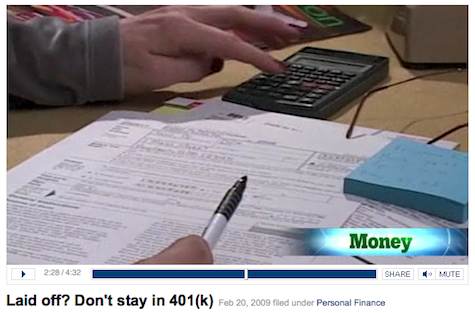 The expert here echoes what I've already known for a while but have not really taken as seriously as I should: that once you've left an employer, it's never a good idea to keep your money in their 401K plan. Once you leave a company, you are faced with several options on how to deal with the money you're keeping in your employer-sponsored retirement plan:
Keep your money where it is (this is what happens by default).
Move it to your new employer's retirement plan.
Roll it over to an IRA.
Of course, you can simply take the money out to do what you want with it but this is obviously a very bad idea.
The best move you can make? I agree with the advisers here who say that you should move your money into a rollover IRA as soon as you can. This way, you will have full control and access to your money without issues. It's a hassle to do the paperwork perhaps, but it's much more convenient when you've got full freedom to deal with your retirement money however you'd like. I'd like this post to be a reminder for all of us with stray 401Ks to do that rollover asap. Now all I have to do is practice what I preach.
Copyright © 2009 The Digerati Life. All Rights Reserved.