For a while, I wasn't sure why some people chose to skip contributing to their 401K plans. Certainly, I've seen some arguments against funding that trusty old standby that is our company retirement account that may be applicable to certain cases, though not my own. However, we're talking about 401Ks with extremely well matched funds here. But there are those who still decide to bypass the benefit and nix the offer.
To those of you who find personal finance as familiar territory, it seems like many of the golden rules we hear everyday are often just regurgitated to the point of sheer obviousness. Decisions cannot possibly be made any other way than what's been drilled into us. Do something different and we're nuts for resisting free money or refusing the promise of a fat investment account.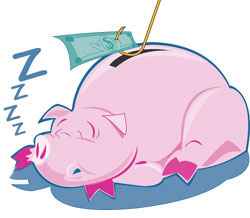 So why are there quite a number of folks who have decided not to subscribe to all the well-worn advice, in the face of conventional financial wisdom?
I felt obligated to write this after a few debates with a couple of my long-time colleagues who are such hold-outs despite our frequent discussions on finance and benefits, and who still don't partake of a great retirement plan offered at work. A generously matched 401K may not be that enticing enough for some people. Unfortunately, such a 401K is also not within reach of many.
So what are their reasons for not accepting the up to 6% company match awaiting 401K participants?
8 Reasons For Turning Down A Well Matched 401K
Here's why people have said No to a 401K.
They don't have enough money today.
Among the people I know, it's the #1 reason for not opening that 401K account. The financial commitment can just be too overwhelming. Since retirement is a tiny glimmer in their imaginations at the moment, they just can't keep their money hostage. They've got a family of five to support on one income, a balloon mortgage and not enough money to go around. Unfortunately, some just feel they cannot afford to save.
A retirement account is not a priority.
If you have a lot of debt to worry about, there may not be any choice at all. Retirement accounts may be the last thing in your mind while other financial issues take center stage for you. But you may want to investigate whether there is some way to structure your debt programs to allow for savings to take place more easily.
They won't have any use for it in their golden years.
There are those who don't plan on retiring in the United States but instead harbor this dream of pulling up stakes and living elsewhere entirely without being tied to their past. They want a clean start in their fantasy tropical island or European hamlet when they're old and gray without having to worry about being fed checks from a bureaucratic outfit. I don't necessarily see holding companies as trouble to deal with, but you'll be surprised by those who want to simplify their financial dealings with anyone as much as possible! They'll keep their money under their mattress if they could!
They are distrustful of any employer and desire full control of their money.
Based on some scary business headlines of the past screeching "Good Companies Gone Bad!" or some such thing, there are folks who have shied away from company controlled personal accounts. There are those who don't trust their employer, with thoughts of Enron, Color Tile and even yesteryear's IBM spinning in their minds. They want full control of their money and would like to deal with it any which way they'd like.
They want full flexibility and richer fund choices.
Unfortunately, not all 401K benefits plans offer the greatest fund choices, and this can be a turn off. However, I try to keep things simple and usually just use index funds in my retirement accounts or try to find a similar fund as an alternative. Index funds are ubiquitous and are typically found in retirement benefit plans.
Some don't understand how it works.
Some just don't get how it works so they don't participate. I still remember the day when I got my first job and first heard about 401K accounts. Needless to say, I was quite bewildered about the whole thing. I deferred participating in the 401K until I understood what it was all about, but that took a while due to some inertia. I got distracted with other matters and didn't take the time to learn about our company benefits until much time…and opportunity had past.
Many just quietly forget about it.
This is not a very good excuse. Similar to the previous reason, you could actually be too busy to remember to fund that 401K. It's another point of procrastination for many people out there.
They don't plan to retire anyway; they want to work till they drop.
So there are those who figure, with money tight, they're bound to be working through their old age anyway. So why bother with retirement plans? Surprisingly, I've talked to co-workers who are resigning themselves to some such fate already!
Indeed, as I mentioned earlier, there are other reasons for arguing against a 401K (albeit an unmatched one), particularly those touching on taxes. Let me tell you now that this won't apply to our situation since we currently cap out at the maximum tax rate, and any dent on our AGI today is worth the risk of underestimating nebulous tax policies in the future. I also doubt I'd try to get my money out earlier than permitted. I'd try other ways to get the money I need before touching my retirement accounts. Upon leaving jobs, I've also done transparent rollovers to an IRA whenever I had to, where I got full control of my funds; though for convenience, many of my previous employers simply allow existing accounts to stay parked where they already are. And lastly, I always buy index funds in my retirement accounts so fees are predictably low.
Here's yet another article voting against 401Ks for reasons that are more macro-economic, and which I wholeheartedly disagree with, but hey, each to his own.
If you're unable to get a 401K for other reasons, say if it's just not available through your employer, try to build up your nest eggs some other way if you are able. With all the changes these days in government policies that encourage more self-funding of our retirement plans and so forth, it's imperative that we take advantage of what's offered to us in terms of tax shelters and company matched benefits. Even though I look forward to a life on a tropical island one day, I would still prefer to have it funded by my company fund or rollover IRA rather than some income generating job under the sun.
Copyright © 2007 The Digerati Life. All Rights Reserved.