Having worked at a total of ten jobs throughout the last couple of decades, I've happily collected some friends, fun workplace memories along with a few 401K accounts. What I can't believe is that even after all these years, I've held on to these 401K accounts as if they were special souvenirs of each corporate experience that I've had, unwilling to let go of the puny amounts they hold, cherishing them like I was some kind of avid fund collector. In reality, it's all just because of inertia and laziness. I keep telling myself that I really need to consolidate these accounts into one place so that I don't have to remember all the web sites, passwords and pin numbers. I want to stop having to receive all the mail I'm getting from fund companies and just simplify them all. This has been my goal since the end of last year, when I vowed to consolidate my retirement accounts. Have I done it yet? Well of course not.
Then Charles Schwab sends me some information about what I should consider about rollover IRAs. Usually, we are encouraged to rollover our 401Ks to IRAs without a second thought, but in truth, there are both arguments for and against doing a rollover. Let's review those reasons:
Pros and Cons of a Rollover IRA
Pros: Typical Reasons To Open A Rollover IRA
Why do it?
To consolidate your accounts.
Well, this is the primary reason I want to rollover to an IRA. I have mentioned that I'm not fond of having to keep track of all the material related to the legacy 401K accounts I have lying around. Half the time, I can't even remember where they are and how much they have in it. I only know that for each particular account, I don't have very much so I can't get too excited about each individual one; but altogether, they should merge to become one nice meaty mega rollover IRA!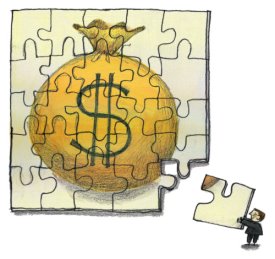 To get more investment flexibility.
The complaint I hear often from co-workers is that there just aren't any cool investment choices in our 401K. The selections are limited. You're probably stuck with what the company offers you as they try to cut costs by cutting down on the investment menu available to you. A rollover IRA at your favorite financial institution should give you everything under the sun to choose from! Also, if your 401Ks are like mine, then they could be governed by plan regulations that are not as flexible as those you would find in a rollover IRA that you control.
To gain more control over your accounts.
Nobody can abscond with your funds now that it is safe in your hands and you can keep your money wherever you so choose. Though in reality, you don't have to worry if your ex-company collapses while your 401K is in stewardship with them. I also get annoyed whenever I hear that one of my previous companies gets swallowed up and bought out by some other company and now my 401K plan has to change. This has happened to me more than once where I had to deal with new fund mappings, some paperwork and sitting through new 401K plan walkthroughs with well-meaning specialists. So why not avoid this rigmarole with a rollover? Be your own money's boss.
The IRA can be more efficient and thus, cheaper.
Since 401K/403(b)/employee sponsored plans are predetermined for employees, you don't have any say on the quality of these funds or their other characteristics such as the types of fees they carry, the turnover they have, their size and so forth. They could have higher than normal fund fees that you have to live with. Bigger plans tend to have better economies of scale though such that fees are relatively lower for them.
Estate planning laws may benefit IRAs.
If you are to die owning 401K accounts, your money here would be subject to the beneficiary distribution guidelines that are specific to workplace retirement plans. These guidelines can be particularly restrictive, with your beneficiary receiving the balance in your account as a check, hence incurring a large tax obligation, or needing to keep the inherited account AS IS for a five year holding period. In 2007, your 401K plan may now allow you to specify a non-spouse as your beneficiary, who may then roll over your account in the case of your death, to something called an inherited IRA. Your heir would normally have much more flexibility dealing with IRAs, whose distribution guidelines are way more liberal. The tax and distribution rules here are exceedingly hairy for me to describe so I can leave you with some information from the Fool's archives with An Inherited IRA and The New S-T-R-E-T-C-H IRA. The Stretch IRA seems like a seriously powerful repository for your assets.
Cons: Typical Reasons Why You Shouldn't Roll Over To An IRA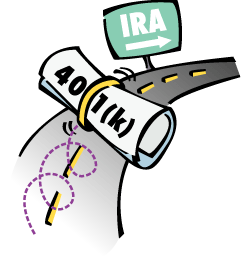 On the other hand, if you have already have an outstanding 401K plan, you may want to think twice before automatically rolling over your 401K to an IRA. Here's why!
Unique investment options can exist that are only available through your employer.
Your company may provide you with options you can't find elsewhere, such as no-fee investing in your own company stock at a discount, or allowing investing in previously closed funds. I'd mull it over heavily if I happened to work at Google!
If you will need to withdraw money before age 55.
You'll incur a 10% early withdrawal penalty if you withdraw your money from an IRA before you reach 59 1/2, whereas some workplace retirement plans allow you to withdraw without penalty at an earlier age — at age 55. If you are thinking of living off of your retirement funds earlier than the designated 59 1/2 cut off, then you may want to keep your money in your other retirement funds for that flexibility. You can read yet more hairy details here.
If you want to convert your accounts to a Roth Rollover IRA designation in 2010.
For those of you considering a Roth Rollover IRA conversion in 2010, here's a piece by Eric Cramer (CFP, CFA, financial consultant) which I found from the Charles Schwab Report (unfortunately, I can't find the original copy at this time) that tells you how to time your roll over:
When you convert an IRA to a Roth IRA, the IRS says you have to look at ALL of your IRA money. So if you are rolling over your 401(k) it now becomes part of your IRA pool of assets. The big catch is if you have an IRA that has received non-deductible contributions — that portion won't be taxable upon conversion to a Roth IRA. But if you dilute that "basis" with other contributions and earnings, then every dollar converted to a Roth will now cost more in taxes.

For instance, if you have a $30K IRA with $15K in non-deductible contributions, $5K in deductible contributions, and $10K on earnings from both sources, a conversion to a Roth IRA will only be taxed on the $5K in deductible contributions and $10K in earnings. But if you dump $70K from your 401(k) into the mix — and there were no after-tax contributions into that plan — then 85 cents of every dollar you convert to a Roth IRA will be taxable. It would be better to wait until after 2010 to rollover your plan.
To take advantage of lower minimum balance requirements.
Company retirement funds can set much lower balance requirements than regular institutions do. You may probably get away with very low amounts in your 401K while it may not be the case with IRAs.
To be able to borrow from your workplace retirement fund.
You may be able to borrow from your 401K or other workplace fund but not from an IRA. The catch is that this won't apply any longer if you leave your company.
-ooOoo-
Given all that, I'm still determined to consolidate all the stuff I have. My scattered accounts have annoyed me for too long. There's just something to be said about the freedom that you get from being able to make your own investment choices, and seeing that bigger balance residing in one place.
Copyright © 2007 The Digerati Life. All Rights Reserved.