Have you heard of this investment product called an index annuity (also called an equity indexed annuity)? Here are some thoughts on this.
Of all the trappings for investors out there, the most common kind seems to be some product tied to an insurance product. I'd like to ask the question: as regulated as the financial industry is, why the confusion and misleading marketing by so many individuals and companies? I've heard someone joke that the financial industry is regulated more than the medical field and only second to nuclear power. Seems like hyperbole, but having been in and out of the industry for over a decade, I wouldn't be surprised by this. I'll have to look that up.
Now as a professional in the financial industry, I have looked at hundreds of portfolios -– small, big, simple, complex. There are those investors who are already happily invested in mutual funds. Some even invest in exchange traded funds (stock, gold, REITs, and even other commodities), but then there's a group which I engage in dialogue with that goes something like this:
"Mr/Mrs. Client, what can you tell me about such and such holding? Why did you buy it? What does it mean to you and how satisfied are you?"
As the conversation progresses I can't tell you how many times people have told me, "Well, we have this other thing. Not sure what it is, but it promises to go up with the market and is insured against losing money."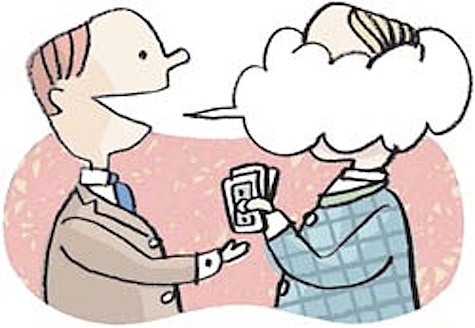 Image from Barrons.com

And, so it goes. And, so go the alarms in my head. They were sold an equity-indexed annuity (EIA), but really have no idea what it is and how much their so called advisor (usually only an insurance agent) was paid to offer it. This is a product that isn't normally offered by your standard online stock broker. Well this is something I'm not too happy about. Even if the client is part of the small percentage of the human population that could use an annuity, the advisor still didn't do it right. Why? Because, the client didn't understand it and didn't get all the facts. Most likely they were enamored by the promise of the best of both worlds: a share of the market upside, and insurance against losses. Sounds great — especially to the risk-averse or frequently unaware investor. But, as we peel back the layers of this product, most investors are unhappily surprised by the findings.
I know, much has been written and said about annuities, but I still feel compelled to beat the proverbial dead horse in an attempt to, yet again, steer people away from this misleading product.
Index Annuity Traps: The Truth About Equity Indexed Annuities
Equity-indexed annuities or EIAs are financial instruments that are rather complex, which have the features of more familiar annuities that are of the variable and fixed kind. What's interesting is that both their risk and returns fall somewhere in between that of a fixed and variable annuity. More specifically, they are considered to have less risk and possibly less return than a variable annuity, but more risk and corresponding return from a fixed annuity.
But here's something to be aware of: anything that has an alert from FINRA or the SEC should open your eyes. According to an investor alert:
"EIAs are anything but easy to understand. One of the most confusing features of an EIA is the method used to calculate the gain in the index to which the annuity is linked. To make matters worse, there is not one, but several different indexing methods. Because of the variety and complexity of the methods used to credit interest, investors will find it difficult to compare one EIA to another."
Now I really think that is putting it lightly. I actually feel a bit stronger than the concerns that are being brought up by this alert and my main reasons boil down to the fact that annuities and EIAs:
are too costly.
may not always offer the best insurance coverage.
limit the investment accounts and selections that are available to the investor.
may give you tax-deferred earnings. However, you won't escape ordinary tax rates on your gains when you redeem, sell or withdraw.
aren't as liquid as other instruments.
are confusing, misleading, and improperly sold.
But to help you better understand these products, here are things to look for (source of info):
Participation Rates. The insurance company can set and determine just how much the annuity will be tied to the index. That is, if the insurance company sets a participation rate of 75%, then you'll only receive 75% of the associated index's gains.
Spread/Margin/Asset Fee. This looks to be another fee that takes away from your returns. So if the underlying index gains a nice 11% return for the year, and the annuity has a spread/margin/asset fee of 3%, then the annuity's gain will be 8%, not including the other takeaways that can erode its total return.
Caps on Interest Rate. This is another restriction on your returns. If there's a rate cap on your annuity, then no matter how high your index goes, the maximum you'll earn is set by the cap. If the underlying index rises to 11% one year but your cap is at 8.5% then 8.5% is the annuity's gain.
Index Averaging. When computing the value of an index, some EIAs may figure out the index's value as a daily or monthly average rather than take an index's actual value on a given day. Calculating averages this way and basing returns on these values can reduce your return.
How Interest Is Calculated. There are EIAs that will calculate your returns using the simple interest approach. With no compounding involved, your returns may be hampered. What you earn depends on how your insurance company decides to figure out how to calculate the interest.
Dividends May Not Be Included. A key component to equity returns comes in the form of dividend returns. But majority of EIAs only incorporate capital gains in the equation, when figuring out the gains that you are due. Again, this is another way to put a lid on your investment gains.
As far as these restrictions go, all of these things can be changed at any time with or without your knowledge! Then again, many banks also function this way. The key things to note here are that the product has a lot of conditions, seems hard to understand and doesn't seem too flexible.
Seems to me that the contracts for index annuities are confusing and a lot of work. After costs, misleading indexing techniques, and so forth, you could do a lot better on your own with plain old mutual funds and proper asset allocation. But very risk averse investors who are in higher tax brackets and have maxed out IRAs/401(k)s may still feel compelled to open such accounts. Just be careful and understand the various bells and whistles before you buy, and at the very least, look at some low-cost annuity alternatives through Vanguard and TIAA-CREF.
For other readings on index annuities, check out this Barron's article. While here's a defense and rebuttal on this topic written up by the insurance industry.
Copyright © 2011 The Digerati Life. All Rights Reserved.