How much do you need to save and invest for your retirement? Are you on track to retire? Even as inquiring minds want to know, this is one well-covered subject in personal finance.
I've often heard that in order to maintain the lifestyle we're already accustomed to living, we'll need to be making between 75% to 90% of our current pre-retirement income by the time we retire. That's because we're expected to spend less when we're older, what with the mortgage paid off and college tuition presumably addressed and out of the way.
The rule of thumb — that we should target a post retirement income of at least 75% to maintain our standard of living — is typically applied to the average person. In actuality, depending on your life situation, spending levels and plans for the future, you may have to readjust your income expectations.
There are numerous ways to figure out how much of your income today needs to be funneled towards retirement. Here are a few:
3 Ways To Determine Your Savings Rate For Retirement
METHOD 1: Use a retirement savings table.
Following is a table from T.Rowe Price that helps you determine the annual savings rate required to yield your desired post-retirement income. The figures in this table are based on a few assumptions:
Your target income is 75% of your salary today.
You're retiring at age 65.
Your salary increases 3% annually to keep up with inflation.
You earn 8% on your investments in a tax deferred account before retirement.
The chart following shows the percentage of salary you should be investing today in order to replace 50% of your salary through investments by the time you retire.
The other 25% of your post-retirement income is expected to come from other income sources such as Social Security and employer pension plans.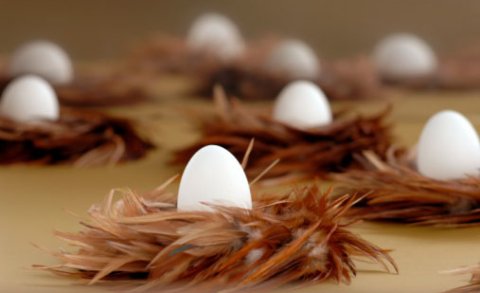 To figure out how to use this chart, proceed with the following steps:
#1 Determine how much money you've already saved for retirement, such as your 401K account balance as well as any IRAs you own.

#2 Compare this amount with your yearly salary. So if you're making $100,000 and you've already saved $50,000 for retirement, you should check the 1/2x Annual Salary column in the chart below.

#3 Scan down the Age column to find the row that shows the number that's closest to your age.

#4 Scan across the row to find the salary percentage you need to be saving in combination with your employer contributions.
| Age | No Savings | 1/2x Annual Salary | 1x Annual Salary | 1 1/2x Annual Salary | 2x Annual Salary | 2 1/2x Annual Salary | 3x Annual Salary |
| --- | --- | --- | --- | --- | --- | --- | --- |
| 25 | 10% | 8% | 5% | 3% | – | – | – |
| 30 | 14% | 11% | 8% | 5% | 2% | – | – |
| 35 | 18% | 15% | 12% | 9% | 6% | 3% | – |
| 40 | 25% | 22% | 19% | 15% | 12% | 9% | 5% |
| 45 | 37% | 33% | 29% | 25% | 21% | 18% | 14% |
| 50 | 56% | 51% | 47% | 42% | 38% | 33% | 29% |
| 55 | 95% | 89% | 83% | 77% | 71% | 65% | 59% |
The results are therefore based on your current age, how much you've saved so far and the fact that your expected retirement age is 65. Here's an example that illustrates the use of this table:
If you are 30 years old and already have two times your salary in savings, then you'll need to save and invest at least 2% of your salary annually from this point forward, till you reach the age of 65.
METHOD 2: Use retirement savings tools and calculators.
The table above really does assume many things, so I'd also encourage you to check out web calculators that exist for this same purpose. Be aware though, that the way these tools calculate their recommended savings results can be based on their own specific assumptions and a whole slew of other factors such as:
Your current age.
Intended retirement age.
Life expectancy.
Current earnings.
Income sources during retirement.
Amount of current retirement savings.
Expected savings contributions.
Cash outflows during retirement.
Portfolio risk/return.
Inflation.
Here's one such retirement savings calculator. And another.
METHOD 3: Use a simple retirement savings formula.
If all this is just too much fuss, how about a "quick and dirty" formula instead?
Steps to follow:
#1 Determine your target retirement income.

#2 Decide on a "safe" withdrawal rate — the percentage of your retirement savings you plan to withdraw every year. Varying guidelines have suggested either a 4% to 6% annual withdrawal rate to best preserve your nest egg.

#3 Come up with the required savings amount to support your retirement lifestyle by using this formula:
divide your target post-retirement annual income by the withdrawal rate.
Example:
Suppose your target retirement income is 80% of your current job income. If you're making $100,000 a year today, then 80% of that amount is $80,000, for your desired retirement income. Apply the formula: $80,000 / .06 and you get $1,333,333 as the amount you'll need to have socked away by the time you have to draw from your savings.
~ooOoo~
There's no shortage of tools that exist to give us a basic idea for how to proceed and plan, but the reality is that we'll need to readjust and customize our savings program, playing by ear as we go through our lives.
In my case, I've made my savings process pretty simple. I try to maximize retirement contributions as much as possible, be it with 401Ks and IRAs. If you have a dual income household, maximizing contributions to a couple of personal IRAs as well as fully funding 401K contributions through your employers' programs can really amount to quite a lot. These days, this is something we're missing out on because of our limited work income and our new self-employment status. We've since scaled back our retirement savings contributions and are only funding IRAs that we are qualified to contribute to. But hopefully, things will change in the next few years as our businesses grow, so we can implement a more aggressive savings schedule!

Image Credit: US News
Copyright © 2008 The Digerati Life. All Rights Reserved.