Today's savings account rates getting you down? Don't let the economy discourage you from reaching your savings goals. Try these money saving tips, rules and formulas to motivate yourself into saving more!
I recently caught an ABC News video which featured a fellow whom I've seen actively participating in the financial blogosphere. Rob Bennett is a personal finance enthusiast and writer who was interviewed by ABC News' Money Matters. You'll find many saving and investing topics and discussions in Rob's blog and a book he's written (called Passion Saving). Rob was on the video to discuss some tips from his book.
I like Rob's fresh views and tips on the subject of saving, some of which I'm sure I've been subconsciously employing myself. These Unconventional Money Saving Tips are powerful strategies that can help you change how you think about saving. Here is Rob in action, talking about these tips. If you're so inclined, you can check out a clip of the show where he appears.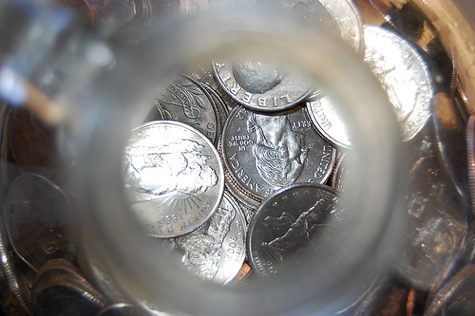 Unconventional Money Saving Tips From An Expert Money Saver
While there are 10 such tips that Rob has expounded upon on his site called Passion Saving, I've chosen to highlight those that were mentioned in the video:
1. Set a savings goal of a $100,000 and focus on getting over this "hump".
I like the idea of visualizing your goals and creating savings milestones for yourself using hard numbers. The idea here is to have a target that you can see yourself achieving. Your target doesn't have to be $100,000; if this number seems too gargantuan, try a lower number — a nice round one like $10,000. The important thing is to get started. Also, the more you save and get over the "hump", the easier it should get.

2. Find out the true cost of any purchase.
We're often beset by tools of convenience like credit cards, which are geared to separate us from our money; cash back credit cards make spending so much more pleasant with all their promised rewards, after all. So if you're committed to cutting back your spending, make the spending process more painful by tallying up the true costs of those purchases you make. Once you determine the true price of a particular item, it may be just the thing to discourage you from buying it. In particular, include income tax when figuring out how much something costs.
You can do this by taking the price of something you'd like to buy, then adding not just the sales tax, but the associated income tax that comes with earning the money required to afford that particular item. Now if you decide to put this purchase on your credit card, just imagine how much this will ultimately cost you in interest over the years! Hopefully this is enough to scare you out of making impulsive shopping decisions.
Example: You want to buy a nice camera that's priced at $250. Now add the sales tax, say $23. Then figure out just how much money you'd have to make to afford that camera. The real answer is roughly $330 before income tax is taken away. Remember that you pay for stuff in after tax dollars!
A corollary to this rule? Know the maintenance costs of things you buy (e.g. a car or a home). They all add up!
3. Determine how to finance the stuff you spend on, for life.
Rob describes this as the most powerful of his 10 rules: it's called the multiply by 25 rule. How does this formula work?
Take a look at each spending category in your budget. For each one, determine its cost for an entire year, then multiply it by 25.
That resulting amount, when saved up, will throw off enough income to support your spending on that item for life (e.g. indefinitely), assuming a 4% annual real return on your savings. The "magic" here is that by using this rule, you'll figure out what it takes to fund something for life. Once you've saved up for something in this manner, it can be quite liberating to realize that you'll never have to worry about affording that particular budget (spending) category ever again.
Example: If your travel budget is $2,000 a year, then you'll need $50,000 today to finance your annual traveling expeditions for life (provided you put your $50K in a solid high interest savings account or equivalent).
Caveat: Today's low savings account rates are tough on savers and tougher on the rule, but I hope you get the gist. But also remember that interest rates fluctuate, so over the long term, things can average out and the assumption of a 4% annual real return may actually work out.
4. Know how much your time is worth, and translate money into time (hours spent earning).
One of my favorite financial books is called Your Money or Your Life: it literally changed the way I thought about saving. This book was instrumental in inspiring me to become a better saver. It presents a formula that values your money in terms of your time by translating the money you spend into the time it takes to earn that money.
Example: How much does something cost in terms of your time? Start by knowing your hourly rate — or how much you are paid to work. If you're making $50 an hour and you decide to buy a $250 camera (which is actually valued at $330 based on Rule #2 above), then it would take you 6.6 hours of work to actually afford that camera. Ouch!
This gives you some idea just how much of your life will be spent paying off what you just bought! Once again, if you add potential credit card charges into the mix, you'll know where a lot of your work (or life) hours will be going. If this doesn't discourage you from spending unnecessarily, I don't know what will!
5. Concentrate on short term savings goals.
If you're young, think about setting short term savings goals. You'll find yourself feeling more motivated to save by focusing on those goals that are within your reach. Rob suggests funding your high yield savings accounts for goals you can achieve in three to five years.
6. Save for a concrete purpose.
Again, the concept of visualization is in play here. By thinking of a concrete goal or target for your saving efforts, the more likely it is you'll stick to the program. How about pinning up a poster of your favorite vacation spot on your wall (or refrigerator)? I've used screen savers that would display images of things I would save up for, and they'd be great reminders of why I was sitting in front of my computer all day long.
Interestingly, Rob had one tip that I found myself disagreeing with to some degree — the idea of "paying yourself last" (check out his full tip list here). I still believe strongly in paying yourself first through automated savings programs since I can't deny just how well this has worked for me.
Copyright © 2009 The Digerati Life. All Rights Reserved.