I am a steadfast believer of the Pay Yourself First strategy, but today, I wanted to publish the ideas and thoughts of someone with some unconventional, alternative viewpoints about the saving process. Earlier, we had a chance to discuss the money saving advice of Rob Bennett, a personal finance writer (theorist?). Rob wanted to follow up on the saving concept he's dubbed "Paying Yourself Last" and tells us why it's a better long term strategy for savers. Do you agree with him? Herewith are his words:
Thoughts On Paying Yourself First
The most popular saving advice of all time is: Pay Yourself First. It does work. There are millions of people who swear by it. There are millions who were never able to save until they adopted a "Pay Yourself First" strategy. If you don't save at all today, you might want to try this popular approach that has worked for so many others.
Paying Yourself First is mindless saving. But I don't mean that as a dig. The reason why this strategy works is precisely because it is mindless. The idea is to save a specified percentage of your income (usually 10 percent) automatically, without thinking about it. For Pay Yourself First savers, saving becomes the default money management option. And it really does work for millions.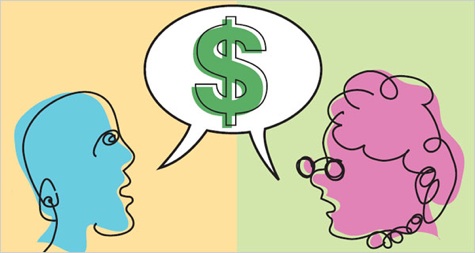 Image by The New York Times.
But I see a downside. My concern lies in its long-term effects. Here's where I ask a few questions starting with "Why?"
Why is mindlessness such a great thing in the saving arena when it is generally viewed as a bad thing in most other areas of life endeavor?
I believe that the reason is that most of us have negative mental associations tied to saving. We think of savers as responsible but boring and even somewhat small-minded (non-generous) people [yeah, just check this post about the cheapest people out there]. We know we have to save. But we don't really like the idea all that much. So we force ourselves. We save automatically because we cannot bring ourselves to do it any other way.
I believe that we need to encourage a more uplifting view of the saving experience. Saving is wonderful. Saving brings us financial freedom. Who doesn't want to be more free? We shouldn't have to force ourselves to save. We should be excited about it, we should be thrilled about it.
The reason why we are not is that even great savers have fallen prey to the conventional idea that saving is boring. When we save unthinkingly, most of the time we are also agreeing to the idea that saving is painful, not fun, and that it needs to be forced. Does it? I don't think so.
Save Your Money By Paying Yourself Last
I favor an approach to saving that I call "Passion Saving." The idea is never to save unthinkingly, never to save automatically, never to Pay Yourself First but instead always to Pay Yourself Last.
To Pay Yourself Last is to decide on your savings rate after comparing the value proposition associated with spending vs saving percentages of your income, and to elect to save only when you know it will offer you greater life enhancement. Passion Savers acknowledge that both spending and saving can both be wonderful choices. Pay Yourself Last savers often choose saving without having to force themselves to do so.
The Pay Yourself First strategy is a good way to get started saving if you have never before been able to save. The Pay Yourself Last strategy can take you to more exciting places. It's a more positive approach to money management and one that can take you to an appreciation of the benefits of saving not possible for those who automatically put aside a percentage of their income. Paying Yourself Last allows you to think through what saving and spending can add to your life as you work to accomplish your most important life goals.
Rob Bennett is the author of A Rich Life blog. The "RobCasts" section of his web site contains over 120 podcasts in which Rob describes the Valuation-Informed Indexing investing strategy, an approach to indexing that greatly reduces the risks of stock investing by having investors lower their stock allocations at times of insanely dangerous valuations.

Copyright © 2009 The Digerati Life. All Rights Reserved.