If it costs less, it's a bargain, right? But not all bargains are worth the money. Some time ago, I wrote about why I thought that buying penny stocks is a big mistake. Now I'm joined by fellow PF blogger Tim Parker from Elementary Finance who gives his own thoughts on the subject.
One particular Saturday not long ago, I was doing my weekly grocery shopping. The local store that I go to has a bargain bin. You should see some of the items that are in there: some of the products in the bin are products that I've never heard of nor would I buy them, no matter how cheap. I don't think I'm alone either. The same products can be found on this rack every week.
Inevitably, though, we both know that somebody will come around and see value in these items. I've fallen into this trap myself. More often than not, I'm wrong. These items are cheap because they hold little value. We've all figured this out at least once.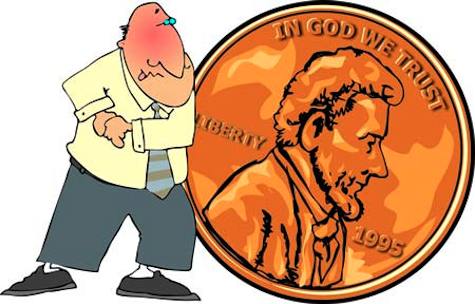 Image from smart-kit.com
You wouldn't think that something as sophisticated at the stock market would have a bargain bin, would you? The stock market attracts many of the brightest minds in the business world. Surely, every stock is valuable!
But not only does the market have a bargain bin, you will be surprised to hear that it's huge. It's as easy to spot as it is at the supermarket, where people are attracted to it en masse. This particular discount bin carries penny stocks.
No Penny Stock Trading For Me, Here's Why
I don't have any direct evidence on this, so take this view as my own theory. The reason that the stock market can be dangerous (or perceived dangerous) for the average investor is because we're not really dealing with tangible assets here. To look at our supermarket analogy again, if you went to the bread isle and there was a loaf of bread for one dollar and a moldy loaf of bread for 50 cents, which would you buy? Surely, you would pay a little extra money to buy the good loaf!
Everyday, though, amateur investors go shopping for the moldy loaf. They find stocks that are literally on sale for pennies and they buy up because they see the cheap price tag. But here are two reasons why penny stocks just don't make sense.
1. You'll need to make high volume trades to make money.
First, in order to make any money, you are going to have to invest a sizable amount of money regardless of the stock that you buy. A penny stock may move 1 or 2 cents on average. In order to make money off of a move like that, you are going to need 1,000 shares just to make $20. That barely covers the broker's commission. The nature of the beast here is that penny stocks are only suitable for very short term trades. Because of their high risk and volatility, it's not a good idea to own them for long. Penny stocks will force you to become a trader.
If you have $1,000 to spend, why not buy 20 shares of Walmart for the same price? It's a better company and you stand to make money over time. You don't save any money by purchasing shares in a bad company. In this case, the moldy bread will cost you the same amount of money as the good loaf. Yet I know too many people who buy the lower priced stocks because they equate the low price for good value, when in fact, they should be valuing a stock based on parameters like its P/E ratio….which leads me to my next point.
2. Penny stocks are hard to value.
You don't know a penny stock's true value. High quality companies trade millions and over tens of millions of shares of stock per day. Well followed, high quality stocks are easier to value. Penny stocks often trade very few shares (they're thinly traded), which means that there are a wide variety of offers circulating. Often the sellers and buyers are far apart (large bid-offer spread). Because of this, it's hard to find out the true value of such a stock.
So take away this lesson: We know how to find true value in our everyday life. We can tell the difference between the good stuff vs the bad when we walk into most stores. We should use the same rules when buying stocks. If it's a penny stock, that means nobody wants it. If nobody wants it, it's not valuable. If it's not valuable, you need to stay away. Just my .02.
Copyright © 2009 The Digerati Life. All Rights Reserved.