Why buying penny stocks can bite you. Two words: Massive Risk.
I received a reader question some time ago about the subject of penny stocks, which are also known as "stocks that are priced for under $1 per share". I've replied privately to the individual who asked me the question, but I thought the subject merited some discussion here, so I'm reprinting their inquiry and the gist of my response.
Reader Question:

I wondered if you would give me your opinion on a stock I own…it's so little known that I can't find qualified opinions elsewhere. It's a company called Serenic that trades on Canada's TSX Venture Exchange, which is mostly known for mining. The ticker symbol is SER.

I had long talks with management after my broker recommended it and really liked their top-line growth story, but I was convinced because the valuation seemed unreal:

The company has about an 8 million market cap and more than 10 million in revenue (small I know). They also earned 7 cents a share last quarter, yet they are trading at 57 cents! I hope I'm not missing something, the management seems very credible and understated.
What follows are all just my opinions as a small investor. At the same time though, my thoughts are pretty much in line with the general consensus about penny stocks — that they are extremely risky to delve into. While these stocks will more than likely cause you trouble as an average investor, they may, however, work pretty well for a certain group of traders. There is a market for penny stocks, but it's not the kind of market to get into if you are inexperienced and lack the knowledge to work with this type of "investment".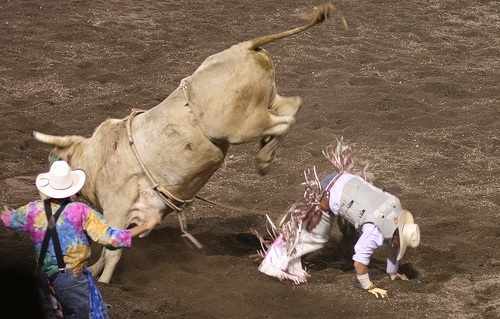 Photo by mattlehrer
I found this document from the State of Wisonsin's Department of Financial Institutions alerting us to the issues surrounding the purchase and trading of penny stocks. After I scanned through it, I could only ask — could penny stocks have any redeeming qualities as an investment? Given the risk elements surrounding them, I could only come to the conclusion that trading in them is much like rolling the dice.
Ten Reasons Why I Won't Touch Penny Stocks With A Ten Foot Pole
Some notable points I picked up from the document:
#1 Information on penny stocks is hard to come by. Price and volume data may not be easily or directly accessible to the public and may only be made available to you by the stock brokerage you're dealing with. Typically, pink sheets for penny stocks are only made available to brokerage firms.
#2 Penny stocks are easily manipulated because they are so thinly traded. More on this later when I write about my own woeful tale about a failed penny stock trading experiment that went sour.
#3 Brokers may want to push penny stocks upon customers because they can charge more for such a stock. Be watchful of the charges a brokerage can impose on you for trading such stocks.
#4 Penny stocks are often marketed aggressively.
#5 These stocks are hard to unload. You'll need to sell them through your broker, who may not exactly be happy about your decision to sell. Beware of brokers who may be less than supportive of your wishes to sell your stock, and who convince you to keep hanging on or trading these so-called "investments".
#6 Penny stock brokerage firms may be inflating their track records. Your broker may not be telling you everything there is to know about a stock: who knows? They could be committing "sins of omission" by skipping out on certain negative aspects of a stock. It's also possible that the glowing stories you are hearing are actually exaggerated or embellished in order to attract and keep your business.
#7 This industry is vulnerable to abuse, fraud and questionable sales practices as seen in their history, and fraught with brokers who use high pressure sales techniques and cold calling.
#8 An oft-quoted statistic states that at least 70 percent (!) of penny stock investors lose their shirts (okay, they lose money), not counting the risks of fraud or abuse.
#9 Trading penny stocks is highly risky. If you somehow make money from penny stocks, be careful about attributing this stroke of fortune entirely to your skill or careful analysis or the due diligence you poured into making your investment decision. It may simply be due to pure luck. These stocks are extremely hit or miss, just like at the slot machines. High risk, high reward, right?
#10 Don't get fooled by the stock's low price. Just because you can buy a lot of stock at an incredibly low price doesn't mean that the stock is cheap. I've had friends tell me that they prefer buying low-priced stocks because they are so "cheap". You'll have to gauge a company's true valuation before you can determine whether its stock is worth buying. Who knows, could a stock be so cheap because it's virtually worthless?
~ooOoo~
Contemplating The Reader's Question…
Now my biases aside, let me zero in on some elements of the reader's question:
By his own admission, the reader found it difficult to find qualified information about his stock (ticket symbol: SER).
It's a Canadian stock and it's in mining. Good place to be in general, given today's economic climate. Those are a couple of good things going for it (along with the highly positive spins from management and the brokerage), so I can see the attraction to this stock.
It was trading at 57 cents? This was many months ago, so let's see where it's at now (quotes are from Alphatrade Finance):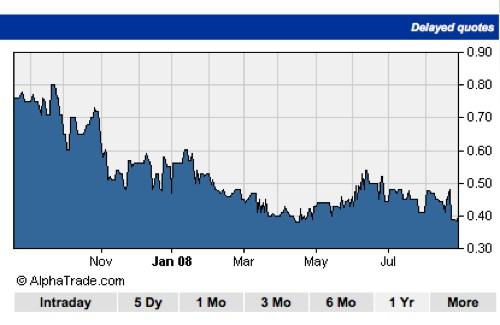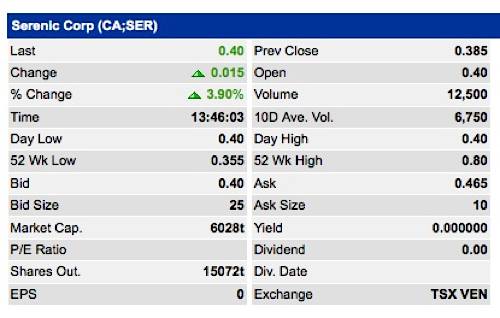 Just looking at it now, I hope the reader decided not to continue his relationship with this stock. But one never knows about stocks like these as they tend to be extremely volatile, given how easy they are to "move".
From a personal level, I'll also give you one final bonus reason why I'm avoiding penny stocks like the plague. It's because of my own personal experiences with them. For those stories, you'll have to stay tuned for my follow up post on how I was dumb enough to succumb to greed and the siren call of a penny stock whose company promised a marvelous future. Yeah, right.
If you've got some tips or advice for our reader, or any thoughts on this topic, we'd love to hear about it! A penny stock for your thoughts?
Copyright © 2008 The Digerati Life. All Rights Reserved.