Our contributing writer, Tim Parker, is a part time stock picker who's put together his own stock portfolio. Here, he explains his stock investing strategy.
Have you noticed what I have noticed? Maybe I'm in the minority but it seems that all the websites, financial news networks, and other financial media are quick to say that they cater to the part time or "retail" investor. In my experience they don't.

I don't know about you but I have a full time job outside of the investing world and if I were to sit at my desk and watch the stock tickers all day, I would quickly be unemployed. If I were to spend hours each day researching stock picks and P/E ratios rather than finding ways to increase my value as an employee, I would, again, be quickly unemployed.
While it is true that a good investor is always working hard to learn something new, I'm a teacher and in the world of education, if you aren't improving your skills, you're losing relevance in your field. If you have a full time job, you're probably thinking the same thing.
Turn on the news and what do you see? People talking about Libor, futures markets, commodities, and day trading. How many "retail" investors have time to keep up with that? First, it's important to remember that us "retail" folks can't realistically expect to make thousands of dollars per week like the pros can. We don't have the time nor the money.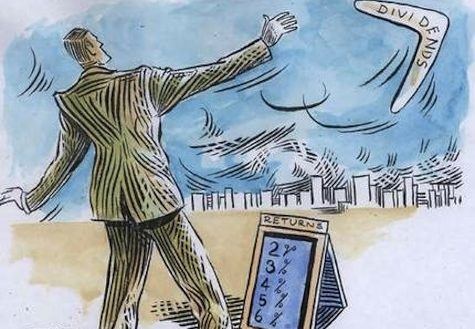 Image from smh.com
So can a part time investor actually do well? But of course. Like many who are interested in doing more with their savings, I've learned a few investment lessons through experience. Since I enjoy doing my own stock picking, I'll discuss some of my own tips here for setting up a portfolio of independent stocks (as opposed to fund investing, which is what most part time investors prefer to do).
7 Rules For Building A Basic Stock Portfolio
With the right expectations, we can still make money in the stock market but often, our expectations need to change. Following are my basic tips on how to develop a successful stock portfolio and the rules I follow to select the right stocks to own.
Listen to those who are making money. Of course, the hardest part about building a stock portfolio is picking the right stocks. This is the subject of many books and articles, and everybody has their own way of figuring this out. You can learn by listening to those who are making money. I've admitted before that I follow and study Jim Cramer's stock ideas (your mileage may vary on this one).
Understand the difference between a stock's price and its value. My second word of advice for stock pickers is that they should use common sense. Think about it: you would never go to a store and buy something on the clearance rack hoping that down the road it will be just as valuable as the more expensive, popular items that are available. Yet amateurs and novices do this with stocks every day. Of course there's a chance for stocks to appreciate, but you'll need to make sure that you buy stocks that have value. Just don't forget that price does not necessarily equate to value.
We need to take at least a medium term approach. Hold stocks for a minimum of a year if possible.
Go for quality stocks that pay a good dividend, so you're sure to make money simply by holding a stock. For a relatively conservative portfolio, look at the stock of strong companies that pay a dividend. Earning dividends is like earning a yield on a high interest savings account. Regardless of how the stock does, you're still getting paid to hold it. Now if you decide to hold a stock that doesn't pay a dividend, then you should have a lot of confidence in its potential to grow.
Buy stock in large, solid companies or blue chip companies, so that if you don't have to time to watch your investment during a given week, you won't have to worry about these companies going out of business.
Mutual funds and index funds may be the much better approach for those who want to get immediate diversification.
Avoid day trading or timing the market in the short term. Finally, the retail or part time investor should avoid timing the market on a short term basis. If you don't have much time to spend assessing stocks and the markets, then you should instead think of a less active investing approach; in this case, it helps to think long term.
My Stock Portfolio and Latest Investment Returns
While average investors should make sure their money is diversified adequately into various asset classes, there may be room in their investment arsenal for an individual stock portfolio (which should be a small part of a larger, diversified core portfolio). For those who subscribe to this philosophy, I'd like to introduce you to something that I put together using my aforementioned rules. My "No Hassle Stock Portfolio" is a small collection of stocks that uses these rules. Currently, there are only 5 stocks in this particular portfolio. They were all picked when they were undervalued. Some have made a lot of money and some remain undervalued. I did my research on these stocks and thus far, they've performed reasonably well (yes, and so has the DJIA 🙂 ). Here are the particulars:
The No Hassle Portfolio is something I've developed for myself, a retail investor. You don't have to log onto your brokerage to watch your stocks every day. You don't have to try to make the impossible predictions of day to day market moves, and with dividends being paid on each stock, you are getting paid to hold the stocks. I expect to hold these stocks for 1 to 5 years.
It's very important to note, however, that this sample portfolio is something I present here for informational purposes only and is by no means something I would recommend for you to follow blindly. I would suggest that you study these (or other stocks) on your own and make your own decision about your personal investments.
While I recommend a 1 to 5 year holding period (at least), I also personally advocate taking some of the money out of a stock when it runs up in value, then buying it back when it dips. This will be noted as stock market timing — which has its critics — but it's certainly one approach an experienced investor can take. I don't sell the whole investment. As an example, if I own 500 shares that have gone up 25%, I would typically sell 200 shares and buy those 200 back when it goes down in value. This is as fancy as I'd get. Other than that, I hold on to the stocks.
The good news is that this portfolio has gained more than 20% in less than two months! Now there's one other thing I try to do — and that's to give back. I donate a portion of my profits to charity and I've encouraged anyone who develops their own portfolio to think about doing the same — perhaps to give at least 10% of their returns to a charity or worthy cause of their choice.
Copyright © 2009 The Digerati Life. All Rights Reserved.