Should you time the market? There's an easy, short answer and there's the longer one. The short reply is "no", a stance which many financial experts will advocate, especially for regular (small) investors. But then again, you think about all the pain caused by the recent stock market implosion and you'd argue that "yes", market timing would have saved you more than a bundle if you could have done it right. Of course it's all in hindsight and there will be people arguing till the cows come home that they are "for" or "against" the concept.
As for me, I try to keep an open mind. I am a "moderate" in most everything I engage in. I try to see both sides, try and experiment to see what works then make my decisions based on results. But this doesn't mean that I won't try something again even if it has failed me in the past. I chuck it all to "learning experiences". At any rate, I've written about market timing strategies before, where I try to provide justifications for and against stock trading. I've also looked into stock charting tools and investment software that trumpet the benefits of technical analysis.
In truth, I'm primarily a fairly conservative investor who highly respects conventional investment precepts and whose core portfolio is in index funds, ETFs and diversified mutual funds. I limit any timing to 4% of my portfolio, or do it as a result of portfolio rebalancing efforts and tax advantaged strategies that I implement. I try to see both sides of the coin, although I am keenly aware of how opinions on this (sometimes) hotly debated topic can vary widely.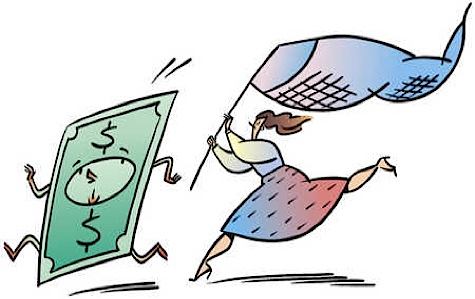 On this note, let me share with you the thoughts of a fellow blogger, Tim Parker from Elementary Finance, who has decided to engage in some self-reflection about market timing. I asked him the other day: "you're an astute investor, so what do you think of timing the market?" Here's his piece:
Some Reflections On Market Timing
Timing: It's something that I don't have. They say that comedy is all about timing and I'm not funny. They (I still don't know who "they" are) say that the best boxers have a natural sense of timing. I guess I won't be a great boxer either.
Market timing is a different kind of timing. Do you remember the game Othello? Here's a quick quiz: What was the game's slogan? Give up? The answer is, "A minute to learn, a lifetime to master." Market timing is exactly that. The definition only takes a minute. Market timing is simply trying to accurately predict when the market is going to go down and when it will go up. Easy to learn, right?
Here's the "lifetime to master" part: the odds are stacked against the market timers. Studies show that it doesn't work in the long run. Most academic types say that because so many variables move the market, it's nearly impossible to analyze all of them and figure out how they relate to each other in a way that allows the investor to know with any certainty what will happen tomorrow or next week.
Why time when you can hedge instead? I have to admit that I've tried stock market timing. In fact, I still engage in this. But these days, I've also incorporated a different kind of strategy — I've been doing some hedging: I have in my portfolio two ETFs that track the movement of the Dow. One makes money when the market goes up and the other makes money when the market goes down. The only job of these ETF's is to react to the overall market. The responsible thing that I do is to buy them both as a form of insurance. I buy both because I know that I cannot predict the market movements.
The proponents of market timing say that because they are technical analysts, by reading the charts, they can predict the market moves with a fair amount of certainty, at least with results that aren't worse than those achieved by fundamental analysis investors.
Stock Market Timing: Advice For Investors
As a part time retail investor, let me offer my opinion: For those of us who are not investing full time, who don't have time to read every article, analyze every report, or go to dinner with the Wall Street insiders, we have to stay conservative. The statistics show that retail investors don't make big money (check out this post on why most investors don't make money in the stock market). I think one of those reasons may be that we tend to take unnecessary risk.
As you think about your stock portfolio, remember that if you're a part time or small investor, holding on to longer term positions should result in better returns than if you traded in and out of stocks. For thrills, why not just set aside a small portion of your money to play with? Some experts suggest keeping between 4% to 20% of your total portfolio set aside for more adventurous activities (say participating in short term, day trading moves that are a little more fun). Avoid committing any more than that so that you avoid the risk of losing your shirt.
Excellent timing is something that few of us have, so stock market timing may not be the right strategy for you. Stick with the tried and true methods of investing in index funds and picking quality mutual funds and stocks, and committing to them for a long period of time.
Tip:
Check out the resources at
online stock brokers
for more on this topic.
Scottrade
,
TradeKing
,
ETrade
and
Zecco
have a wealth of information on the stock market, on trading, market timing as well as long term investing strategies that are worth reviewing. It's free!
Copyright © 2009 The Digerati Life. All Rights Reserved.