The first online stock broker I came to know happens to be ETrade, and this was way back in the 1990's. So I'm a bit more familiar with this company than I am with other brokers, only because ETrade has been around longer and is certainly considered as one of the most recognizable. However, being the most recognizable doesn't necessarily mean that it's the best or the most suitable broker for you, so let's go through the pros and cons of E*Trade, their target customer base, general reviews and awards, and their platform features and pricing structure.

ETrade has established itself as one of the top discount brokerage services synonymous with online investing, being best known for their comprehensive tools, resources and customer support which cater to both long term investors and active traders alike. However, much like a lot of other brokers, E*Trade gives the best rates to customers who are active traders, as the company charges account service fees on inactive accounts.
The Pros & Cons of Using E*Trade
Here's a quick summary of what E*Trade does well, as well as what they can improve upon.
The positives:
Site Layout – Their platform layout provides a good visual read and is easy to use. It's generally attractive from a look/feel perspective and is pretty easy to navigate.
Tools – Their fully customizable platform and tools allow you to manage assets, move funds around easily, and estimate your portfolio worth.
Security – E*Trade has developed a comprehensive security feature called SecurID that is highly effective at keeping out hackers from your accounts.
Research – They do a good job of providing a lot of educational support to investors seeking to beef up their knowledge about the investment world.
The limitations:
Tools – I've included their tools in this list because these tools are somewhat geared towards customers that want ease-of-use and flexibility, but may focus less on the needs of more advanced but passive investors (although you may find more sophisticated functionality on their software platforms that are targeted towards active traders). There's always room for improvement.
Fees – This is the major downside to E*Trade. The commission fees are often much higher than those of other online discount brokerage firms; however, if you make a minimum of 150 trades per quarter, the fees are greatly reduced. Also note that like most online brokers, you'll pay more for broker-assisted transactions.
E*Trade's Awards List
E*Trade has received top awards and is obviously highly regarded by the financial press. So right off the bat, they've got a good reputation if you're going to base it on what publications are saying. These are just some of the reviews they've earned.
Smart Money (WSJ Magazine) rated them as #1 Online Broker in 2007 and 2008.

They've consistently scored 5 Stars for Trading Tools, Mutual Funds and Investing Products, Banking Services.
They've received 4 Stars for Customer Service, Research.

Barron's gave them 4 out of 5 stars in 2008 and recognized them as part of the "Top 10 in the 2008 Online Brokers Survey". In 2011, they received 4.5 stars for Research Amenities.
Kiplinger's granted them 5 stars for Customer Service in 2011.
The Investor's Journal gave E*Trade four of five stars in their 2010-2012 review period.
As an aside, Money Magazine pegged them as one of the Best of the Breed for their online banking arm.
Let's take a look at E*Trade's pricing, products and features to see why they're so well received.
Pricing, Commissions and Brokerage Fees
Check out this quick table that shows you how their pricing works:
| | 150+ Trades/Quarter | Standard Rate |
| --- | --- | --- |
| Stock & Options Trades | $7.99 | $9.99 |
| Options Contracts | $0.75 | $0.75 |
| Futures Contracts | $2.99 | $2.99 |
| Bonds | $1.00 | $1.00 |
| Broker-Assisted Trades | +$45.00 | +$45.00 |
When you open a brokerage account with E*Trade, the most you'll pay is for $9.99 per stock or option trade, which is the standard commission — this has gone down $3.00 in the last two years as E*Trade has responded to changes in the financial landscape (e.g. the crisis). Note that there are no fees for mutual fund trades. For better rates, you can fund your account with at least $50,000 or make frequent stock trades (at least 150 trades per quarter); by doing so you'll lower your cost to $7.99 per trade. If you make over 1,500 trades a quarter regardless of how much you have in your account, E*Trade will customize a package based on your usage. There's also a bonus for those opening new accounts with at least $2,000: you can qualify for free trades for 60 days!
E*Trade Online Brokerage Review: Complete Investment Account
If you sign up for a brokerage account with E*Trade, you're effectively opening an E*Trade Complete Investment Account, which is an "integrated investment and cash management account". Here are its basic features:
You can trade and invest in stocks, options, mutual funds, ETFs, IPOs and bonds.
Lots of no load and no transaction fee mutual funds are available.
Use investing tools (streaming quotes, screeners) to help you with ETF management and asset allocation.
Financial advisors are available, but this may require extra (paperwork, fees).
Learn from free educational resources and materials, seminars, tutorials and webcasts.
You can open IRAs of various stripes and colors with E*Trade. There are no fees and no minimums when you sign up.
You get free bill pay, checking, a debit card and some free checks.
You have ATM access.
Fund transfers are easy.
You'll get access to a sophisticated "trading platform" with high end trading tools if you're an active trader. This platform is called the Power E*Trade Pro platform, which I describe further below.
Power E*Trade Account and Power E*Trade Pro Platform Features
Here's how E*Trade supports the more serious traders among us. If you're an active trader, you'll get lower transaction costs, better prices and more advanced tools for your use. Once you have an E*Trade Complete Investment Account, it will automatically be "upgraded" to a Power E*Trade Account if you make at least 10 trades a month, or a minimum of 30 stock or options trades a quarter. You will then have the features of the Power E*Trade Account (via the Power E*Trade Pro platform) available for as long as you maintain your trading frequency. These features include free access to powerful trading tools, advanced charts, technical studies, scanners and analytics tools, and something called "NASDAQ TotalView", a tool which gives you a more comprehensive view of market liquidity. All this for $9.99 a trade or less, if you really trade a lot.
The E*Trade platform is compatible on both PCs and mobile devices, such as the iPad. The platform works identically on any device you choose to run the platform. In the screenshot below, you can see the basic E*Trade "home screen". It shows you general information on market trends and an overview of your portfolio. In addition, you can see specific information about a particular stock — our example showcases the stock of Sirius XM Radio. The platform will also give you a quote on that particular stock with the option to invest immediately if you are interested.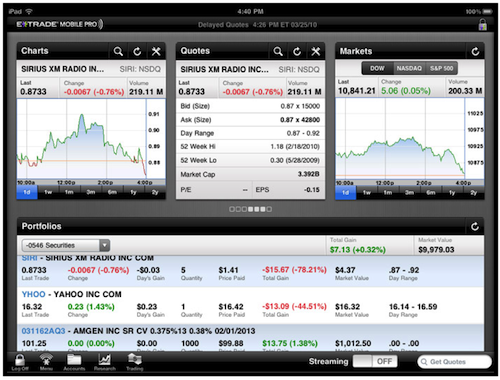 Placing an order on the platform is also relatively simple. You just need to enter the quantity, the ticker symbol, and the price you are willing to pay. You can also tell the system how long your price is good for. So if you choose the term as "good for the day", then the system will do its best to buy that stock at the price you've set for the day.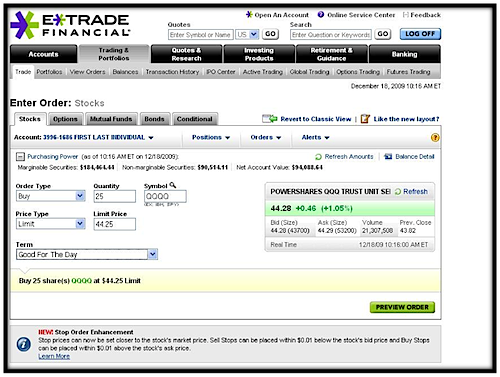 Finally, like many other online account platforms, E*Trade will show you a summary of your transactions by date and amount. This screen provides an overall summary of account activity.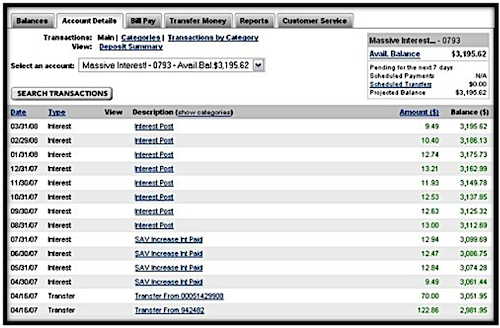 E*Trade also has many more products in its roster, including support for retirement accounts, investment clubs, global trading, educational accounts, small business plans and of course, their banking division.
How Does E*Trade Compare To Other Brokers?
There are of course, many contenders in the brokerage industry. Let's see how ETrade stacks up to two of its major competitors: TD Ameritrade and Merrill Edge.
| E*Trade | Merrill Edge | TD Ameritrade |
| --- | --- | --- |
| $9.99 per standard trade | 30 free online trades per month as long as your balance is over $25k, otherwise $6.95 per trade | $9.99 per standard trade |
| Add $45 for broker-assisted trades | $44.95 for assisted trades or trades made by phone | $44.99 for trades involving customer service and broker assistance |
| Typically $2,000 to open the account, may incur maintenance fees if you don't use the account often | $0 to open the account, no maintenance fees, get free trades with a $25k+ balance | $0 to open most accounts, low maintenance fees depending on your level of use |
Hopefully, this information has helped you make a decision about E*Trade.
Created April 19, 2009. Updated March 29, 2012. Copyright © 2012 The Digerati Life. All Rights Reserved.