To round off our coverage of best online brokers, I've decided to check out TradeMonster, a new discount broker that was founded by professional investors who've been involved in the market intelligence business in recent years. While this brokerage offers an environment where you can trade and invest in stocks, options and ETFs, they also offer other products such as mutual funds and bonds just like their competitors — Etrade, OptionsHouse and OptionsXpress.
I would categorize TradeMonster as one that focuses more on the active investor and options trader. Given the way the markets have behaved in the last couple of years, more buy and hold investors are shifting their investment strategy to incorporate some trading in their plans. And many brokers are addressing this demand by developing more products and feature-rich platforms that cater to the more sophisticated investor.
TradeMonster Review: Investment Broker For The Active Trader
One thing to note is that while very new, Barron's has already rated TradeMonster as a 4.5 star broker for their trading platform, usability, research and educational resources, and portfolio analysis and reporting tools (such as their Trade Simulator and spreadMaker, an options spread building tool). But let's review some of this broker's distinguishing features and see how it may compare to other brokers.
1. Low Commissions and Cheap Rates
This pricing table puts TradeMonster in a fairly good light. In my opinion, compared to other discount brokers, they're somewhere in the middle when it comes to commission costs.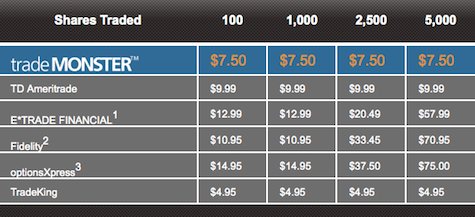 There are actually a few online brokers that beat TradeMonster in pricing. If you're looking for very cheap stock trades, check out these sites:
On the other hand, many other brokerages will charge you more than TradeMonster will, so I would consider TradeMonster's flat pricing of $7.50 per stock trade as pretty reasonable and competitive. Their options pricing varies per number of contracts though, as you'll see here. As for mutual funds, you'll be charged $15.00 for purchases only (there are no redemption fees), while municipal, corporate and treasury bonds also cost $15.00 a trade.
Here's where to open an account with TradeMonster to save 35% on brokerage commissions. If you switch to TradeMonster, they'll cover your transfer fees up to $250.
2. Solid Trading Platform with Various Trading Tools
TradeMonster's platform and tools are well oriented towards active traders and investors. Many tools I've seen at other brokers include your standard screeners, calculators, charts, quotes and filters, but TradeMonster goes beyond the basics with some of the software they've developed:
Exit Plan helps you create exit strategies for your trades by focusing on profit targets and by monitoring your stop loss and exit points.
paperTrade is their virtual trading environment which you can use to try out their platform without risking your own money. You can also create "fake" positions in your portfolio using the Trade Simulator.
They've also got a couple of options trading tools that help you build spreads and deal with spread pricing.
3. Investment Resources and Trading Education
After exploring their educational center, I've concluded that TradeMonster doesn't offer anything too different from what I've seen from brokers like OptionsHouse and OptionsXpress. They've got you covered for trading basics and strategies, and like every standard online discount broker, they hold webinars and live events for their customers.
If you're after a larger, more comprehensive investment library for both the long term investor and short term trader, you should check out ETrade, which has ranked 5 stars in the area of education, according to SmartMoney's latest broker survey. I use ETrade and have seen just how wide their coverage is. Another thing missing at TradeMonster is an active investor community that you'll find with TradeKing and Zecco.
4. Customer Support and Account Types
TradeMonster will support general account types such as individual or joint accounts, custodial and trust accounts, corporate accounts and even IRAs with no annual fees. They've got good customer support, with their representatives available to take your call on regular weekday hours via phone, email, fax or chat.
If you're interested, you can get additional details or sign up for an account with TradeMonster by visiting this link.
Copyright © 2009 The Digerati Life. All Rights Reserved.