Being a TK account holder and investor, I've written my own review of TradeKing.
I'd like to discuss one of the most popular online discount brokers around, which I consider one of my top picks. As it is, I've got a lot of brokerage accounts (for the sake of diversification), including one with TradeKing, which has received various awards in the online world. Given my own experiences with this broker, I thought to offer you my insights on their services through this review. In other articles, I've included them in my list of top online stock brokers and also covered them in my Zecco vs TradeKing comparison.
TradeKing Review: A Great Low Commission Broker
TK is a fairly new broker, having been launched in December 2005, when they initially offered services for stock, ETF and option traders. But they made waves right away, and have been building a solid reputation in the stock brokerage community.
Pricing
So how is their pricing? One of the best things about them are their commission rates. In particular, they have no hidden fees and they charge a flat affordable fee for their stock trades. The commission here is a flat $4.95 for each transaction, whether it be a broker-assisted (via phone), limit or market trade. It's a simple low fee applied to any trade you make. Now compare this to other well-known brokers such as TD Ameritrade (which charges a pretty high $44.99 on broker-assisted transactions) or Scottrade (which has a $27 per trade commission) — the difference is clear. As for TradeKing's commissions on options trading, the price is $4.95 a trade with $0.65 per contract.

Customer Service
I also like their customer service, which is quite highly regarded. They have a phone line that's open on weekdays during regular work hours (ET), but also have a Live Chat (open on the same hours as phone) and Email feature prominently displayed on their site.
Awards
They wear their reputation on their sleeve — just check out their awards page. Recently, they've received awards from at least three major financial publications. The nods have come from:
Kiplinger's: top-rated customer service in 2008.
Barron's: 4 stars for outstanding tools, customer service, social media, usability and cost in 2007 and 2008, and Best For Options Traders in 2008 and 2009.
Smart Money: #1 Discount Broker in 2007 and #1 Customer Service with 5 stars in 2008.
What I found interesting was that their accolades were across various categories, so they must be doing something right.
Account Open Process
I opened an account with them recently and the process was very straightforward. There is a little tradeoff here with regards to security features that TradeKing has applied to their site. They've employed a fancier password entry process using a virtual keyboard that I found more cumbersome than usual, and they ask you to set up several security questions and a security image for your account. But the extra steps are there to assure you that they really take security seriously here.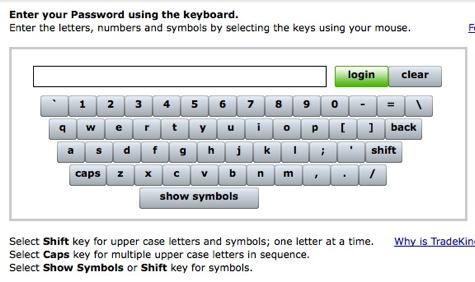 Organization
I like the site for its slick appearance, speedy performance and nice organization. Their dashboard supports the following functionality:
The Accounts Management section is where your balance, positions, holdings, tax information, transaction history and account records are shown.
The Trading area is where all the action is: you can trade equities and options, along with mutual funds and fixed income vehicles. Something to watch out for though — I checked the Fixed Income area for a bit and found it a little buggy; perhaps this area is still under development, but should it work, you'll be able to include bonds, treasuries and CDs in your investment portfolio. There's also an AutoTrade service that you can subscribe to, with caveats.
Rich Features
I also like how TradeKing feels like it has a simple user interface, yet it manages to include tons of material in an easy to digest fashion. Their Stock Market Research and Quotes section has a lot of material for anyone who likes to keep careful tabs on the market and on their positions. It's got a streaming quotes section, research reports, tools for technical analysis (alerts, stock screener, etc), and nice looking charts. And that's just scratching the surface. On the downside, there are some bugs I encountered while looking up quotes by symbol (it worked when I searched by company name), while some mutual funds are unfortunately not available through TradeKing.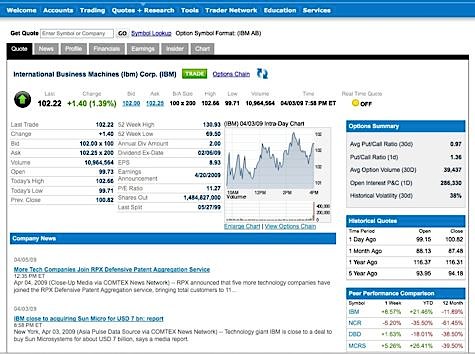 The Tools area has a whole bunch of calculators, options scanners and stock and fund screeners. I'm not that familiar with an Options Calculator or Scanner, but I can pretty much use their various screeners to help me find the right stocks, ETF and mutual funds for my portfolio.
Community Support and Network
When I first started using online discount brokers way back when, there was no such thing as "community" or "network" support. In other words, you were on your own with your investments — or else it was between you and your broker. These days, as brokers go the way of Web 2.0, everyone now boasts groups, blogs, forums and member profiles. You're also able to see what others are doing with their portfolios, plus a leaderboard of traders and their returns. It's awesome to see this level of transparency in the market provided by this small trading community. Now we can all see and track how well TradeKing's contrarian traders will do with their Citigroup, Bank of America, AIG and GM positions.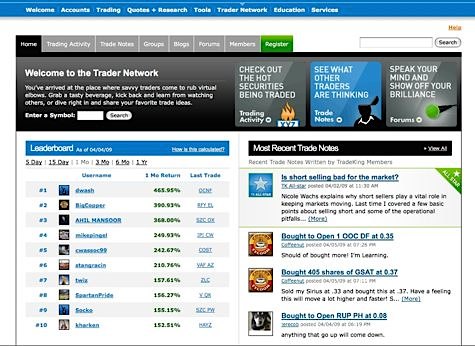 Beyond the community, there's also an Education and Learning Center, with tons of references, resources, extensive guides (like the Options Playbook for an options newbie like me). If you're a fan of multi-media learning, you'll be happy to come across webinars and live events which you can sign up to. They're available for rookies and experts alike.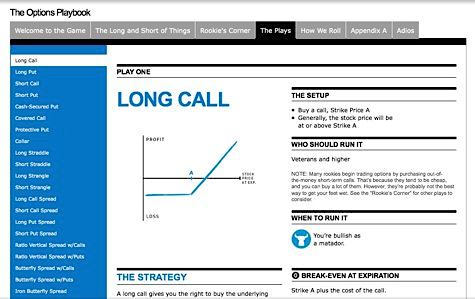 All The Other Extras: Free Money From TradeKing
And finally, I appreciate the bonuses that TradeKing has going on: they're offering a few extras to entice you into signing up with them. They've got a generous referral program that will earn you $50 for each friend you refer to them. And they'll also cover transfer fees of up to $150 if you decide to switch brokerages. So if you've got transfer fees from your current broker, you'll get refunded up to $150 if you do decide to move your account to TradeKing.
I think they measure up pretty well. If this catches your interest, here's where you can sign up!
Copyright © 2009 The Digerati Life. All Rights Reserved.