TD Ameritrade is a well known broker that boasts over 6 million customers in the United States alone, plus many more around the globe. Behind this brokerage firm is a corporation that has acquired several well known entities in the financial industry such as TD Waterhouse, Thinkorswim Group Inc. and TD Bank, the latter known as "America's most convenient bank", which prides itself on long business hours, weekend services, and low banking fees. But let's take a look at the brokerage arm of this successful conglomerate. I've been a TD Ameritrade customer for several years now and would like to provide a firsthand review of the firm.
The Thinkorswim Trading Platform
Like TD Bank, TD Ameritrade is convenient. It is widely used as an online broker, which means that investors can invest and trade on the Internet through the company's unique platform. The trading platform at TD Ameritrade is called thinkorswim. As its own entity, thinkorswim has been around since 1999. TD merged with the platform just a few months ago and the collaboration is phenomenal for us do-it-ourselves traders. My experience with the platform involves independent research and portfolio management. Besides simple stock orders and futures orders, the platform is also fairly adept at Forex orders, though I often use XE.com to complete many of my foreign currency trades. If I were to compare these services, I would describe the TD Ameritrade's platform as cross-discipline while the XE service is focused exclusively on Forex.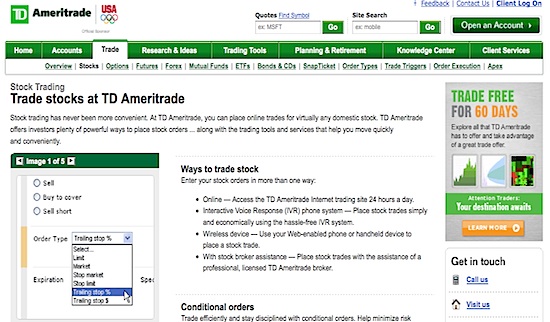 There's more to TD Ameritrade than just common stock trading. This broker also serves as a gateway for preferred stocks, exchange traded funds (ETFs), mutual funds, and options. I personally have traded stocks with TD Ameritrade and hold a mutual fund there as well. While the online system is pretty easy to use, I have found that visiting a TD Ameritrade office is even more convenient. There are several broker offices in most major East coast cities. In fact, the TD Ameritrade website lists over 200 offices nationwide. The staff is typically friendly, knowledgeable and is keen to explain financial concepts that are sometimes confusing. Having the flexibility to visit a local office is something that sets TD Ameritrade apart from its competitors such as E*TRADE, which is a broker that strictly specializes in online-based trading. We all love investing online, but sometimes, good old-fashioned face to face meetings are nice too.
TD Ameritrade's Fees and Costs
The downside to TD Ameritrade is that for certain transactions, their fees are a bit higher than that of Etrade and other competitors. I surmise that the higher fees are necessary to cover the costs of having physical brokerage locations (like a traditional bank would). Nonetheless, for online trading, you're charged under $10 per trade and the higher rates for broker-assisted and over-the-phone orders are still significantly cheaper than many traditional brokers' fees. The upside is that these fees are flat rates and no minimum account balance is required for many of the account options. That point alone enticed me to use TD Ameritrade when I first started investing. I didn't have a lot of capital and I needed to get the most bang for my buck. So with that trade fee of $9.99, I couldn't really go wrong.
Take a look at the basic fee structure at TD Ameritrade:
| | |
| --- | --- |
| Transaction Type | Commission Fees |
| Stocks and ETFs | $9.99 |
| Stocks and ETFs if you use a broker | $44.99 |
| Stocks and ETFs via telephone banking | $34.99 |
| Options | $9.99 plus $0.75 per contract |
| Futures | $3.50 per contract, including fees |
| No-load mutual funds / No transaction fee funds | $49.99 / $0 |
| Treasuries at auction | $25.00 |
Customer Service and Resources
Customer service with TD Ameritrade is also top-notch. There was one particular case that illustrated this point for me: I had an issue with a stock split once. My experience with the customer service agent was pleasant and my issue was handled swiftly. I was pleased about how quickly this glitch was resolved, and was particularly happy that I lost absolutely no money in the process.
Other reasons to strongly consider TD Ameritrade, especially if you're a newbie investor, are their resource and support services. The TD Ameritrade website is known for its comprehensive financial planning library, which includes useful calculators, higher education and retirement organizers, and digital seminars on financial management. So if you're the do-it-yourself kind of investor you're sure to appreciate their "control panel". And bear in mind that you can often ask questions of the real-life brokers at the TD Ameritrade offices without incurring fees. For other helpful free resources, take a look at their Investools.com site. You can register for a free 45-minute investment-training course. Whether or not you ultimately decide to use TD Ameritrade, this course is a great entry discussion into investing and online platforms.
Spotlighting Helpful Tools: The Portfolio Planner
There exists a good number of trading tools that are available through TD Ameritrade such as QuoteScope, which helps you get a handle on trading liquidity, and Market Motion Detector, which helps you spot short term trends via volume and stock price changes (all these broker tools have their fancy names). While these tools may be more suitable to traders, there's at least one tool that the long term investor may appreciate — the Portfolio Planner. This allows you to develop an asset allocation model that can fit your profile best and helps you analyze and build your portfolio with your choice of securities.
Here are a few screens that demonstrate just some of the basic functions of this tool:
1. Select a Target Allocation. This step lets you choose a pre-built target asset allocation model with the following options: Capital Preservation, Stable, Balanced, Growth and Aggressive Growth.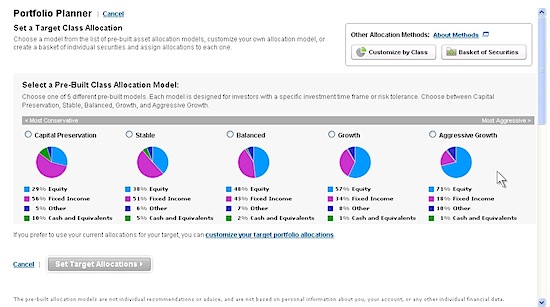 2. Compare your current investment portfolio against your target portfolio. There are a couple of screens that allow you to analyze the composition of your investments vs your intended goals. In this screen, you are shown your target allocations for each asset class. The tool scrutinizes each asset class and determines just how underweighted, overweighted or aligned you are against your targets.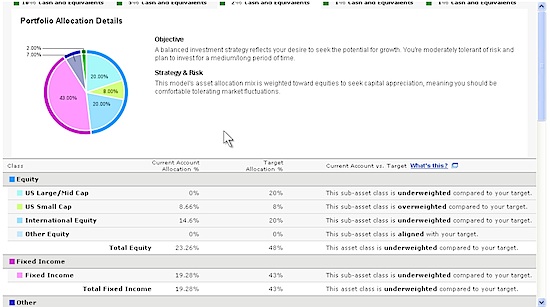 3. Analyze the differences and discrepancies between your current porfolio and your targets.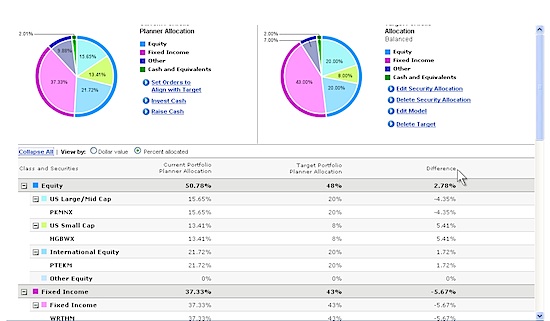 This is not all. The Planner is meant to guide you through the process of aligning your portfolio according to plan. It provides the framework that allows you to select the appropriate securities that fit your portfolio, helps monitor your positions for allocation shifts, and makes it easier for you to perform rebalancing as required. So it's more than just a diagnostic tool.
Check Out The Latest Promotions
When you're checking out a broker, keep an eye out for their brokerage promotions. In the case of TD Ameritrade, the firm will grant you 500 free trades for a good 60 days if you open a new account. So from now until February 29, 2012, new customers who open any non-IRA account will enjoy 60 days of commission-free online trading, plus up to $500 in bonus cash depending on how much you initially fund the account with.
| | |
| --- | --- |
| Special Offer | Initial Deposit Amount |
| 500 Free Trades for 60 Days | $2,000 |
| 500 Free Trades for 60 Days PLUS $100 | $25,000 to $99,000 |
| 500 Free Trades for 60 Days PLUS $250 | $100,000 to $249,999 |
| 500 Free Trades for 60 Days PLUS $500 | $250,000 and over |
My Thoughts On TD Ameritrade
As one of their customers, I've found the company to be genuinely interested in fostering a good sense of customer loyalty. But don't just take my word for it. You can certainly check out Barron's 2011 Annual Broker Review where TD Ameritrade earned 4 and a half stars. The company tied Fidelity for first place in long-term investing solutions and also made first place for "Best for Options Traders". On the flip side, TD Ameritrade was listed as one of the most expensive platforms for occasional and frequent traders in terms of monthly costs. As a consolation, the 60 days of commission-free trades coupled with up to $500 in bonuses do their part to help offset these fees.
As a final thought, keep in mind that casual investors are the target market for discount online brokerage firms. If you trade actively, then TD Ameritrade might not be the best bet for you. Then again, the sign-on incentives are tempting for anyone looking for something extra from their broker. Remember that when choosing a trading platform, comfort is key: you should feel secure about entrusting your money with your broker. You should also expect fair and honest customer service. Before committing to any one broker or firm, weigh your options against your expectations.
Copyright © 2011 The Digerati Life. All Rights Reserved.