What can be better than setting up an automatic, diversified ETF portfolio? Building a simple ETF portfolio PLUS receiving $25 in your account!
Move over online brokers, there's a great service in town called Betterment. If you subscribe to long term passive index investing using asset allocation via a diversified ETF portfolio, then we have a recommendation for you which we're excited about. Betterment is an investment service that combines the features of a standard broker as well as that of an investment adviser. In fact, the company behind it is a registered broker and adviser.
How is this service any different from those offered by a traditional broker? Well, many brokers cater to the active stock picker, and provide a lot of free investment education to their members. With a standard broker, you're typically bombarded by financial news, tools, charts and graphs, and if it's a discount firm, then you'll most likely make investment decisions on your own. For some, it can seem like it takes too long to just get started with building an investment portfolio. But investing does not have to be such a hassle. The Betterment investment service describes itself as an easier way to invest. If you're simply after an automatic portfolio in equities and fixed income instruments, then read on.
What can Betterment do for you? The service actually caters to both passive and active investors alike, but I feel that its strongest points are in the ways it addresses the needs of passive investors. For instance, it's geared towards addressing an investor's goals and asks relevant questions first, to determine what it is you'd like to achieve with your money. You'll then receive a recommended asset allocation of ETFs that has the added benefit of being automatically rebalanced over time.
Betterment Investment Service Review: Investing Made Easy
So here's what I really like about this service:
It invests in indexes. Right off the bat, you're going to own equities that track the U.S. stock market and government-backed U.S. bonds. You're immediately diversified!
It is flexible. You can choose whatever blend of investments suits you so that you get an established portfolio right away.
It is easy to get started. It affords a simple, yet powerful way to have you get started with an investment portfolio. Based on your goals, you are recommended the right portfolio mix.
It is easy to maintain. To do well with our investments, we also need to regularly monitor our holdings to make sure they remain on track to fulfill our requirements. Monitoring a portfolio is typically a hassle for many investors. Betterment actually takes away that hassle by doing the regular rebalancing for you, so you are as close to "set and forget" as you can be, when it comes to your portfolio.
It's cheap! We further discuss the costs of running your account below. Needless to say, it's very affordable, with costs that rank at the low end of mutual fund account management fees.
Your investment risks are carefully managed. Their investment approach aims to control risk while seeking healthy market level returns.
You can open a regular account or a retirement account. Betterment just recently added support for retirement investing. So if you would like to open a Roth IRA or a Traditional IRA, or if you're interested in doing a rollover from a 401K to an IRA, then you can now keep your long term funds in Betterment. I believe that this service is perfect for retirement investing given its long term, passive focus.
The average small investor will appreciate Betterment's investment principles. They eschew trading, speculating and market timing. In my mind, their investment approach is perfect for those seeking to simplify their core portfolio holdings.
Pick up a $25 cash bonus by opening a Betterment account through our site! You'll need to make an initial deposit of at least $250 to receive the bonus. This bonus only applies to regular non-retirement accounts.
While you can also open a retirement (IRA) account, the free $25 cash bonus only applies to regular, non-retirement accounts at this time. New users will need to provide their address, checking account information, and a Social Security Number. Accounts are restricted to U.S. customers due to regulations. Betterment is registered with the SEC and the securities in your account are protected by the SIPC for up to $500,000.
How It Works: Build A Diversified ETF Portfolio Automatically
So let's talk about how to get started with the service. To begin, Betterment offers a quick and easy sign up process which involves linking your checking account to your Betterment account. After this step, you can set up goals and receive a recommended asset allocation. You can also set up automatic deposits and override the recommendations through a "set allocation" function.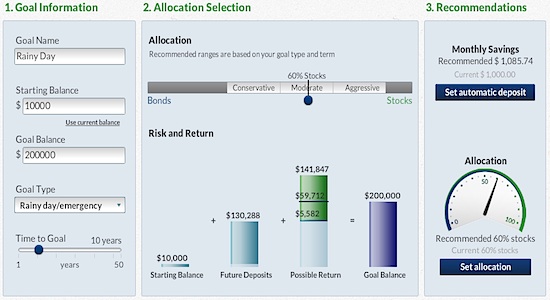 Betterment's underlying investments are in two baskets. In particular, they are comprised of a variety of stock or equity Exchange Traded Funds (ETFs) and Treasury Bond ETFs.
The stock market basket contains ETFs as follows:
| | | |
| --- | --- | --- |
| 25% VTI: Vanguard Total Stock Market | 25% IVE: iShares S&P 500 Value Index | 25% VEA: Vanguard Europe Pacific |
| 10% VWO: Vanguard Emerging Markets | 8% IWS: iShares Russell Midcap Value Index | 7% IWN: iShares Russell 2000 Value Index |
The prospectuses for each of the 6 ETFs are available. Meanwhile, the Treasury Bond basket contains 2 ETFs: the iShares Barclays TIPS Bond Fund (50% TIP) and the iShares Barclays 1-3 Year Treasury Bond Fund (50% SHY).
If you prefer, you can settle for a low risk approach (more Treasury Bond ETFs) or move to a higher risk option (more stock ETFs). You have the freedom to make changes to your allocation at will.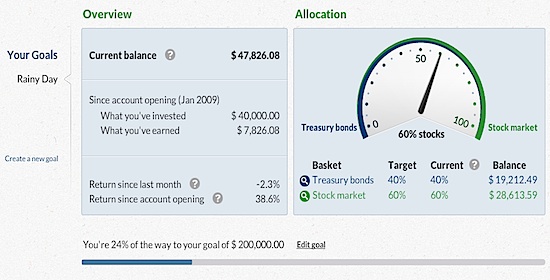 There are demographic tools so you can see how others are setting up their allocation models or you can use tools that will advise you on how to allocate the various asset classes.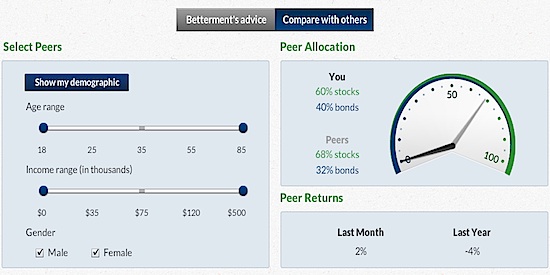 You'll get an email each time your trades are completed. Another place to monitor what's going on with your transactions is through the Activity tab on your account. This tab shows your deposits, market changes, and rebalances.
You're limited to making one allocation change a day because of day trading rules. You can make transfers on your own or set up automatic transfers from your bank account. Your dividends are automatically reinvested by Betterment, so you don't have to take time out of your schedule to micromanage them.
Easy to Follow Fee Schedule, Mobile Investing & More
What about the fees? Firstly, the costs involved are very easy to calculate — there are no minimum balances required, zero transaction costs and no hidden charges to worry about. There are also no transfer costs. Instead, you're charged with an annual management or maintenance fee of 0.15% to 0.35% (depending on your balance amount), which is comparable to that charged by low cost mutual funds.
Specifically, the simple to understand fee schedule works in a tiered fashion. Depending on your full balance, you will be charged a particular amount as follows:
| | | | |
| --- | --- | --- | --- |
| Full Balance | Minimum Balance | Maintenance Fee | Description |
| $0 to $9,999 | $0 | 0.35% | This is the "Builder" approach where you'll need to sign up for a $100 a month deposit. Once you reach a minimum balance of $10,000, your annual management fee will drop to 0.25%. In addition, if you cannot commit to investing $100 per month, you'll be charged $3 per month instead of the annual fee in order to keep the account. You will also get next day deposits. |
| $10,000 to $99,999 | $10,000 | 0.25% | You no longer need to deposit a monthly amount to be eligible for this lower maintenance fee. |
| $100,000 and up | $100,000 | 0.15% | This is the lowest monthly fee you can achieve. Also, you aren't required to deposit a monthly amount to be eligible for this lower maintenance fee. |
Note that Betterment has changed their pricing policies as they used to have variable management fees apply to different portions of your balance. True to their mission of keeping things simple, they have now revamped their fee structure such that their fee is applied to your entire balance. The fees are charged quarterly and are prorated in case you need to withdraw your funds before the end of a quarter.
On Additional Tools. When you'd like to keep tabs on your account on the go, there's the Betterment iPhone app. This free app lets you check your balance and returns, and allows you to change the allocation of your stocks and bonds. You can also add or withdraw funds right from the app. It would be nice to see apps for Android and other mobile users in the future.
A Well Received Investment Service
This review wouldn't be complete without the mention of Betterment's standing in the industry. As mentioned, they are considered BOTH a registered broker dealer and a registered investment advisor, with a service that covers the bases in these areas. They received an award from the TechCrunch Disrupt 2010 as "Best Start Up In NYC" and snagged the "Best In Show" award from FinovateFall 2010. As someone who's attended past Finovate conferences, I can say that it's no small feat to overshadow the other innovative products that are showcased in this event.
As you can see, you don't have to be a Buffett or an aspiring Wall Street quant to get into investing. Betterment is a way for you to begin investing without having to spend a few weeks training for it. Benefits like free trades and transfers as well as no minimum balances can make this an appealing choice even if you're a more experienced investor. You can check the demo out on their site for more information. Or if you're interested in additional platforms for ETF investing, check our list of ETF brokers.
Created December 5, 2010. Updated February 29, 2012. Copyright © 2012 The Digerati Life. All Rights Reserved.