Here's my personal experience as a long time subscriber to a popular investment newsletter.
Timing the market is one subject that remains anathema among staunch long term investors. I would certainly consider myself a long term investor, having been in the market since 1990. However, here's something I'm only now admitting: that I have since the early 1990's subscribed to a newsletter that preaches long term investing yet also practices some form of market timing. I pay around $200 a year for it.
I am hardly a market timer as I rarely trade stocks or mutual funds. We'd be lucky to incur a few transactions a year on stock sales mostly triggered by portfolio rebalancing. So what am I doing with this newsletter? To our minds, the author of this newsletter truly understands the economy and the markets so thoroughly that we've decided to buy into the information he offers.
We try to keep ourselves abreast with what's going on, reading up on trends, analysis, commentary by hearing what knowledgeable experts have to say. So far, the record of this particular "expert" has been pretty good, and probably beats whatever we could have done on our own.
No matter how strong a position you take with investing, once the markets gyrate wildly, it becomes too easy to succumb to the extreme discomfort of volatility and uncertainty. Does this mean we are using a paid newsletter as some assurance to tide us over these bumps? Are we using this advice as some kind of crutch? To some degree, YES, but we also feel that we are aligning ourselves with someone whom we respect as a true expert, whom we have trusted over the last 20 years and whose investment philosophies we've wholeheartedly agreed with.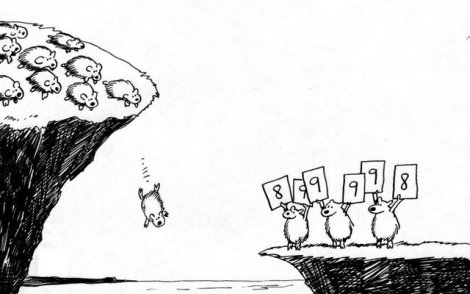 This is not, by any means, the only place where we get our financial information. We try to round up our information from various sources as well: from books, magazines, periodicals, sites, forums. We don't blindly follow a single expert's advice since we make decisions based on our own situation, but we do appreciate "the second opinion", which allows us to feel assured about the direction we're taking with our finances.
Some may think we are foolish to waste $200 a year on someone's advice but we look upon it as yet another investment — not necessarily something we strictly adhere to at all times, but something we use to inspire and guide our decisions and the directions we've taken with our money. That said, it remains the case that the newsletter tries to time the market by watching economic indicators and long term timing models.
In order to defend the position that this newsletter takes in terms of market timing, I'd have to cover market timing strategies in more detail, which I unfortunately do not have room for in this post. So I promise to follow up on further thoughts on this subject at a later time.
As for my parting words — I'd like to know what you think of investment or financial newsletters in general. [The irony here is that any self-proclaimed guru can offer a newsletter: even "expert bloggers"!] This is just one more way I try to enlighten myself on the nuances of finance. Majority of newsletters do rub me the wrong way with their promises and prophecies of overnight riches. Also, a good number of them seem to focus on short term strategies or stock trading, which isn't something we subscribe to. But there are some that espouse long term and diversified investing as well. Behind some newsletters there could very well be someone credible with a strong investment performance record for a long period of time.
For additional information, I may tend to look into the Hulbert's Digest (a "rating service" that ranks investment newsletters) though I've heard that some long term performance rankings and ratings are given an artificial boost due to "backtesting", which utilizes hypothetical portfolios and data that can be prone to manipulation. At any rate, I found this critical view of newsletters worth digesting, though I remain open-minded about the whole thing.

Image Credit: Wagner Blog

Copyright © 2007 The Digerati Life. All Rights Reserved.