We might be fast approaching the time when everyone starts setting New Year's Resolutions, but it's obvious that you can start a money management calendar at any time of the year. Even today would be the best day to get started, so let's look at some ways you can create a calendar to use no matter what time of the year you get going with it!
I am actually facing the start of the year with an overwhelming schedule. There is lots to be done on all fronts: I joke that I am working on "re-nesting" activities, which means that I am redecorating and reorganizing our house to fix up old furniture and organize certain rooms like our office. Our house needs an upheaval! But in terms of personal finance, there's also quite a lot to be done. So let's see how we can clear the cobwebs for this effort. This Schwab calendar may inspire you to do your own schedule.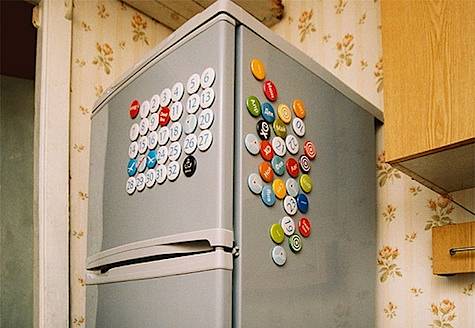 Image from Behance.net
How To Set Up A Personal Financial Calendar & Get Organized
Let's suppose we're starting fresh: how are you setting up your financial plans for the coming year?
Step One: Become familiar with your current financial position.
This could be something you do during the first month. If you have never thought about creating a financial calendar before, you have to start somewhere. For instance, on the first month, I would work on understanding my goals and find out which are the most important matters I'd like to get done. In my case, I'd like to make sure that I set up an improved accounting system for my business and personal matters. Maybe a tool like PocketSmith can help. Check out our review of this online budget planner: they've got a calendar built into their tool.
Step Two: Know which areas are lacking in attention.
Make a list of the things you need to get set up or that you need to pay more attention to. By committing something in writing, you may find the conviction needed to move towards completing your goals. I like the top down approach — I start out with the big picture and list everything down. Later on, I follow up with checking each detail in some depth. For instance, if you haven't set up an emergency fund yet, find out if it's something you can manage. If you haven't signed up for a 401k plan, then do so — it's free money! Write down all the targets you need to achieve and when you would like to achieve them (or a deadline date if it is something more rigid).
Step Three: Prioritize your goals. Focus on your high priority items.
Because it's costing you to carry debt, your highest priority should be to lessen or eliminate your debt load. This is something that may need to be factored into every month of your calendar and your budget. For example if you have a debt of $5,000 you may be able to pay off a couple hundred dollars each month over the next two years to get rid of it. It would be a good idea to set up a year's worth of goals and set dates to them to make things as concrete as possible.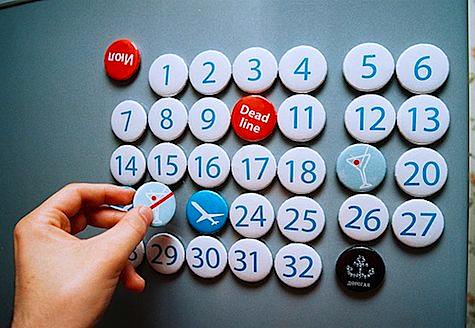 Image from Behance.net
Step Four: Don't forget important payments that have specific deadlines.
The following is a sample of a calendar, which I set up for just the first half of the year. You'll want to do this for the entire year if you can. It will help you identify what needs to be done in the year, along with their corresponding dates to complete:
January

Review your Christmas debt and other debt. Create a plan to tackle them.
Determine your personal annual budget. If you run a business like I do, then work out your budget and financial plans for this as well. Set up our accounting systems to get ready for the year.
Evaluate your investment portfolio and review its performance. See if you need to rebalance it and plan accordingly.
Watch out for tax-related documentation that could come in the mail.

February

March

Make your tax appointment with your CPA or tax guy.
Get your credit report from AnnualCreditReport.com and pick up some free credit scores.

April

File and pay your taxes.
If you get a refund, think about investing the windfall or using it to pay down any debt you still have.

May

Create a financial and emergency disaster plan.
Check up on your insurance claims, if you have anything outstanding.
Know when you need to pay for your insurance policies, such as life, auto, health, etc.

June

Perform a mid year evaluation of your finances to ensure that you are on track for the year. Make adjustments if needed.
Review your estate plan.
How is your cash flow at this time?
Again, this is just an example of what you can do when you develop a financial calendar. If you have financial payments that are due in specific months of the year, then something like this can help. For instance, car insurance and other similar payments may only occur annually; jot them down on the appropriate month and ensure you have the funds in place for those.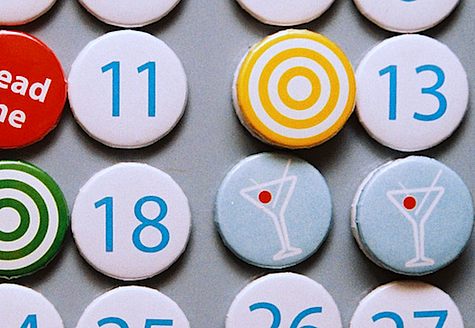 Image from Behance.net
Step Five: Think ahead, to the future!
The whole idea behind planning a calendar for the year ahead is to ensure that nothing catches you off guard. Simple planning and looking ahead can get you into a good financial position. For instance, saving up for your taxes every month will allow you to have the right amount of money ready to pay when the time comes. Putting off the savings that you need to make will mean scrambling, scrounging around and worrying about a bigger amount of money you need to come up with, when your bill finally falls due.
If you find that doing a month-to-month financial calendar is just way too much overhead, then start simply. Jot down your income and the different bills and obligations you need to pay each month. If you'd rather work on a different system to make sure you get things done, then go ahead with that! A calendar is merely a tool to help you become more organized about how to approach your life and finances.
What kind of organizational system do you adhere to?
Copyright © 2010 The Digerati Life. All Rights Reserved.