Are you doing anything special for Halloween? We already visited our local pumpkin patch and got ourselves some nice cheap pumpkins. By checking Yelp, we found a patch that sells pumpkins for half the price its next door neighbors sell them for. Part of our family tradition is to visit these pumpkin farms where they have all sorts of fun events for the kids, including pony rides (cute!), a spooky haunted barn (actually funny), a petting zoo, plus a choo choo train.
Halloween Activities: Pumpkins, A Hay Maze and Family Traditions
This year, we found a place that offered a cool hay maze, which I admired for the architecture. 😉 The thing was nicely labyrinthine, an enclosure with stacks and stacks of hay; good thing we don't have hay fever!
Here's the hay labyrinth we enjoyed for hide and seek play.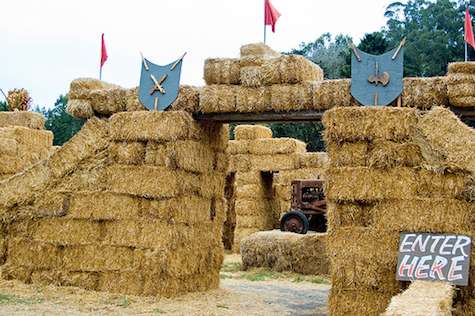 Complete with minotaur sentinel to add to the atmosphere. I enjoy these home spun, back road attractions right in your neighborhood which you can take in on a relaxing, casual, fun family day out.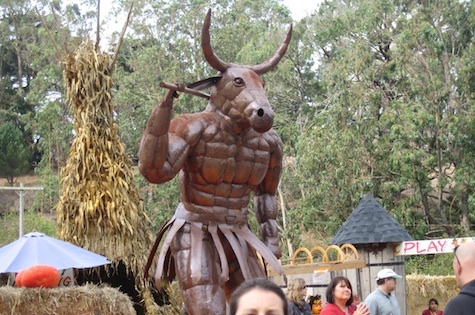 On Cheap Halloween Costumes
The kids are going to be Buzz Lightyear and Dracula this year. If you're thinking of dressing up this year and haven't figured out what to do yet, how about checking out these DIY cheap halloween costumes? Personally, I think the best costumes are the ones you make from scratch. I've tried shopping for costumes at the usual places you find them, but have always thought them to be expensive for the one time (or once a year) use; on top of it, the outfits are usually pretty flimsy. And for $30? Way off the budget! I found some friendly reminders about how to save on Halloween from Money Talks News, a neat financial site I newly discovered (and who shares well produced embedded videos like this):
Their advice? Make your own graveyard signs with cardboard. Do costume swaps and hand me downs. Use cotton for your cobwebs. Be creative.
One thing I won't do anymore though: I used to go to Craigslist to try to pick up ultra cheap costumes from people who wanted to unload their old, used costumes online. One time, I drove 30 miles to pick up a $5 outfit for one of my kids. It turned out to be way too old, too small and too worn out to be useful. I was too embarrassed to make the trip and not buy the thing for $5, so I ended up making the transaction. I basically wasted my money, time and gas just to try to save a few bucks. My tip here? Be prepared to face any kind of consequence when you buy stuff online.
Have a great Halloween!
Copyright © 2009 The Digerati Life. All Rights Reserved.