Here's one of my favorite shopping tips.
I don't know if everyone's aware of this, but one of my favorite saving tips involves using coupons at a higher priced store. Case in point: Bed, Bath and Beyond.
I'll admit that I'm kind of a home designing junkie. Before I got into blogging, I actually spent a lot of my free time fussing with my home and garden, dabbling in interior design as well as external improvements on our property. You see, when we bought our house, it was fairly new, but had a lot of underdeveloped aspects (this was way back in 2000).
We got a great deal on our house back then, as the real estate market was in turmoil after the dot com bust and 9-11. But as we settled into our home, we realized that we had to do additional work to turn our house into what we ultimately wanted it to be. So I eased my way into a new hobby, which was to get into home improvement projects that would customize our living environment. I became addicted to shopping catalogs and home and garden stores, and yeah, it was one of those things that inflated our bills for a period of time (on a side note: I'm sure glad I eventually replaced a money taking hobby with a money making hobby… 😉 ).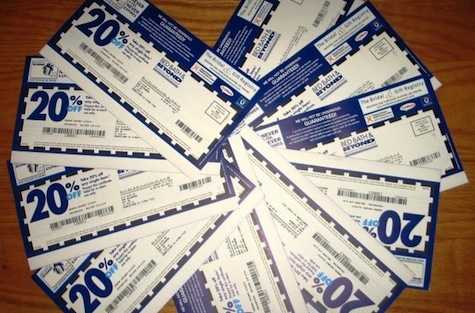 A pile of Bed, Bath and Beyond coupons. All good! Pic from Blondini.wordpress.com.

But it wasn't entirely foolish — or so I'd like to think. While I favored a nice store like Bed, Bath and Beyond for all its pretty home effects, there was one thing I did that saved me a decent amount of coin. I collected their coupons that came in the mail on a regular basis. And not only that, I collected ALL the coupons from ALL my friends and family as well. You see, each BBB coupon was good for either $5 off or 20% off on a single item. Each coupon could be applied to any one item at anytime, for a discount.
Great Savings Tip: Accumulate Those Bed, Bath and Beyond Coupons
What a lot of people may not realize is that these coupons NEVER EXPIRE. But let me qualify a bit here — apparently, there has been talk that the store's policy earlier this year has changed the rules a little, such that old coupons are no longer universally accepted at all Bed, Bath and Beyond establishments. That is, certain stores in certain cities may no longer accept "stale" coupons. So depending on where you live, you may have to check with your local store to find out if they still honor your "expired" coupons.
Now as far as expired coupons are concerned: does that mean that the expiration dates are an "inaccuracy" to encourage people to use these coupons quickly? After all, retail sales events are created to encourage you to come out and shop; the sense of urgency makes you want to buy. Just check this out: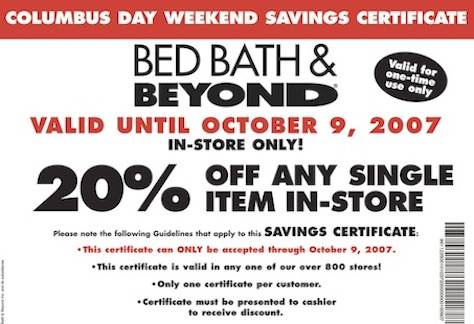 Whatever the case, the stores in my area do allow old coupons, so it's been a good long while since I've purchased anything from Bed, Bath and Beyond for full price. Now while this has been the case for me, I still see shopper after shopper at this store, who pays the regular price for their pricey wares. If you've got a store that has a liberal coupon policy, don't let the opportunity go to waste — use those coupons!
So that was one of my favorite shopping tips. If you've got one as well, do share!
Tip:
If you're interested in receiving email offers and promotions from Bed, Bath and Beyond and its subsidiaries,
you can sign up to this store's email list.
If you're a new email subscriber, you'll receive a 20% off discount coupon (or in-store savings certificate) through email after you've signed up.
Copyright © 2009 The Digerati Life. All Rights Reserved.