Grocery shopping tips to save you money.
I used to think that people who spent time clipping grocery coupons and digging through their purse for them at the check out line were wasting their time — and that of everyone waiting in line behind them! After starting a family and getting some grown up expenses (like a mortgage!), I learned that anything that could save me money was worth the extra effort.
I'm finally getting really good at the coupon game now, and I'm regularly saving $50 to $80 off each week's shopping trip. When I first started shopping with coupons, I would spend about four hours a week preparing my list and gathering my coupons. Now though, I can do it in less than an hour and get the same savings.
Tips To Bring Down Your Grocery Bill
Here's what you do to get the most out of your grocery coupons:
Use them at a store that offers buy one, get one free offers (and find coupons for the things that are already on sale to further the discounts).
Buy things you use often in bulk when they go on sale, such as toilet paper, paper towels, canned goods, frozen foods. Stock up on goods bought at the lowest prices by using coupons and you'll be saving quite a lot more than when you were buying singular items every week at the regular price.
Adjust your shopping list and meal plans according to the items that are on sale. You can plan your entire week's menu based on the meats that are on sale that week.
Take advantage of frequent shopper cards that offer discounts or bonus savings. My local Price Chopper lets me swipe my Advantage Card at the store entrance so I can receive additional, unadvertised coupons — mostly on items that are already on sale that day!
Use coupons on double coupon day if your store offers it.
Typically, buying the smaller size when on sale and with a coupon, results in the biggest savings.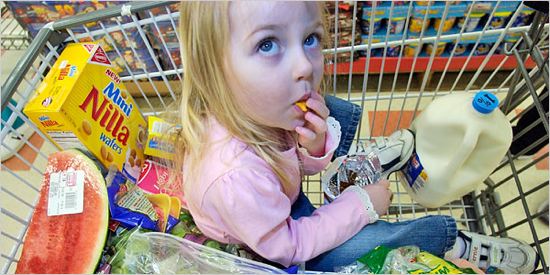 Beyond coupon clipping, you can actually save money just by cutting out a lot of things that are unnecessary. For instance, cutting back a little at a time is a simple way to economize. Start trimming the fat from your budget: your family probably won't even notice that there is one less box of cookies in the cabinet.
By trying out even just a few of these tips, you're likely to reduce the amount of money you spend on groceries each month. Here's a challenge: how about spending three weeks planning your grocery list with the store fliers and coupons in hand; and then buying only the items on your list to see if it makes a difference? Money saved on groceries can be applied to your debt or to your savings, which makes it completely worth the extra time you might spend preparing for the next shopping trip.

Contributing Author: Debbie D.
Copyright © 2008 The Digerati Life. All Rights Reserved.