Want to save on groceries? Today, we are covering the pros and cons of using electronic coupons with your grocery card. We're also sharing one shopper's personal experience with using these coupons.
Here's an interesting concept that I wasn't completely aware of till I read about it the other day: if you're a loyal customer at a particular store and own a grocery card, you can actually be proactive about reducing your grocery bill by downloading electronic coupons onto your card. Now I haven't used online coupons in a long time, but recently had started thinking that in this economy I should revisit the idea again. So, I decided to give it a try.
How To Use Electronic Coupons With Your Grocery Card
There's actually a website called ShortCuts.com that lets you add these grocery coupons onto your card ahead of time so that when you use your card at the store, the coupons are automatically applied. Here are the basic instructions for getting this to work: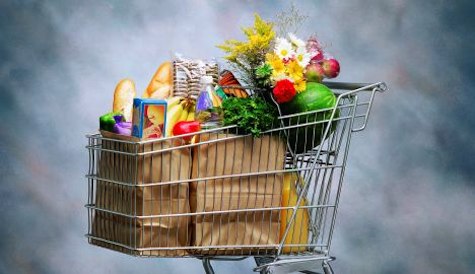 Nice image of goodies from treehugger.com

1. Visit ShortCuts.com.
2. Check if your grocery store qualifies for downloadable coupons.
Find out if there is a store near you that accepts electronic coupons. I mainly shop at Kroger, and that is one of the participating stores. Other stores include Voss, Tom Thumb, Fry's, Dominick's, Safeway, plus many more.
3. Register your grocery card.
To proceed, you'll need a grocery savings card or loyalty card from a participating store. The sign-up process is simple. You register for an account and plug in your store name and savings card number.
4. Look for coupons you want to add.
You can then browse ShortCuts.com for coupons you'd like to add to your card. When you find one you like, just click the "add" button, and the coupon is downloaded onto your card! I added coupons for Bisquick, yogurt, frozen fruit and canned soup, and decided to make a quick trip to the store to try it out.
5. Use your card at your grocery store and enjoy the savings!
If everything works as advertised, your coupons should be applied at the store checkout counter. But there may be a few glitches too! Here is my own experience with this process: at the store, I decided to forego Bisquick and the yogurt, but put the fruit and soup into my grocery cart. At the self checkout, I scanned my card and then my items. My frozen fruit coupon automatically popped up on the screen, but when I scanned the soup, the soup coupon did not. I told the cashier what I was doing and asked if she knew anything that can be done to make the coupon pop up. She didn't have any answers, so I continued with my other items.
6. Report any problems accordingly; be aware of glitches.
When I got home, I filled out a form on the website to let them know that I could not redeem the soup coupon at the grocery store. I also checked my ShortCuts.com account and noticed that the site had recorded my $0.55 savings on the fruit! Small savings indeed, but it all adds up.
Some Room For Improvement
Despite the errors, I will definitely continue downloading coupons. The only problems I see with the site, in addition to not being able to redeem a coupon as expected, is that there are not a lot of coupons to download. I am assuming, but do not know for sure, that they will upload new ones frequently. Also, you cannot take advantage of double or triple coupons at your grocery store with these electronic coupons, which is a little disappointing. But I think combining these electronic coupons with regular paper coupons could be a great boost to my grocery budget. After all, every little bit helps!
For more money saving ideas, check out our new site sections for promotional codes, online deals and of course, online coupons!
 
Contributing Writer: BEM
Copyright © 2010 The Digerati Life. All Rights Reserved.