Why earn a college degree abroad? Have you considered sending your kids (or yourself) to study in a different country? Besides some relatively cheaper options for schooling, studying abroad may also offer a lot of rich and new experiences. In this article, we explore Mexico as a potential place to get an education, but the ideas here are simply representative of what to consider when you decide to pursue your studies overseas.
When I was living in Mexico, teaching English to Mexican university students in Monterrey, a doctor friend of mine launched a bold program to attract dollars to the School of Medicine via American students who either were unable to enter a school due to the high costs, or who were simply rejected because their SAT scores were too low. He was quite successful and I helped him welcome the first batch of 20 students from various states north of the border.

Of course, these medical students were aware that once they had their degree, they would still have to satisfy State Bar medical exams to be able to work as physicians. Some courses were in English, but a wise requirement by the University of Monterrey mandated that they had to learn Spanish during their first year; hence, ad hoc classes were provided as part of the curriculum.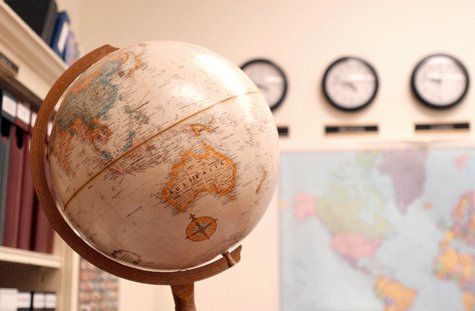 Pretty picture by the NYTimes.com
Take Your Studies Abroad
This program lasted only 3 years, as the founder passed away suddenly of a heart attack; however, any American student can study at any Mexican university, as long as she/he understands Spanish. The costs are a little higher than for native Mexicans, but still a long way below the amount paid in the U.S. The Universidad Autonoma de Nuevo Leon is a state university that is renowned the world over for its extraordinary record in kidney transplants. It has its own public hospital which caters mainly to the indigent population.
…And Broaden Your Horizons
You don't have to get your degree in a foreign country to enjoy studying abroad. Many American universities even require some students (based on their curriculum) to spend a year in a foreign country studying the language and the customs. Some financial aid is even available:
"The Carlos Castañeda Memorial Scholarships are available to students with an above average academic record as well as significant financial need. Awards are $1,000 toward summer tuition or $2,500 for a year of study in Mexico. Applicants must also meet Spanish language proficiencies," according to this site called College Scholarships: this offer is among many other offers of scholarships for American students in various areas. Isn't it fascinating to think about archeology or anthropology in Mexico, Costa Rica, or Honduras? Primitive artifacts are awaiting the audacious graduate student!
Note as well that if you have a 529 college savings plan in your name (or your child's name), then the funds here can be applicable to certain accredited colleges and universities abroad. There are certain "study abroad programs" that are approved as viable recipients of funds from 529 plans.
Scholarships For Americans!
While most of this site is in Spanish (you'd also have to ignore the questionable web design), there are sections here that discuss options and possibilities for financial support for American students (referencing the Fulbright-Garcia Robles scholarship for tuition and living allowance.) The U.S.-Mexico Commission for Educational and Cultural Exchange (COMEXUS) has government support for growing the understanding between the two neighboring countries by developing programs of this sort that allow graduate students who are US citizens to seek international experience.
Advice For American Students
One of the most important words of advice to young American students who wish to polish their education abroad is: Be Careful! What may be tolerated here may not be acceptable in the host country. I remember a young American tourist in Singapore who was condemned to 20 lashes for smoking pot. You will discover very quickly that we enjoy a much greater freedom and safety here in the United States than in many other countries. Mexican jails are not particularly hospitable to gringos (particularly to the younger ones). But if you adapt quickly and show tolerance for different mores, your stay could be highly memorable!
Created August 9, 2009. Updated May 3, 2012. Copyright © 2012 The Digerati Life. All Rights Reserved.