Secretly, have you ever wondered whether your college education was truly worth it? I'm sure it's something many students and their parents ruminate over. I've even written a few articles that cover this subject: Should You Earn A College Degree? and Should You Quit School Because You're Brilliant? are just a couple of posts I published a while back to address some questions.
College Education Costs: Is College Worth What You Pay For It?
I believe that the value you get out of college is based on what type of classes and courses you decide to take, along with the life lessons and skills you develop while being immersed in a place of learning. Also, there are relationships you build during your stay at school that are unique to the experience — you won't be meeting the same kind of people in an educational institution as you would elsewhere. There are also a ton of opportunities you get out of your connections and relationships that you forge in college which I find well worth the money you put into this period of your life. One of my close relatives who recently graduated from an Ivy League school actually goes so far as to say (or admit) that what you're buying from a top notch school is the prestige and the influential friendships and connections you make with others in the same setting.
But by taking a look at this highly interesting infographic, you may find yourself a little more enlightened about the value of a college education in this country. Here are some interesting notes from the graphic: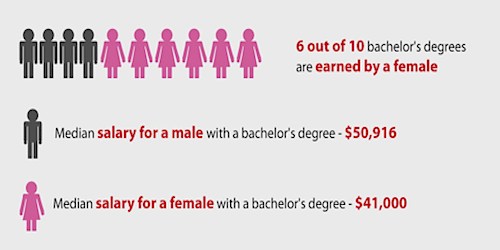 Remember our post on employment discrimination? Well some of those facts are supported here: 6 out of 10 bachelor's degrees are earned by a female. But get a load of the median salaries: men with a bachelor's degree earn $50,916 while women in the same boat earn $41,000.

Here are a few more points:
More than 2 million high school graduates enroll into college each year.
1 out of 3 drop out of college after the first year. This wastes $9 billion each year.
These days, attending the most expensive college will cost you $54,410 a year or $217,640 for four years.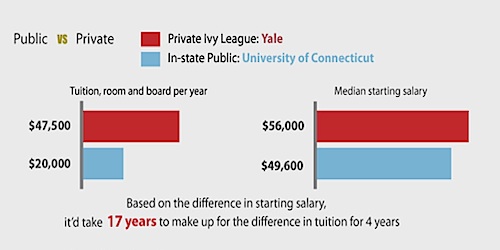 Private school tuition, room and board amount to $47,500 (e.g. Yale) a year while public university is $20,000 (e.g. UC Berkeley) a year. Difference between private and public school expenses: $27,500 a year. In 4 years' time, the discrepancy is: $110,000.
But is the private school education worth it? If you're basing it on initial monetary outcomes, then you may think not: the median starting salary for graduates from private colleges is $56,000 a year; while the median annual starting salary for those in public universities is $49,600. The difference here is just $6,400 per year.
Based on the discrepancies in educational costs and starting salaries, it will take 17 years for someone who attended private school to make up the $110,000 extra that they spent on their education. That gap should close faster if they climb up the career ladder more quickly than their public school counterparts.
Two thirds of students carry debt when they graduate.
The average student debt is $23,200 (20% greater than it was 10 years ago).
Average student credit card debt? $3,173.
Also telling: the graphic I have cited above also points to some cautionary facts — that students spend a lot of time on useless activities, risky behavior, even silly and wasteful endeavors.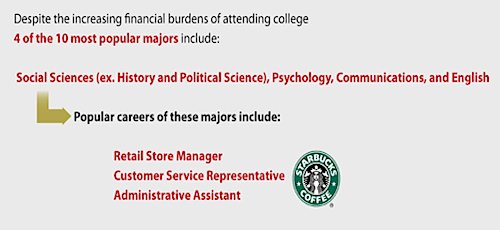 Then there is the insinuation here that certain majors won't do much for you (or may yield a smaller ROI), with graduates holding degrees in the Social Sciences (History or Political Science), Psychology, Communications and English often ending up in popular but lower paying careers like retail store management, customer service and administration. The suggestion here is that by opting for certain majors, you'll doom yourself into becoming a retail store manager or clerk, customer service rep or administrative assistant. This seems like a common complaint about liberal arts majors, yet surely there are many exceptions. But is this the rule?
So care to sound off? With college costs the way they are today, do you think getting a degree is worth it?
Copyright © 2009 The Digerati Life. All Rights Reserved.