Do you worry about money this time of year? How do we deal with Christmas consumerism?
There's such a thing as holiday stress, which may be partly triggered by spending pressures. How many of us anticipate that our budgets will be under siege? It's actually what the whole retail industry is banking on. Perhaps there are many people out there who may be hoping (or who are strongly wishing) to avoid the grip of happy holiday consumption, but who will not be able to resist some of the expectations of family and societal traditions.
How Much Are You Spending? Holiday Shopping Trends (Infographic)
For those experiencing some holiday shopping angst, we've prepared our own infographic that shows some of the spending behavior that takes place this time of year. We'd like to give some transparency to how the average American behaves this time of year. One way to battle the consumerism blues is to set a budget for the holidays and to know how and where to shop.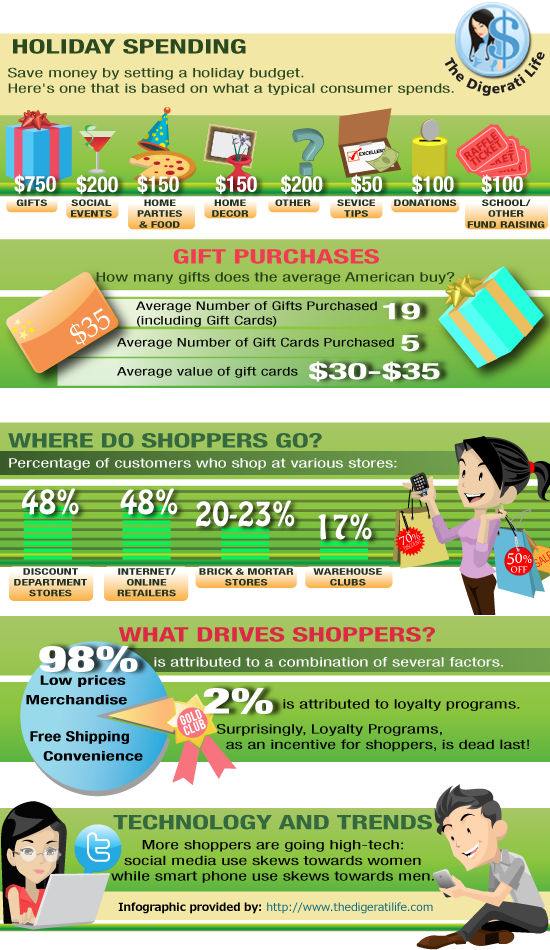 Here are some interesting questions we tried to answer in our infographic:
1. Do you have a Christmas budget? Make wish lists and set a budget to manage holiday spending. While this tip is one of the most obvious, not everyone uses a wishlist (surprisingly). Some people prefer to window shop and make decisions on the fly but I prefer to have a plan before I go shopping. We present some typical amounts for each basic expenditure that is tied to the holidays: $750 for gifts, $200 for socializing, $150 for hosting parties at home and $150 for home decor (more on this later).
2. How many gifts do you buy? The average American purchases 19 gifts, 5 of which are gift cards. The average gift card value is $30 to $35.
3. Where do you shop? The average shopper buys almost half of their merchandise at well known discount department stores (e.g. Target, Ross Dress For Less, Marshall's, etc.) and at online stores.
4. What motivates shoppers? Loyalty programs don't seem to be catching on. Most people are driven to shop due to pricing, product selection and convenience.
5. What are some shopping trends? Mobile shopping and social media are picking up as shopping trends that will figure more prominently in the future.
I sourced a few surveys for these numbers. The Deloitte's Annual Holiday Survey was particularly helpful and informative.
Developing My Christmas Budget
Do you prepare a Christmas budget? Here's a breakdown of how much some holiday-related things cost for consumers in my neck of the woods:
October
| Halloween Item | Price |
| --- | --- |
| Autumnal Wreathe | $20 |
| Indoor Halloween Decor | $50 |
| Outdoor Halloween Decor | $100 |
| 4 Pumpkins (to carve) | $10/each |
| Halloween Costumes | $30/each |
| Tons of Candy | $20 |
November
| Thanksgiving Item | Price |
| --- | --- |
| Seasonal Thanksgiving Tabletop (tablecover, plates, cups, flatware with the likeness of turkeys and pumpkins or witches on them) | $50 |
| That Big Turkey Dinner with all the fixings for 25 people | $200 |
December
| Christmas Item | Price |
| --- | --- |
| Indoor Christmas Decor | $200 |
| Outdoor Christmas Decor | $300 |
| Seasonal Christmas Tabletop (tablecover, plates, glasses, flatware with Xmas trees or Santa on them) | $150 |
| Gifts for extended family and friends, with accompanying wrappers and ribbons | $750 |
| Christmas cards for everyone else | $20 |
| Tips for everyone who provides you service | $50 |
| Live Christmas Tree, Tree Skirt and Ornaments | $300 |
| Big Christmas Party, your treat | $250 |
| Winter Wreathe and Garland | $120 |
| Donations to various causes | $100 |
| School fundraising and auctions | $100 |

Well, you get the idea. These are just some estimates I made from doing research and the rounds of store hopping, catalog gawking and story exchanges among friends and neighbors. Even if you amortize the things you reuse each year (say with a useful life of 5 years), they still add up. The first step to reigning in the holiday spending is to recognize how much of your resources it's going to take to celebrate, go with the flow and "look the part". How does your Christmas budget look like?
Holiday Spending Pressures: Why Do We Spend More During The Holidays?
We tend to spend more during this time of year because it's what our culture, community and society today expects. Holiday spending adjusts to our expectations. And expectations adjust according to which stage we are in our lives. When you're single or married without kids, you will tend to spend less or on different things altogether than when you've got young children. Expectations go up when holidays become your own family affair (vs being hosted at someone else's home, which you visit as a guest ;)). If you've got young kids who believe in Santa and who get very excited about Christmas decorations, then be aware that you could be entering your peak spending period. Then the spending ebbs once the kids are older and start doing their own thing.
If you're fortunate enough to have deep pockets, don't you notice how much more popular you get during the holidays? When it's time for the merry-making, people are expected to fork it over, and if not, they could be crowned the [family, school, office, church, community] cheapskate. Well then, here's what I'll say about that cheapskate designation — let's be okay with it! The holidays is all about how to deal with expectations: that's why there seems to be less pressure if we're of more modest means. I'll suggest that we forget holiday envy (why do they have a bigger tree? brighter lights? nicer gifts?) and rejoice in the true spirit of Christmas.
Created December 4, 2006. Updated December 7, 2011. Copyright © 2011 The Digerati Life. All Rights Reserved.