The Objective
To see how much imaginary money I can spend on unnecessary fripperies touted by retailers and advertisers out to get a slice of our hard-earned cash by year end, the underlying purpose of which is to shock myself into conserving and watching my holiday spending more carefully.

What's This All About?
The time of year is nigh when I receive the customary cartfuls of holiday shopping catalogs which pile up unendingly on my kitchen table just aching for attention but instead find themselves unceremoniously weeded out. Each year, the number of catalog and web-based businesses (those with or without a brick and mortar storefront) that have decided to pay a visit to my doorstep has increased by 25%, fueled most likely by the innocent and unsuspecting orders that I've made to a few of them in the distant past, which unsurprisingly somehow worked my name and address into mailing lists and marketing campaigns.

There are no less than 40 such catalogs that I've already received so far, and the flurry is just beginning, I'm sure. Before I get rid of the mass of paper I have stocked on my table along with junk mail and bills, I decided to indulge myself in an imaginary shopping spree for seasonal baubles, to see exactly how much I would end up spending if I picked a random frill item representative of a particular store, chosen from the batch of holiday clutter. I was curious to see if I could create something along the lines of a Holiday Catalog Pricing Index (or Cost?), to see how much a seasonal basket of goods from mail order sources would ring up. [Fun and games aside, I am astounded at how much waste there is generated, particularly these last few months. Two words: global warming.]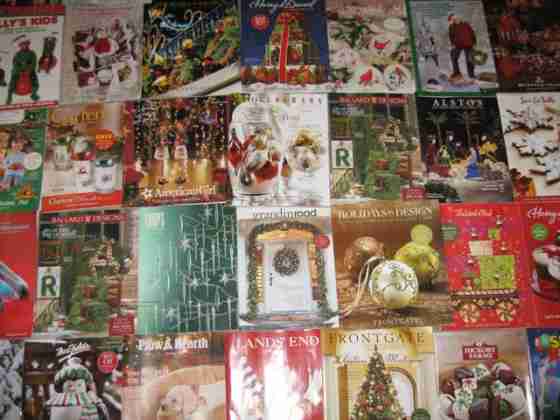 I settled on those catalogs that were obviously geared towards the bustling, end-of-year buying crowd notorious for looser purse strings; where offerings gave me pause with thoughts of "Wow, can I really resist that thing-a-majig?" or "Even if I had the spare cash, would I buy that?"

Some Rules
No, this is not another Neiman Marcus ostentatious show-and-tell. That extravaganza seems to be receiving healthy coverage already. I tried something more down to earth and even mundane in some circles, and looked into stuff that people may actually pick up (no gift cards, sorry).
The things I chose were
From a catalog with a holiday themed cover: The fattest, most resplendent magazines of the year!
Seasonal: Of limited use since most of this would be boxed up and stuck in your basement or attic most of the year, and the food will just give you extra poundage.
Novelty Pieces: Amuse yourself for all of an hour.
Unnecessary: You can find alternatives at Target or K-mart.
Redundant: See Unnecessary.
And picked with personal preferences aside: Not all the things here would be something I'd buy if I had the money… but a pretty Christmas they can make.
But first…

The Disclaimer
I am not advocating any of these products nor any form of wanton spending — in fact, I am hoping that this "test" will have the opposite effect and will demonstrate how way too simple it is to burn through money and other materials.

The List
So here is my list for Year 2006, including price, grand total and some accompanying commentary. You can click on the links for each item, as they lead to their actual pictures for your amusement. Descriptions are straight from the catalogs.

Lessons Learned
A pretty Christmas for a pretty penny.
So how much did this shopping spree ring up? The damage set me back a grand total of: $2,014.73. That would be a good bulk of most people's monthly employment check, including mine!
Amazing how much can fly out of our purses with scant effort, little thought and for trivial pursuits, without us having to leave the house. Sure, there are loads of ways to save money on online purchases, but the best way is to ditch as many of these store-in-a-book collections as I can, before I cave in and mess up my budget.
< This is a goal setting exercise expressed with a twist and instigated by the Instigator Blog, during which I intend to keep my spending at bay from now till Christmastime! Thanks Ben! Please visit his site for more on this goal setting project! >
Copyright © 2006 The Digerati Life. All Rights Reserved.