Around this time of year, the media likes to get into the holiday spirit by tracking the "12 Days of Christmas Price Index" as a way to look at the real CPI (consumer price index) through whimsical glasses. If you recall, the song highlights hypothetical gifts that range from a "Partridge In A Pear Tree" to "12 Drummers Drumming". For the year 2009, the cost increase of the 12 Days of Christmas rose a minute 1.8% compared to 2008, reflecting the impact of the recession on the economy. The price for all the gifts for your true love during that holiday season rang in at $87,402.81. This was the total cost of all the gifts mentioned in the song from the 1st through the 12th day. If you only bought one of each item, you'd only be out $21,465.56.
Current Christmas Price Index Numbers (2010 vs 2011)
But how are these costs tallied? The Christmas Price Index was actually conceived by PNC Financial Services Group, hence its official label "PNC". In general, the 12 Days of Christmas command quite a hefty gift budget when you consider the absolute value of these items. And interestingly, this unusual price index is used annually as an informal gauge of how consumer prices are behaving, and can therefore give us a feel for the health of our economy.
What's actually cool is that the PNC Financial Services Group has taken these calculations further and designed a site that is entirely dedicated to the Christmas Price Index, where you'll find several helpful charts that show how gift prices have risen from 1984 (cost: $12,673.56) to 2011 (cost: $24,263.18) — all the while tracking the inflation rate. Please click the chart image below for a look at this site.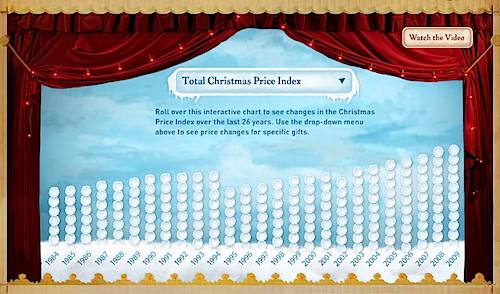 By 2011, the total PNC has risen to $24,263.18, with the total cost of the items in the entire song topping $101,119.84. And as you'll see in the table we've included below, these items cost so much more if they are instead "purchased" online and delivered to your door, with the Internet shipments of each gift costing almost $40,000 (a 16.1% increase from the previous year). After all, there are shipping costs for the various live creatures in the list.
If each instance of the gift in the song is considered, then the total online tab runs almost $175,000, a steep 26.5% increase from 2010! Note that online costs are almost 60% more than if you shopped for these gifts in the traditional manner. Live shipments make shopping online a relatively more costly matter.
You can see how the index fared between 2010 and 2011 here:
The 12 Days of Christmas Price Index In 2011
Let me transcribe the price index data here for you in this nifty table to see how these interesting, unique gifts are valued this year:
| | | | |
| --- | --- | --- | --- |
| Christmas Gift | Price | % Change (YTY) | Notes |
| Partridge In A Pear Tree | $184.99 | 14.2% | The cost of this item has fluctuated in recent years. |
| Two Turtle Doves | $125 | 25% | Turtle doves were only worth $56 in 2009! |
| Three French Hens | $150.00 | 0% | These hens were worth $45 in 2009. Hens are subject to large and sudden price hikes. |
| Four Calling Birds | $519.96 | -13.3% | The price didn't budge for a while but fell this year. |
| Five Golden Rings | $645 | -0.8% | Gold has been volatile, but stayed even in the past year. |
| Six Geese-A-Laying | $162.00 | 8% | Geese are worth almost the same as they did in 1984! |
| Seven Swans-A-Swimming | $6,300.00 | 12.5% | A noticeable jump in price here. |
| Eight Maids-A-Milking | $58.00 | 0% | Unskilled labor costs remain stable. |
| Nine Ladies Dancing | $6,294.03 | 0% | Employment growth has flattened after rising 30% since 2008. |
| Ten Lords-A-Leaping | $4,766.70 | 0% | The cost of labor continues to be flat. |
| Eleven Pipers Piping | $2,427.60 | 3% | This appears to track cost of living increases more closely. |
| Twelve Drummers Drumming | $2,629.90 | 3% | Again, labor costs are stable. |
| Total (Whole Song) | $101,119.84 | 4.4% | A slight but noticeable increase. |
| Total (One Verse) | $24,263.18 | 3.5% | A slight increase that's in line with economic indicators. |
Some peculiar things I noticed about this index: eight maids a milking cost only $58? Supposedly, it's because they fall under the "unskilled labor" category. But wow, that's quite a huge difference in cost relative to what the entertainment sector charges, as represented by dancers, leapers and musicians.
In general, the increase in wages has been minimal due to the lukewarm job market, even if you account for a hike in the minimum wage in recent years. And the prices for various types of fowl are all over the map, with swans really commanding major bucks. It's also nice to see how well our precious metals investments have performed in previous years, with golden rings rising 42.90% in 2009 and another 30% in 2010, although plateauing in 2011!
Bottom Line
The main takeaway here is that the PNC is showing a total increase of 3.5% from last year, which is actually very much in line with the actual behavior of the CPI (Consumer Price Index). The CPI increased by 3.9% in the past year.
So how is it going with your holiday gift giving? How is your Christmas budget holding up this year? For me, my budget has been well under control, since I'm sticking to the practical stuff for my true loves.
Created December 16, 2009. Updated December 19, 2011. Copyright © 2011 The Digerati Life. All Rights Reserved.