I've been on a holiday posting streak lately.
To cap off the year, here are some facts and figures from one of the more interesting reports I've come across — the PriceGrabber's Holiday Consumer Behavior Report for 2006, which reveals this year's shopping trends and consumer spending preferences.
A lot of the information wasn't anything new to me, such as how people planned to shop as early as October, continuing to do so till the last minute, and how much of it is increasingly done online supported by lots of research and comparison shopping across e-stores — and why not? E-commerce is now better, faster and easier to deal with than ever before. Even my own family from abroad regularly purchases items online on a budget of around $100 a month: most for hard to find merchandise.
So how did people shop and spend this year? This may give us a bit of a clue about consumer confidence and the health of the economy, to some degree.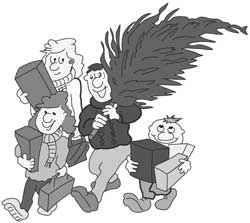 People upped their Christmas shopping budget to $1,200, at an increase of 17% from 2005. I'm saying this again since I'm mighty surprised at how high it is on average. Seems like people are feeling more optimistic this year, or maybe just making up for the belt tightening episodes of previous seasons.
When people shop online, it's more because of convenience and flexibility than it is due to finding better prices on the web. Could these be the people who'd rather spend their time doing something other than fuss with shopping, sales and bargain hunting? Again, I find it somewhat surprising that money isn't as much a concern for e-shoppers this year.
Are you going to risk getting caught buying stuff online while at work? Apparently 38% said they would! But I'm guessing that these people are just window shopping, taking note and researching what to purchase. And it would make sense to me if they delayed their order processing until they got home. I personally wouldn't dare try this at work! I wouldn't want Big Brother finding out my habits.
The relatively higher price of gas is a factor in people's decisions to stay home and shop online instead. Around 35% are citing gas prices specifically as the reason for making their purchases from home. Does that mean there is also less inclination to travel on the road for the same reasons?
Compared to men, women give more gifts to the people in their lives, while men give more than women do, when it comes to their significant others. I don't necessarily find this unexpected given how social and familial behaviors and relationships pattern themselves according to this dichotomy.
What are the HOT STUFF?

Cash, gift certificates
Electronics: Plasma/big screen TV, iPod Video/Shuffle/Nano, portable GPS, digital cameras, music phones/devices
Clothing
Jewelry
Laptop
Video consoles: Nintendo Wii, Microsoft Xbox 360 HD, Sony Playstation 3
Toys: Elmo TMX, Lego Mindstorms NXT, Vtech
At first glance, it appears that it's going to be a decent year for retailers, which gives me a little optimism about how the markets will be behaving down the road, despite currents in the currency and housing prices that we're seeing right now. From the macro view, it's good to see some resilience and spending vigor among consumers regardless of how the economy, or parts of it are behaving. However reported results do appear mixed at this time, and some are predicting a much gloomier outlook for the markets. I was hoping for a nice Christmas firmly in the black, but there's no resounding validation of this just yet. We'll have to wait and see how things go.
With all that, also consider how you will be faring financially once the year closes. Let's hope that at the personal level, we'll still be in the black!
Thank you PriceGrabber.com for granting me permission to discuss and reference your report, and Hurricane Valley Journal (hvjournal.com) for the pic.
Copyright © 2006 The Digerati Life. All Rights Reserved.